To make it simpler for teachers to put together the educational materials they require for lesson planning in order to meet the requirements of their students as well as the learning objectives and learning standards, we have uploaded the compiled SHS Learners Materials | Learning Materials.
Effective Learning Materials
It is necessary to take into account each system component while designing or developing proper learning materials. In other words, effective teaching and learning materials should be able to satisfy each of the other system approach components.
The already created teaching and learning resources for certain target learners must be used in the actual learning and teaching environment. This stage involves putting the learning and teaching materials into practice in order to determine whether or not the target students will find them to be effective. If not, the learning and teaching materials must be updated in light of the feedback from the target learners' tryouts. We refer to this as the assessment stage.
In actuality, learning and teaching materials may be designed and produced by reviewing existing learning resources and then modifying, enhancing, and generating new ones. To instruct their students, teachers typically utilize any book that is accessible. Typically, they might strive to examine the textbook they must utilize to instruct their students. Teachers assess the textbook by noting what functions well and poorly, and they then add their own preferences, styles, and interpretations to it. They may use the textbook to instruct their pupils if they believe it to be in keeping with the curriculum or syllabus. Textbooks will be evaluated and chosen by teachers based on how suitable they look in the particular situation.
Because they serve as training tools, well-designed textbooks may be a big help to new teachers. Examining the experiences and viewpoints of teachers and learners regarding the textbooks as they are utilized in the classroom may also help evaluate textbooks. The most useful textbooks for use in the classroom may come from this evaluation. However, this finding is not applicable to learners, teachers, or various times.
Each teacher has the option to use the textbooks as-is, modify them in accordance with their needs, add to them if necessary, or, if the existing material does not meet their requirements, develop their own materials in accordance with other criteria for developing materials or on the basis of the needs of their students. A text can be modified based on a variety of factors. The requirements for linguistic flexibility are one potential adaptation. Teachers can modify a challenging book to fit the students' level of proficiency.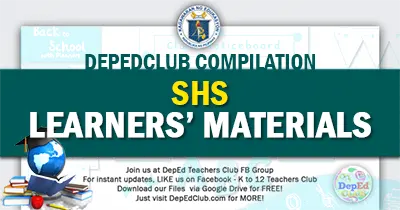 SHS Learners Materials | Learning Materials
(Links to be uploaded Soon!)
Academic Track

Applied Subjects

Empowerment Technologies (for the Strand)

English for Academic and Professional Purposes

Filipino sa Piling Larangan

Specialized Subjects by Strand

Accountancy, Business, and Management

Fundamentals of Accountancy, Business and Management 1

Organization and Management

Humanities and Social Sciences

Creative Writing Malikhaing Pagsulat

Science, Technology, Engineering, and Mathematics

General Chemistry 1 and 2
Arts and Design Track
Core Subjects

21st Century Literature from the Philippines and the World

Contemporary Philippine Arts from the Regions

Media and Information Literacy

Pagbasa at Pagsusuri ng Iba't Ibang Teksto Tungo sa Pananaliksik

Personal Development Pansariling Kaunlaran

Physical Education and Health

Statistics and Probability

Sports Track
TVL Track
These instructional materials were collaboratively developed and reviewed by educators from public and private schools, colleges, and/or universities. Please Share.
/ Learning Materials / Learners Materials / Instructional Materials
NOW AVAILABLE!
Coming SOON!:
4th Quarter – Periodical Tests
IMPORTANT GUIDE:
MORE DOWNLOADABLE FILES
We are always on the process of uploading new files.
For additional updates and unannounced uploads, please visit this section from time to time.
Like us on Facebook to get INSTANT UPDATES. CLICK HERE
You can also BOOKMARK this page in your web browser by clicking Ctrl+D in your keyboard for faster access in the future. Thank you fellow Teachers.
We at DepEd Teachers Club are always grateful to all our File Authors and File Contributors. Credit goes to all of them. Let us all give them thanks and show our support for all their works.
We are also thankful for all our File Editors, Sharers, Tech Volunteers and fellow Teachers for helping us and making this kind of service possible.