To help teachers in their lesson preparations using the curriculum required learners' materials as well as saving their time in downloading such files from slower sources, we have uploaded the compiled GRADE 6 Learners Materials – 2nd Quarter | Learning Materials.
Creating effective instructional materials
An essential component of every teaching program is the learning materials. Learning materials must be purposeful, pertinent, and motivating for instruction to be effective, and these requirements are satisfied when resources are created with students' needs, interests, and expectations in mind. We can also state that educators should make an attempt to create the most suitable and efficient learning resources for their students.
Appropriate material design is not a science; rather, it involves a weird fusion of creative thinking, intuition, and logical analysis. Teachers who create their own lesson plans are more likely to take chances and make choices that are appropriate for their specific classroom. Due to the high expense of some commercial learning resources, teachers are forced to create their own products, which can often be the better choice because they are more affordable.
Teachers typically create educational materials that meet the needs of their students. Modern teaching strategies place a strong emphasis on the value of each student's needs. There are students of varying abilities in a class, so the teacher created learning materials that allow them to choose the best one for each learner to ensure their success levels. They can select various topics, situations, skills, or combinations of materials depending on their evolving needs as individuals. Learning materials created by the teacher themselves can personalize instruction and boost student engagement and motivation. These are easily accessible and lessen reliance on other resources.
Essential Elements in Learning Resources
When creating instructional materials, teachers must consider a few things. The learner's assessment is the initial and most crucial component. It enables them to produce learning products that are more purposeful, engaging, demanding, and efficient. A need analysis must come first in order to create materials that will improve students' knowledge.
The formulation of objectives and targets for the learners is a crucial component of teacher-designed learning materials. It aids in achieving teaching and learning competency and offers the course a feeling of direction. The goal of the learning materials can be achieved with the right choice of activities. Activities that don't require the needs of the students should be excluded by the teacher.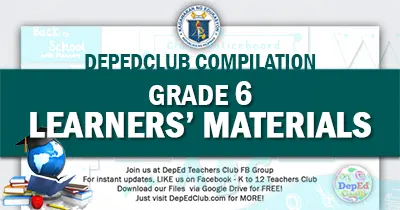 GRADE 6 LEARNERS MATERIALS / Learning Materials – 2nd Quarter
ARALING PANLIPUNAN 6 Learners Materials / Learning Materials
Pagpupunyagi sa Panahon ng Kolonyalismong Amerikano at Ikalawang Digmaang Pandaigdig (1899-1945)
ENGLISH 6 Learners Materials / Learning Materials
Attitude
Grammar
Reading Comprehension
Writing and Composition
FILIPINO Learners Materials / Learning Materials
Pagbasa
Pagsasalita
Pagsulat
MUSIC 6 Learners Materials / Learning Materials
Rhythm
Melody
SCIENCE 6 Learners Materials / Learning Materials
Living Things and Their Environment
T.L.E. (Technology and Livelihood Education)
HOME ECONOMICS 6 Learners Materials / Learning Materials
These instructional materials were collaboratively developed and reviewed by educators from public and private schools, colleges, and/or universities. Please Share.
/ Learning Materials / Learners Materials / Instructional Materials
IMPORTANT GUIDE:
MORE DOWNLOADABLE FILES
We are always on the process of uploading new files.
For additional updates and unannounced uploads, please visit this section from time to time.
Like us on Facebook to get INSTANT UPDATES. CLICK HERE
You can also BOOKMARK this page in your web browser by clicking Ctrl+D in your keyboard for faster access in the future. Thank you fellow Teachers.
We at DepEd Teachers Club are always grateful to all our File Authors and File Contributors. Credit goes to all of them. Let us all give them thanks and show our support for all their works.
We are also thankful for all our File Editors, Sharers, Tech Volunteers and fellow Teachers for helping us and making this kind of service possible.