To help teachers in creating the framework for presenting knowledge that is consistent with the curriculum's learning objectives, stimulates students, and fosters better learning outcomes, we are constantly uploading our ready-made Week 2 – Quarter 4 Daily Lesson Log | May 8-12, 2023 DLL Update! Our long-term goal is to consistently update and publish our ready-made weekly K–12 Daily Lesson Logs. Just visit this page regularly for the latest uploads.
We are grateful to all of our Contributors, File Editors, and Tech Volunteers who worked sacrificially and without hesitation to manage the content of our website and social media accounts. Thank you to everyone for your continued support.
Lesson Planning
Effective teaching relies heavily on lesson planning because it creates the groundwork for presenting information that is in line with the curriculum's learning objectives, engages students, and promotes higher learning outcomes. Teachers can clearly comprehend what they want their students to learn as well as the information and skills they want them to acquire by defining the learning objectives. Teachers can create activities and evaluations that correspond to these objectives after they have been developed.
Teachers must also consider the requirements of their students, including their past knowledge, abilities, interests, and learning preferences, while planning classes. Teachers may create interesting and useful activities and evaluations by identifying these demands. In order to guarantee that the lesson runs logically and keeps the students' attention, teachers must also take into account the time and sequencing of activities. For instance, teachers may decide to start class with an engaging exercise to grab students' attention, then move on to a more difficult task that calls for critical thinking and problem-solving abilities.
Teachers must make sure that the necessary resources and materials are ready and arranged prior to the start of the class, in addition to creating activities and evaluations. Technology, handouts, multimedia resources, and textbooks may all fall under this category. The session may run more easily and smoothly by making sure that all materials are ready and arranged before the lesson starts.
Teachers should review their lesson plans after they have been created and make any necessary revisions. This might entail modifying the activities themselves, altering their order, or changing their time. To make their class ideas more effective, teachers could also choose to ask their coworkers or students for feedback.
For students, higher learning outcomes can be achieved through effective class design. Teachers may design effective classes that help students meet their learning objectives by devoting time and effort to lesson planning. Additionally, good lesson planning can aid teachers in delivering content more quickly, reducing disruptions, and enhancing student engagement.
Lesson planning is a crucial part of good instruction. It entails defining learning objectives, creating interesting activities, taking into account students' requirements, sequencing activities, and assuring the availability of resources and tools. Teachers may construct successful classes that support students in achieving their learning objectives and foster a pleasant learning experience by devoting time and effort to lesson planning.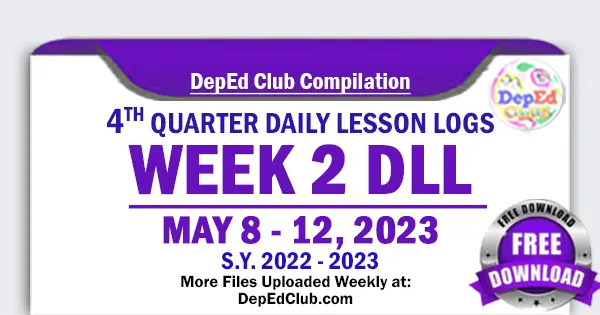 Week 2 – Quarter 4 Daily Lesson Log |
May 8-12, 2023 DLL Update!
Kindergarten Daily Lesson Log – 4th Quarter
Grade 1 Daily Lesson Log – 4th Quarter
Grade 2 Daily Lesson Log – 4th Quarter
Grade 3 Daily Lesson Log – 4th Quarter
Grade 4 Daily Lesson Log – 4th Quarter
Grade 5 Daily Lesson Log – 4th Quarter
Grade 6 Daily Lesson Log – 4th Quarter
NOW AVAILABLE!
ALSO AVAILABLE!
IMPORTANT GUIDE:
MORE DOWNLOADABLE FILES
We are always on the process of uploading new files.
For additional updates and unannounced uploads, please visit this section from time to time.
Like us on Facebook to get INSTANT UPDATES. CLICK HERE
You can also BOOKMARK this page in your web browser by clicking Ctrl+D in your keyboard for faster access in the future. Thank you fellow Teachers.
We at DepEd Teachers Club are always grateful to all our File Authors and File Contributors. Credit goes to all of them. Let us all give them thanks and show our support for all their works.
We are also thankful for all our File Editors, Sharers, Tech Volunteers and fellow Teachers for helping us and making this kind of service possible.