To help teachers in sparking students' interest in a subject that will be taught that might serve as the basis of a topic or a piece of classwork and as a tool for summarizing and recording the work that has been done, we have uploaded our our 4th Quarter Bulletin Board Display Compilation. Credit goes to all our contributors and file senders. To support them / us, please Share and Like our Facebook page. Thank you.
Why Create Bulletin Board Displays?
Bulletin board displays can add additional light and interest to the classroom, making it a more exciting environment. This alone has the potential to directly affect students' motivation and, in turn, their ability to study. The resources may include practical direct teaching aids like anatomical models, numerical lines, and alphabetic letters. These may contribute to the teacher's increased effectiveness. Also, they may contain extra teaching materials that only enhance or support what is being taught and aid in bringing the material to life.
In order to promote student learning, bulletin board displays can be used as useful reference materials, such as number lines and alphabet letters. The course material may contain facts that are crucial for students to memorize, such as formulas, spelling patterns, and number tables. Drills can be used with the display material. Simply by having the information presented and available for viewing, students will also tend to learn it. They might be utilized to provide the setting for a fresh lesson plan. To pique students' interest in a subject that will be taught, the teacher can exhibit some interesting materials. They could serve as the cornerstone of a topic or a piece of classwork. They can serve as a tool for summarizing and documenting the work that has been done.
Bulletin board displays can be a component of ongoing projects. A exhibit might feature an exhibit with organisms if, for instance, metamorphosis is being examined. On the graphs that are a component of the display, the growth of the tadpoles can be observed and noted. They can be utilized to engage and pique students' interests. To encourage students to read, books can be placed on a shelf and opened to a page that interests them. Another illustration of a display to pique curiosity is a nature table.
The utilization of bulletin board displays might give students something extra to do during downtime. A daily puzzle would be helpful for this. There won't be many students who can resist engaging in solving it! These may be employed to encourage good class behavior. These may contain lists of procedures, obligations, jobs, and regulations. They may contain labels, instructions, and directions. Records can be kept on bulletin boards. They can be used to keep track of class progress, student growth, and topics covered. They might also keep track of student honors like stars and extra points. They can be used to explain to others what the class is doing. This can include students from another class, various teachers, the principal, official school visits, parents, and members of the neighborhood community.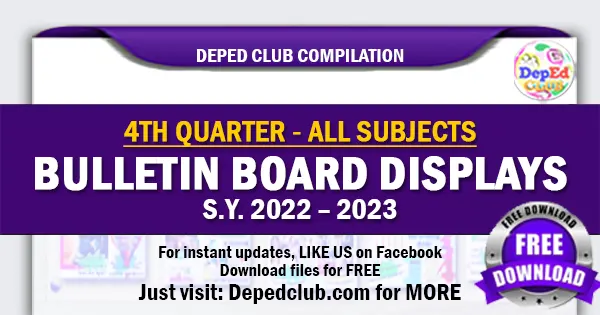 More! 4th Quarter Bulletin Board Display Compilation | DepEd Club
NOW AVAILABLE!
Coming SOON!:
4th Quarter –  Periodical Tests
IMPORTANT GUIDE:
MORE DOWNLOADABLE FILES
We are always on the process of uploading new files.
For additional updates and unannounced uploads, please visit this section from time to time.
Like us on Facebook to get INSTANT UPDATES. CLICK HERE
You can also BOOKMARK this page in your web browser by clicking Ctrl+D in your keyboard for faster access in the future. Thank you fellow Teachers.
We at DepEd Teachers Club are always grateful to all our File Authors and File Contributors. Credit goes to all of them. Let us all give them thanks and show our support for all their works.
We are also thankful for all our File Editors, Sharers, Tech Volunteers and fellow Teachers for helping us and making this kind of service possible.