In our ongoing commitment to support teachers in harmonizing their lesson plans with established educational standards, all while allowing them to apply their distinctive teaching methods, we are delighted to share our collection of DepEd educational resources including these Week 1 – Quarter 2 Daily Lesson Log | November 6 – 10, 2023 DLL Update!
This initiative not only aims to help teachers conquer challenges stemming from limited resources but also to alleviate their teaching workload. Through sharing our files, we aim to empower teachers to create a seamless and enriched learning experience, fostering a stronger connection between instruction and understanding.
Our heartfelt gratitude extends to our dedicated DepEd Club Contributors, File Editors, and Tech Volunteers, whose selfless and unwavering efforts have been instrumental in organizing the content of our website and social media platforms. We extend a warm thank you to all for your steadfast support that continues to drive us forward with this cause.
Lesson Planning
Effective lesson planning is essential for teachers to convey knowledge successfully to their students. It ensures that the learning process is organized, engaging and purposeful and ultimately benefiting the students' educational journey. Lesson plans can be divided into different categories based on Bloom's taxonomy of educational objectives:
Knowledge Lesson: In these lessons, students focus on expanding their knowledge. Subjects like history, geography, economics, civics, mathematics, science and grammar are examples of knowledge lessons that help students learn new facts and events.
Appreciation Lesson: These lessons inspire students to appreciate aesthetics and enjoy the subject matter. Poetry lessons are a great example of this as they engage students emotionally.
Skill Lesson: Skill lessons engage the psycho-motor skills of students. Teachers provide guidance and students actively participate in activities, enhancing their creative faculties. Examples of skill lessons include painting, handicrafts, gardening and agriculture.
Characteristics of an Ideal Lesson Plan
Effective lesson plans don't guarantee that students will grasp the objectives but they certainly help. Think of a lesson plan as a way to communicate with students and communication is vital in teaching. Lesson plans assist both new and experienced teachers in organizing content, resources and teaching strategies. The learning theory of psychology, which follows the whole to part teaching approach serves as the psychological foundation of lesson planning.
An ideal lesson plan should have the following characteristics:
Comprised of Units: Break the lesson into manageable chunks, ensuring gradual understanding.
Based on Objectives: Clearly state the learning goals.
Include Proper Educational Resources: Use maps, graphs, photos and charts appropriately.
Based on Prior Experience: Consider students' prior knowledge to ease their learning.
Clarity of Language: Keep the language simple and subject-focused.
Utilize Strategies, Tactics and Techniques: Apply teaching principles effectively.
Time-Sense: Allocate the right amount of time for each step.
Teaching from Memory to Reflection: Pose thought-provoking questions to encourage deeper thinking.
Establish Activities: Clearly outline what the teacher and students should do.
Correlation: Show how different parts of the lesson connect for holistic understanding.
Evaluation: Include methods to assess the impact of teaching strategies.
Employ Illustrations: Use examples from daily life to enhance learning.
Individual Direction: Provide guidance tailored to each student.
Homework: Students can practice what they learned at home.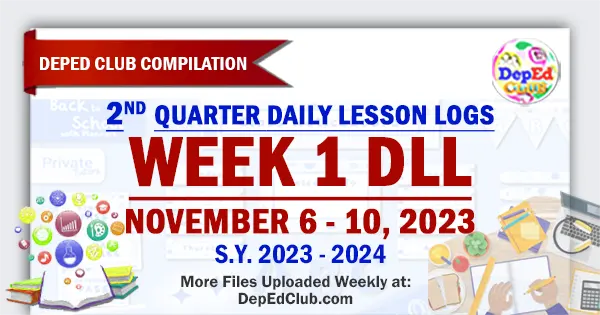 Week 1 – Quarter 2 Daily Lesson Log |
November 6 – 10, 2023 DLL Update!
Kindergarten Daily Lesson Log – Week 1 – 2nd Quarter
Grade 1 Daily Lesson Log – Week 1 – 2nd Quarter
Grade 2 Daily Lesson Log – Week 1 – 2nd Quarter
Grade 3 Daily Lesson Log – Week 1 – 2nd Quarter
Grade 4 Daily Lesson Log – Week 1 – 2nd Quarter
Grade 5 Daily Lesson Log – Week 1 – 2nd Quarter
Grade 6 Daily Lesson Log – Week 1 – 2nd Quarter
MORE FILES NOW AVAILABLE!
COMING SOON!
2nd Quarter   Periodical Tests
IMPORTANT GUIDE:
MORE DOWNLOADABLE FILES
Activities for Students | Classroom Observation Tools | Daily Lesson Log | Diagnostic Test | Exams | Inspirational Stories | Instructional Materials | Learners Material | Periodical Tests | Powerpoint Presentations | RPMS | Short Stories | Summative Tests | Weekly Daily Lesson Log | Weekly Home Learning Plan | Weekly Learning Plan | Workbooks
We are always on the process of uploading new files.
For additional updates and unannounced uploads, please visit this section from time to time.
Like us on Facebook to get INSTANT UPDATES. CLICK HERE
You can also BOOKMARK this page in your web browser by clicking Ctrl+D in your keyboard for faster access in the future. Thank you fellow Teachers.
We at DepEd Teachers Club are always grateful to all our File Authors and File Contributors. Credit goes to all of them. Let us all give them thanks and show our support for all their works.
We are also thankful for all our File Editors, Sharers, Tech Volunteers and fellow Teachers for helping us and making this kind of service possible.