To help teachers in acquiring various lesson presentation tools and in developing their excellent lesson presenting skills, we have uploaded more Grade 6 PowerPoint Presentations – 2nd Quarter. Thanks to all our File Creators, Contributors and Files Editors for sharing these files. More files to be uploaded soon. Thank you!
Principles for Lesson Presentations
The following lesson presentation technique will help teachers present their lesson effectively:
Anxiety and nervousness. Understanding the topic you are giving thoroughly and structuring it for a clear presentation is a crucial first step. Your presentation will portray any hasty or inadequate knowledge and unpreparedness of the subject matter. Practice is without a doubt one of the best strategies to reduce worry and uncertainty. Ask for feedback as you practice in front of a mirror or in front of family or friends. You will feel more at ease when making the actual presentation as you practice more. Use a timer to track the passing of the specified amount of time during your presentation. Do this after each session of practice.
The Start. Starting off by doing two things is a smart idea. Tell the audience what you will cover and try to build a rapport with the students. If the class is huge and you don't know everyone, it can be a beneficial idea to introduce yourself. Opening with a narrative or example is another smart move. To explain why you choose a topic, you can give a personal example, such as an event that happened to you personally. Getting the audience engaged by asking them a question or having them complete an activity, such as a test or an inquiry, might help you unwind in the early stages of the presentation. Whatever you do, be sure it relates to the presentation you are making. The students should be informed of the topics you will discuss after any introductory remarks or activities.
involving the students. It's not necessary to limit student engagement to the beginning of the lesson. You can actively engage the students throughout your presentation in a number of ways. Some instances are:

Posing speculative queries
Calling for a display of hands
Asking them to take a brief test
Requesting a specific instance from their experience.
Perform a demonstration with audience members. By involving the audience, you relieve some of your own pressure while maintaining their alertness and attention.

Presentation Making. The first guideline is to not read your own paper. Use a more casual presentation approach when making your comments. Don't look at a copy of your paper that has been stapled; instead, create a separate set of notes for your presentation. You can obtain a copy of a PowerPoint presentation's slides with the option to add comments. With an outline, you make a list of the key themes you'll cover, but you don't write out every word you'll say because there's a chance you'll start reading it. In your practice rehearsals, you focus on the details. One strategy is to list the key topics or ideas that will be discussed on the slide as bulleted points. Then you elaborate and talk about the points in the bullets. Your voice and wisdom should be heard across the classroom.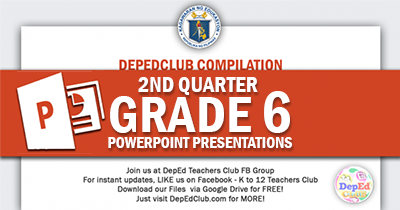 Grade 6 PowerPoint Presentations – 2nd Quarter
ARALING PANLIPUNAN 6 PowerPoint Presentations – 2nd Quarter
ENGLISH 6 PowerPoint Presentations – 2nd Quarter
ESP 6 PowerPoint Presentations – 2nd Quarter
MATH 6 PowerPoint Presentations – 2nd Quarter
New Contributions from our DepEd Club Member!
SCIENCE 6 PowerPoint Presentations – 2nd Quarter
IMPORTANT GUIDE:
MORE DOWNLOADABLE FILES
We are always on the process of uploading new files.
For additional updates and unannounced uploads, please visit this section from time to time.
Like us on Facebook to get INSTANT UPDATES. CLICK HERE
You can also BOOKMARK this page in your web browser by clicking Ctrl+D in your keyboard for faster access in the future. Thank you fellow Teachers.
We at DepEd Teachers Club are always grateful to all our File Authors and File Contributors. Credit goes to all of them. Let us all give them thanks and show our support for all their works.
We are also thankful for all our File Editors, Sharers, Tech Volunteers and fellow Teachers for helping us and making this kind of service possible.