To make it easier for teachers to obtain the instructional resources they need to meet the learning objectives, instructional goals, student needs, and concept-based planning of their classes, we have uploaded our compiled and easy to download Update! 4th Quarter Learners Materials | K to 12 Learning Materials.
Principles of Learning Materials Development
There are several standards that might guide material adaptation. Regarding the language requirements, one modification is conceivable. Teachers can modify a challenging book so that it is appropriate for the class' level of proficiency.
It's also important to keep in mind that changing instructional materials, particularly those taken from the original text, is not always successful. A teacher must keep in mind that students must learn from the altered texts when transforming the actual texts into learning materials. However, we must still provide the kids the freedom to try their best to handle greater difficulties resulting from the altered texts. A teacher has to be aware that students will progressively have to fight on their own to read real texts without any alteration.
Another strategy to address the shortcomings of the readily accessible textbooks that do not align with the curriculum or the teaching or learning objectives is to add to the existing textbooks that are already being utilized in the classroom. Depending on the resources that are available or teacher's ingenuity, several supplemental teaching or learning materials may be used. Instead of modifying or enhancing already-existing textbooks or authentic texts, teachers' last-ditch efforts to improve learning materials involve creating their own resources. In order to build one's own materials, there should be core precepts, such as teaching objectives or instructional goals, student requirements, and concept-based planning.
After determining the objectives for learning, creating instructional materials is a lengthy process. Between setting the instructional goal and creating the instructional materials, there are five steps to follow: conducting instructional analysis, figuring out entry behaviors and features, writing performance objectives, creating standardized test items, and creating instructional strategy. Creating and choosing teaching materials is the next stage.
On a framework of the needs of students, a teacher can also create instructional materials. When a teacher is dealing with brand-new students, this scenario might arise. The instructor must ascertain student's desired level of competence in order to satisfy their demands. The teacher creates the instructional materials to assist the students in achieving the competence they desire after learning about what the students hope to accomplish in terms of competence.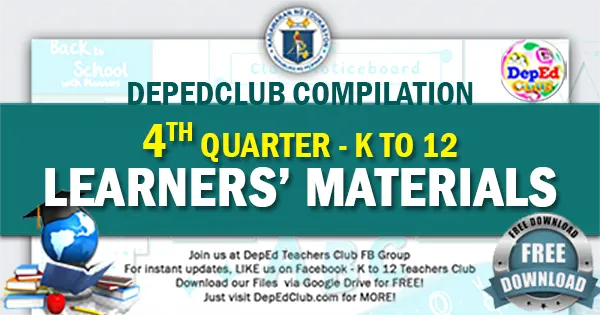 4th Quarter Learners Materials / K to 12 Learning Materials
Coming Soon!
These instructional materials were collaboratively developed and reviewed by educators from public and private schools, colleges, and/or universities. Please Share.
/ Learning Materials / Learners Materials / Instructional Materials
NOW AVAILABLE!
Coming SOON!:
4th Quarter – Periodical Tests
IMPORTANT GUIDE:
MORE DOWNLOADABLE FILES
We are always on the process of uploading new files.
For additional updates and unannounced uploads, please visit this section from time to time.
Like us on Facebook to get INSTANT UPDATES. CLICK HERE
You can also BOOKMARK this page in your web browser by clicking Ctrl+D in your keyboard for faster access in the future. Thank you fellow Teachers.
We at DepEd Teachers Club are always grateful to all our File Authors and File Contributors. Credit goes to all of them. Let us all give them thanks and show our support for all their works.
We are also thankful for all our File Editors, Sharers, Tech Volunteers and fellow Teachers for helping us and making this kind of service possible.