To make it less challenging for teachers to get the proper teaching materials to satisfy the learning objectives and instructional goals despite having a sluggish internet connection, we have uploaded the compiled GRADE 1 Learners Materials – 4th Quarter | Learning Materials.
Designing learning materials
One element that should serve as the beginning point when creating learning materials for certain objectives is the demands of the students. This is consistent with the initial stage of creating learning resources for all purposes.
The target students from whom the teachers will produce the materials can help them determine the needs of the learners. The institution where the students are learning frequently develops the requirements of the students in the form of learning objectives. These learning objectives may be made more precise by using a syllabus, which is a written statement of what will, or at the very least, should be learned. Topical syllabuses, situational syllabuses, functional syllabuses, skills syllabuses, task-based syllabuses, discourse syllabuses, and skills and tactics syllabuses are some examples of the sorts of syllabuses that may be used to examine the requirements of students. Any syllabus can be employed as long as it allows for the analysis of the needs of the students.
A language-centered approach, a skills-centered approach, and a learning-centered approach are among the approaches used in the course design process. A teacher must adhere to the right approach for producing learning materials in order to create these teaching resources. A teacher must understand the demands of the students, in particular the syllabus, before selecting each item from it individually and creating the resources. Second, he or she has to create the learning materials in accordance with their nature, their guiding principles, and their production process.
A teacher must be able to distinguish between learning resources for both content and language depending on their nature. For listening and content materials, for instance, a teacher can choose already-existing resources in the form of videos or any other audio materials that can assist the students in meeting the fundamental requirements that the teacher has established.
The teacher can add to or change the current resources, or even create new ones, if they are not exactly helping the students gain the necessary competency.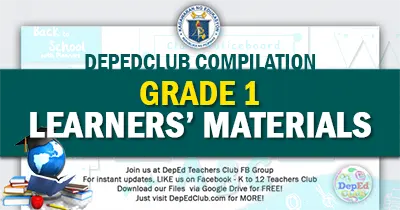 Grade 1 Learners Materials / Learning Materials – 4th Quarter
ARALING PANLIPUNAN 1 Learners Materials / Learning Materials
EDUKASYON SA PAGPAPAKATAO 1 Learners Materials / Learning Materials
ENGLISH 1 Learners Materials / Learning Materials
HEALTH 1 Learners Materials / Learning Materials
MATHEMATICS 1 Learners Materials / Learning Materials
MTB 1 Learners Materials / Learning Materials
MUSIC 1 Learners Materials / Learning Materials
PHYSICAL EDUCATION 1 Learners Materials / Learning Materials
These instructional materials were collaboratively developed and reviewed by educators from public and private schools, colleges, and/or universities. Please Share.
/ Learning Materials / Learners Materials / Instructional Materials
NOW AVAILABLE!
Coming SOON!:
4th Quarter – Periodical Tests
IMPORTANT GUIDE:
MORE DOWNLOADABLE FILES
We are always on the process of uploading new files.
For additional updates and unannounced uploads, please visit this section from time to time.
Like us on Facebook to get INSTANT UPDATES. CLICK HERE
You can also BOOKMARK this page in your web browser by clicking Ctrl+D in your keyboard for faster access in the future. Thank you fellow Teachers.
We at DepEd Teachers Club are always grateful to all our File Authors and File Contributors. Credit goes to all of them. Let us all give them thanks and show our support for all their works.
We are also thankful for all our File Editors, Sharers, Tech Volunteers and fellow Teachers for helping us and making this kind of service possible.