In order to make it easier for teachers to compile the learning resources they need to advance their understanding of the subject matter, provide direction on how to carry out and understand important instructional tasks to enhance student learning, we have uploaded the compiled GRADE 6 Learners Materials – 4th Quarter | Learning Materials.
Importance of accessible learning materials
According to studies, textbooks and other learning tools like workbooks and exercise books can improve student learning. The availability of instructional resources and having teachers who are well-trained, organized, under supervision, and motivated are the two factors that consistently improve student performance.
Textbooks are the most cost-effective educational input on student success since supplying them is less expensive than educating and inspiring teachers. Numerous research have shown a link between textbooks and improved academic performance.
There are strong positive relationships between students' exam performance in reading and arithmetic subjects and their access to textbooks. However, for educational resources to improve learning, a number of requirements must be satisfied. Learning materials must be consistently utilized in class, written in a language that both students and teachers can understand, and enhance teacher-learner interaction in order to be effective.
Potential biases resulting from neglected factors, such as teacher qualifications or school facilities, which may affect both textbook accessibility and academic outcomes. They distinguish between the effects of textbook ownership and sharing on learning outcomes, finding that textbook sharing has an effect exclusively on students from affluent socioeconomic backgrounds.
The definition, design, creation, development, production, distribution, storage, and classroom use of all learning resources must be carefully studied in order to ensure quality learning for all users.
The difficulties of inadequate supply, subpar quality, and inefficient use of educational resources continue to exist in many nations. At all phases of the creation and distribution of learning materials, equity and inclusion must be addressed as important problems.
Accessibility, affordability, and supply. Accessibility is defined as the degree to which a person or a group is able to obtain and use these tools, either freely or at an affordable price. A minimum of one textbook per three pupils and, at the elementary level, enough reading materials to ensure that each kid has access to at least one new book each week are deemed adequate supplies. Because learning resources frequently suffer from severe financial shortages initially, lowering their price is essential to increasing accessibility.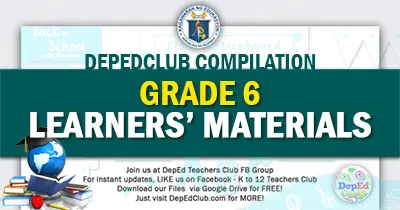 Grade 6 Learners Materials / Learning Materials – 4th Quarter
ARALING PANLIPUNAN 6 Learners Materials / Learning Materials
ARTS 6 Learners Materials / Learning Materials
EDUKASYON SA PAGPAPAKATAO 6 Learners Materials / Learning Materials
ENGLISH 6 Learners Materials / Learning Materials
FILIPINO 6 Learners Materials / Learning Materials
HEALTH 6 Learners Materials / Learning Materials
MATHEMATICS 6 Learners Materials / Learning Materials
MUSIC 6 Learners Materials / Learning Materials
PHYSICAL EDUCATION 6 Learners Materials / Learning Materials
SCIENCE 6 Learners Materials / Learning Materials
These instructional materials were collaboratively developed and reviewed by educators from public and private schools, colleges, and/or universities. Please Share.
/ Learning Materials / Learners Materials / Instructional Materials
NOW AVAILABLE!
Coming SOON!:
4th Quarter – Periodical Tests
IMPORTANT GUIDE:
MORE DOWNLOADABLE FILES
We are always on the process of uploading new files.
For additional updates and unannounced uploads, please visit this section from time to time.
Like us on Facebook to get INSTANT UPDATES. CLICK HERE
You can also BOOKMARK this page in your web browser by clicking Ctrl+D in your keyboard for faster access in the future. Thank you fellow Teachers.
We at DepEd Teachers Club are always grateful to all our File Authors and File Contributors. Credit goes to all of them. Let us all give them thanks and show our support for all their works.
We are also thankful for all our File Editors, Sharers, Tech Volunteers and fellow Teachers for helping us and making this kind of service possible.