To make it simpler for teachers to access the instructional resources they require to increase student knowledge of the lessons, make learning more self-assured, effective, and successful, as well as to make learning easier, more engaging, and more lifelike, we have uploaded the compiled GRADE 3 Learners Materials – 4th Quarter | Learning Materials.
Importance of Learning materials
There can never be ideal educational resources that can be applied to students of the same grade level. It is extremely advised that a teacher create their own lesson plans for their unique group of target students. Even if a teacher is forced to utilize a textbook for any reason, they still need to modify it for their intended audience. The textbook may include certain passages that aren't entirely appropriate for the intended audience. A teacher occupies a middle ground where there is room for individual teachers to contribute while yet using a textbook to help students learn.
The utilization of learning materials is a crucial aspect of teacher education that is receiving a lot of attention. Learning materials are tools a teacher uses to make learning easier. They can either be made of concrete or not, and they can be either visual or audio-visual assistance.
These educational resources motivate kids to learn, bringing learning to life. The use of instructional resources in the classroom has the ability to aid in the teacher's clear explanation of new ideas, improving the understanding of such concepts by the students.
It is believed that while effective learning tools can never fully replace a teacher, they may be used to help the teacher accomplish their teaching and learning goals. Books, reference materials, charts, graphs, maps, photographs, diagrams, and other learning aids are some of the items required for efficient teaching and learning.
The curriculum could not be simply applied without learning resources, which are essential components in learning. A teacher who has access to appropriate and useful teaching resources is more self-assured, efficient, and successful. Learning resources provide the students a thorough comprehension of the subjects being studied.
Learning resources are crucial because they aid both teachers and students in avoiding an overemphasis on memorization and rote learning, which may quickly take over a lecture. Through the use of teaching materials, students may engage in hands-on learning that aids in the development of ideas and skills as well as a wide range of learning styles.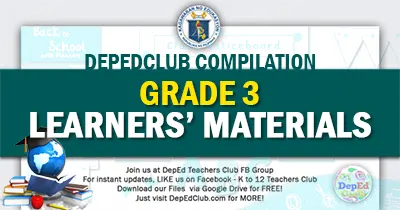 Grade 3 Learners Materials / Learning Materials – 4th Quarter
ARALING PANLIPUNAN 3 Learners Materials / Learning Materials
ARTS 3 Learners Materials / Learning Materials
EDUKASYON SA PAGPAPAKATAO 3 Learners Materials / Learning Materials
ENGLISH 3 Learners Materials / Learning Materials
FILIPINO 3 Learners Materials / Learning Materials
HEALTH 3 Learners Materials / Learning Materials
MATHEMATICS 3 Learners Materials / Learning Materials
MTB 3 Learners Materials / Learning Materials
MUSIC 3 Learners Materials / Learning Materials
SCIENCE 3 Learners Materials / Learning Materials
These instructional materials were collaboratively developed and reviewed by educators from public and private schools, colleges, and/or universities. Please Share.
/ Learning Materials / Learners Materials / Instructional Materials
NOW AVAILABLE!
Coming SOON!:
4th Quarter – Periodical Tests
IMPORTANT GUIDE:
MORE DOWNLOADABLE FILES
We are always on the process of uploading new files.
For additional updates and unannounced uploads, please visit this section from time to time.
Like us on Facebook to get INSTANT UPDATES. CLICK HERE
You can also BOOKMARK this page in your web browser by clicking Ctrl+D in your keyboard for faster access in the future. Thank you fellow Teachers.
We at DepEd Teachers Club are always grateful to all our File Authors and File Contributors. Credit goes to all of them. Let us all give them thanks and show our support for all their works.
We are also thankful for all our File Editors, Sharers, Tech Volunteers and fellow Teachers for helping us and making this kind of service possible.