To make it easier for teachers to gather the educational materials they need for effective lesson preparation, effective teaching, and attaining the learning objectives, we have uploaded the compiled GRADE 4 Learners Materials – 4th Quarter | Learning Materials.
Learning materials for effective teaching
Instead than relying too much on verbal communication alone, learning is most effective when a variety of senses are involved. For effective teaching, especially in reaching the learning objectives, learning materials are crucial.
The learning objectives for the materials must be met, they must be validated, and their impact must be assessed. Prior to, during, and after usage, learning materials must be thoroughly reviewed. This is so that teachers, can provide engaging content for students. As a result, learning resources should be used properly in addition to being accessible and suitable. No course is completely self-teaching. Because instructional tools are only as good as the teachers who utilize them, all of them require a teacher to set the environment for learning to occur. If educational resources are chosen and implemented appropriately, the following would happen:
It would be fascinating and worthwhile to learn.
Acquired knowledge would last longer in memory.
Learners would pick up various skills.
During lessons, students would be actively engaged.
It is obvious that having enough learning resources available in all schools is necessary for efficient instruction. Most schools in industrialized nations have access to a variety of teaching resources and tools to aid instructors in becoming better teachers.
When they are accessible, the learning resources required for inquiry approaches might be scarce or very expensive. The lack of enthusiasm among teachers to utilize or even create educational materials is a result of this. It is necessary to have access to and use learning resources effectively for topics to be taught.
When developing your own materials using topic-based planning, keep in mind that all activities across the curriculum should be connected to the same overarching theme. This is because the learning materials you generate for students should be based on the topic you've previously chosen.
For learning goals and criteria to be met, high-quality learning resources are essential. A crucial tactic for achieving learning objectives in particular is to guarantee that every institution has the right learning resources and technology.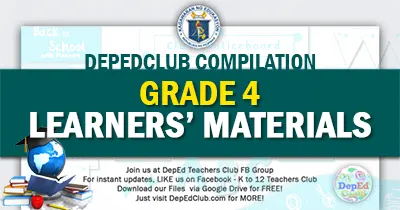 Grade 4 Learners Materials / Learning Materials – 4th Quarter
ARALING PANLIPUNAN 4 Learners Materials / Learning Materials
ARTS 4 Learners Materials / Learning Materials
EDUKASYON SA PAGPAPAKATAO 4 Learners Materials / Learning Materials
ENGLISH 4 Learners Materials / Learning Materials
FILIPINO 4 Learners Materials / Learning Materials
HEALTH 4 Learners Materials / Learning Materials
MATHEMATICS 4 Learners Materials / Learning Materials
MUSIC 4 Learners Materials / Learning Materials
SCIENCE 4 Learners Materials / Learning Materials
These instructional materials were collaboratively developed and reviewed by educators from public and private schools, colleges, and/or universities. Please Share.
/ Learning Materials / Learners Materials / Instructional Materials
NOW AVAILABLE!
Coming SOON!:
4th Quarter – Periodical Tests
IMPORTANT GUIDE:
MORE DOWNLOADABLE FILES
We are always on the process of uploading new files.
For additional updates and unannounced uploads, please visit this section from time to time.
Like us on Facebook to get INSTANT UPDATES. CLICK HERE
You can also BOOKMARK this page in your web browser by clicking Ctrl+D in your keyboard for faster access in the future. Thank you fellow Teachers.
We at DepEd Teachers Club are always grateful to all our File Authors and File Contributors. Credit goes to all of them. Let us all give them thanks and show our support for all their works.
We are also thankful for all our File Editors, Sharers, Tech Volunteers and fellow Teachers for helping us and making this kind of service possible.