Collecting the required learners materials has never been easy. That is why we have uploaded the compiled KINDERGARTEN Learner's Materials (LM) to help teachers complete the curriculum required resources.
Importance of Effective Learning Materials
Effective learning materials for students are those that have defined teaching objectives and learning standards, and the learners can easily understand and assimilate the textbook's contents to attain the learning objective. These educational resources can foster students' independence in learning, adapt to the various experiences, interests, talents, and requirements of individual students, and then change the learning theme, pace, path, depth, and breadth as necessary.
Teaching learning materials, sometimes referred to as instructional aids, help a teacher accomplish the learning goals they've set before teaching and learning activities begin. Teachers utilize teaching aids called learning materials to make it easier and faster for students to understand concepts. Learning materials' purpose in the classroom is to make learning engaging, applicable, and enjoyable for kids. To clarify or emphasize a skill, information, or idea, teachers employ learning materials. Learning materials also aid in adding innovation and freshness to classroom instruction by relieving students of their boredom, worry, and stress. Learning experiences can be direct or indirect when using educational materials.
The formative opportunity provided in a classroom utilizing instructional materials has a significant impact on the learning results. In the classroom, teaching aids are utilized to improve student learning. It is applied by a teacher to improve teaching and learning. After classroom instruction and learning, learning resources aid students in achieving their learning objectives. A few justifications for using educational resources in the classroom:
Motivate students – The first step in any learning process is grabbing students' attention, which is something that learning materials may aid with in the classroom. The children are eager to learn something new once they are inspired to look at educational materials. Learning materials offer a diversity of stimuli, which contributes to the most successful classroom instruction.
Assist in longer information retention – The more sensory channels that are used to interact with learning materials, the more the information will be retained. As a result, the lessons will stick with you and be lasting.
Promote meaningful learning – Learning goals in the cognitive, emotional, and psychomotor domains must all be met through classroom instruction. As a result, in order to attain a variety of objectives, a variety of learning experiences must be offered, which can be done by using learning materials.
Assistance with planning lessons for the classroom – As a teacher, you must plan lessons to be as realistic as you can. You can deliver accurate data in a chronologically structured manner using verbal or visual learning tools. This supports teacher communication in the classroom, both verbally and visually. As a result, you can employ educational materials to overcome verbal or visual communication challenges.
Facilitate a change in attitude – Instructional materials can also influence students' attitudes toward learning in general and specific subject matter in particular. Images, models, and other teaching tools aid in instilling a positive attitude among students.
Practical applications – Instructional materials demonstrate how to put theoretical knowledge to use in real-world situations. Learning aids provide concrete examples of the theoretical concepts covered in class to facilitate effective learning.
Making learning enjoyable – In the classroom, educational resources can make learning more enjoyable. Students take pleasure in handling different objects and picking up new ideas from them.
Concept formation – Educational resources help kids develop and grasp concepts. They help children understand abstract ideas without resorting to rote learning because they make things concrete. As a result, when planning and creating your lesson, you should pay close attention to how learning resources are used in the classroom.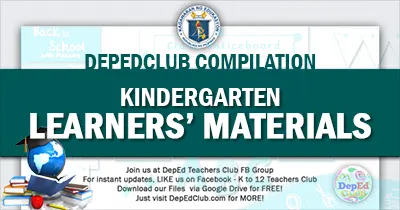 1st Quarter Learning Materials / Learners Materials | Download Links FIXED!
2nd Quarter Learning Materials / Learners Materials | Download Links FIXED!
3rd Quarter Learning Materials / Learners Materials | Download Links FIXED!
4th Quarter Learning Materials / Learners Materials | Download Links FIXED!
These instructional materials were collaboratively developed and reviewed by educators from public and private schools, colleges, and/or universities. Please Share.
/ Learning Materials / Learners Materials / Instructional Materials
IMPORTANT GUIDE:
MORE DOWNLOADABLE FILES
Activities for Students | Classroom Observation Tools | Daily Lesson Log | Diagnostic Test | Exams | Inspirational Stories | Instructional Materials | Learners Material | Periodical Tests | Powerpoint Presentations | RPMS | Short Stories | Summative Tests | Weekly Daily Lesson Log | Weekly Home Learning Plan | Weekly Learning Plan | Workbooks
/ Learning Materials / Learners Materials / Instructional Materials
We are always on the process of uploading new files.
For additional updates and unannounced uploads, please visit this section from time to time.
Like us on Facebook to get INSTANT UPDATES. CLICK HERE
You can also BOOKMARK this page in your web browser by clicking Ctrl+D in your keyboard for faster access in the future. Thank you fellow Teachers.
We at DepEd Teachers Club are always grateful to all our File Authors and File Contributors. Credit goes to all of them. Let us all give them thanks and show our support for all their works.
We are also thankful for all our File Editors, Sharers, Tech Volunteers and fellow Teachers for helping us and making this kind of service possible.