UPDATE: You may find our Update! 2nd Periodical Test with TOS Compilation | SY 2022 – 2023 in this article. Our goal is to finish all of the K-12 Periodical Tests All Subjects so that we may make them available to other teachers and assist them in finishing their materials so that their efforts are more focused on the actual teaching process.
Additional student assessment files will soon be uploaded.
The download links for the K-12 Periodical Tests All Subjects are at the end of this post. Please take a moment to read the article below for background information on the K–12 curriculum.
Assessment's effects on motivation and learning
Assessment tests: do they really measure what they claim to? If used, does it have the anticipated results?
Is it justified to argue that formative assessment use in classrooms enhances student learning? It will be crucial to carry out research in schools where this model's instructional and evaluation methods are used if we are to understand how constructivist viewpoints affect everyday life. This frequently entails starting afresh and avoiding making the assumption that conclusions from earlier research projects may be applied to other paradigms. When doing studies on subjects like motivation and feedback, for instance, this will be very crucial.
The idea of feedback comes from the behavioral psychology theory of learning, and the vast majority of research studies on feedback uphold behaviorist presumptions such as brief instruction, posttests that closely align pretests and study guides, feedback that takes the form of being informed of the correct answers, etc.
To determine the impact of feedback given in ways that adhere to constructivist principles, such as as part of instructional process, assessment dialogues, and other interactive strategies to support students' self-correction and improvement, further research will be required. In a similar vein, the motivation research literature makes broad generalizations about the dangers of grading students, particularly when they are working on challenging issues. However, these conclusions are based on students' experiences with conventional, unrepresentative, and normative types of assessment, in which they showed little interest in their own learning and where the evaluation standards remained opaque.
It would be necessary to reevaluate the consequences of grading students on challenging problems if the classroom culture were to change significantly in line with social-constructivist learning viewpoints. It will be crucial to take the perspective expressed into account and avoid averaging findings across paradigms when performing thorough reviews or metaanalyses.
What impact does assessment have on teachers' learning, which is crucial? Because of the benchmarking that tests offer, can teachers have deeper understandings of how their students are developing? In circumstances where they lack expertise, what kind of assistance do teachers need to mirror the role of a learner?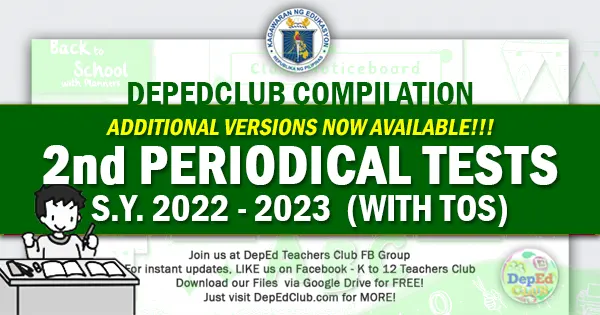 Update! 2nd Periodical Test with TOS Compilation
SY 2022 – 2023
---
Coming Soon!
Just refresh this page for updates!
GRADE 7 2nd Periodical Tests
GRADE 8 2nd Periodical Tests
GRADE 9 2nd Periodical Tests
GRADE 10 2nd Periodical Tests
---
SENIOR HIGH SCHOOL 2nd Periodical Tests
More Files uploaded Weekly. Bookmark this page for instant access. Just Press CTRL + D in your keyboard to add this page to your bookmarks.
Also Available!
IMPORTANT GUIDE:
MORE DOWNLOADABLE FILES
We are always on the process of uploading new files.
For additional updates and unannounced uploads, please visit this section from time to time.
Like us on Facebook to get INSTANT UPDATES. CLICK HERE
You can also BOOKMARK this page in your web browser by clicking Ctrl+D in your keyboard for faster access in the future. Thank you fellow Teachers.
We at DepEd Teachers Club are always grateful to all our File Authors and File Contributors. Credit goes to all of them. Let us all give them thanks and show our support for all
2nd Quarter Periodical Tests SY 2022 – 2023, 2nd Periodical Tests SY 2022 – 2023, 2nd Periodical Tests Compilation, 2nd Quarterly Exams Compilation, DepEd 2nd Periodical Tests, 2nd Periodical Tests, K-12 2nd Periodical Tests, MELC-Based Periodical Tests, Classroom Assessment, Assessment, Student Assessment,
GRADE 1 2nd Periodical Tests, GRADE 2 2nd Periodical Tests, GRADE 3 2nd Periodical Tests, GRADE 4 2nd Periodical Tests, GRADE 5 2nd Periodical Tests, GRADE 6 2nd Periodical Tests, Kindergarten 2nd Periodical Tests,