Our collection of GRADE 2 – 2nd Periodical Tests with TOS SY 2022 – 2023 Compilation + MELC-Based Periodical Tests is available here. We want to finish all of the K-12 Periodical Tests for All Subjects so that we may make them available to teachers and assist them in finishing their materials so that their efforts can be more effectively focused on the actual teaching process.
Upcoming uploads include MORE student assessment files. The files for the GRADE 2 Periodical Tests with TOS + MELC-Based Periodical Tests are located at the end of this article.
Assessment methods to ensure fairness of results
Written and spoken assessments yield different outcomes that can be interpreted and meant differently. Each assessment has a unique set of goals. Using several data sources for the sake of triangulation when evaluating assessment findings is a useful strategy because it avoids making the assumption that one assessment method is more accurate than others.
Students should be permitted to exhibit their ability under the specific circumstances that best showcase them, at the very least as one of the ways they are evaluated in the classroom from the perspective of fair evaluation. This could be writing about a familiar subject, delivering an oral presentation rather than passing a written test, having access to translated versions of the assignment, and so forth.
But from a teaching standpoint, students shouldn't always rely on the format they find most convenient. In order to ensure that students' learning is becoming increasingly flexible and strong across contexts of applicability, effective instruction focuses on both students' areas of strength and weakness.
Teachers must be aware of how changes in evaluation or instructional task elements affect student performance in order to do this. There won't be consistent patterns of difference across testing modalities for many students, but when they do, they should result in interventions that are more specifically tailored to their needs. As an illustration, English-language learners should be given the chance to exhibit their mathematical knowledge without being hampered by language barriers, while also making an effort to enhance their mathematical communication.
According to research on teaching for the test, students can seem to have mastered instructional procedures without comprehending underlying topics due to repetitive practice with similar instructional and exam formats. If students are given a variety of challenges and are pushed to make connections, they are more likely to gain understanding and the capacity to apply knowledge in novel contexts.
The concept of various assessment modes calls for employing a variety of activities for both, as well as making task aspects evident in classroom discussion, rather than adopting one set of forms for teaching and another for testing. How is this issue related to previous issues we've dealt with? How is it unique?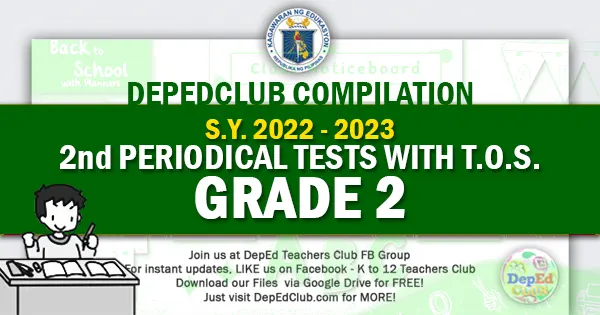 GRADE 2 – 2nd Periodical Tests with TOS
SY 2022 – 2023 Compilation
Table of Specifications
ADDITIONAL VERSIONS
More Files uploaded Weekly. Bookmark this page for instant access. Just Press CTRL + D in your keyboard to add this page to your bookmarks.
Also Available!
IMPORTANT GUIDE:
MORE DOWNLOADABLE FILES
We are always on the process of uploading new files.
For additional updates and unannounced uploads, please visit this section from time to time.
Like us on Facebook to get INSTANT UPDATES. CLICK HERE
You can also BOOKMARK this page in your web browser by clicking Ctrl+D in your keyboard for faster access in the future. Thank you fellow Teachers.
We at DepEd Teachers Club are always grateful to all our File Authors and File Contributors. Credit goes to all of them. Let us all give them thanks and show our support for all
Grade 2 2nd Quarterly Exams, Grade 2 2nd Periodical Tests, 2nd Periodical Tests Grade 2, Grade 2 Periodical Tests, Grade 2 MELC-Based Periodical Tests,
2nd Quarter Periodical Tests SY 2022 – 2023, 2nd Periodical Tests SY 2022 – 2023, 2nd Periodical Tests Compilation, 2nd Quarterly Exams Compilation, DepEd 2nd Periodical Tests, 2nd Periodical Tests, K-12 2nd Periodical Tests, MELC-Based Periodical Tests, Classroom Assessment, Assessment, Student Assessment,