Our collection of GRADE 1 – 2nd Periodical Tests with TOS SY 2022 – 2023 Compilation + MELC-Based Periodical Tests is available here. We want to finish all of the K-12 Periodical Tests for All Subjects so that we may make them available to teachers and assist them in finishing their materials so that their efforts can be more effectively focused on the actual teaching process.
Upcoming uploads include MORE student assessment files. The files for the GRADE 1 Periodical Tests with TOS + MELC-Based Periodical Tests are located at the end of this article.
Assessment methods to ensure fairness.
Variety in assessment methods is advantageous, not only because different learning objectives can be evaluated using various tools, but also because the method of evaluation interacts intricately with the subject matter being evaluated. For instance, answering comprehension questions about a tale after reading it could be fundamentally different from being able to retell the story; both may be significant instructionally. Therefore, there are compelling reasons to assess in more than one approach even for the same learning target, both to assure accurate measurement and to assist the development of flexible and solid understandings.
Assessment forms can have a big impact on performance levels, as is widely established in measurement literature. The relative advantage of women over males on essay exams when compared to multiple-choice tests in the same content domain, for instance, is one of the most well-known and prevalent impacts. Researchers discovered that students did not perform equally on the same automatic control issues on paper and pencil, on computers, or in the real world. Teachers are concerned that shy or stage-frightened children may have found it difficult to demonstrate their expertise during student-led conferences.
Whether one result should be recognized as more valid than the others when diverse outcomes are obtained from various assessment formats will depend on the circumstances. Studies on the validity of male-female disparities in advanced exams, for instance, lead to the conclusion that multiple-choice and essay tests measure several components that, broadly speaking, correlate to historical knowledge and historical argument. The research implies that both formats are necessary to accurately represent the content domain, rather than drawing the conclusion that one format is biased.
In contrast, certain test forms would be considered biased in the adaptations literature if unrelated aspects of the examination impede students from exhibiting their genuine level of ability. This happens, for instance, when English language competency and math evaluation are mixed up, or when students with learning disabilities are unable to demonstrate their knowledge because of burdensome writing requirements or protracted exam times.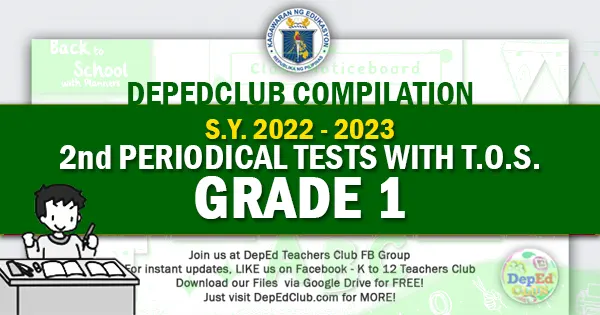 GRADE 1 – 2nd Periodical Tests with TOS
SY 2022 – 2023 Compilation
More Files uploaded Weekly. Bookmark this page for instant access. Just Press CTRL + D in your keyboard to add this page to your bookmarks.
Also Available!
IMPORTANT GUIDE:
MORE DOWNLOADABLE FILES
We are always on the process of uploading new files.
For additional updates and unannounced uploads, please visit this section from time to time.
Like us on Facebook to get INSTANT UPDATES. CLICK HERE
You can also BOOKMARK this page in your web browser by clicking Ctrl+D in your keyboard for faster access in the future. Thank you fellow Teachers.
We at DepEd Teachers Club are always grateful to all our File Authors and File Contributors. Credit goes to all of them. Let us all give them thanks and show our support for all
Grade 1 2nd Quarterly Exams, Grade 1 2nd Periodical Tests, 2nd Periodical Tests Grade 1, Grade 1 Periodical Tests, Grade 1 MELC-Based Periodical Tests,
2nd Quarter Periodical Tests SY 2022 – 2023, 2nd Periodical Tests SY 2022 – 2023, 2nd Periodical Tests Compilation, 2nd Quarterly Exams Compilation, DepEd 2nd Periodical Tests, 2nd Periodical Tests, K-12 2nd Periodical Tests, MELC-Based Periodical Tests, Classroom Assessment, Assessment, Student Assessment,