Our collection of GRADE 3 – 2nd Periodical Tests with TOS SY 2022 – 2023 Compilation + MELC-Based Periodical Tests is available here. We want to finish all of the K-12 Periodical Tests for All Subjects so that we may make them available to teachers and assist them in finishing their materials so that their efforts can be more effectively focused on the actual teaching process.
Upcoming uploads include MORE student assessment files. The files for the GRADE 3 Periodical Tests with TOS + MELC-Based Periodical Tests are located at the end of this article.
Utilizing assessment in the learning process.
While it is crucial, improving the content of assessments alone won't guarantee that they will be used to advance learning. To enable the use of assessment as a component of the learning process, adjustments to classroom procedures are also required.
How can the culture of the classroom be modified so that evaluations are seen by both students and teachers as a source of knowledge and assistance rather than as a means of doling out rewards and punishments? In specifically, how can the evaluation of past knowledge and the provision of feedback during instruction aid learning? How may assessment-based classroom practices, such going over evaluation standards and having students complete self-evaluations, be utilized to foster metacognitive abilities and students' ownership of their own learning? How might these activities be included into the curriculum so that students adopt a learning orientation that is driven by a desire to become more competent rather than by a desire to perform well or please the teacher?
How may teachers explicitly use assessment to improve and alter instruction as part of this cooperative agreement? Assessments ought to be dynamic and participatory. The instructor can learn a lot about learning processes and ways to deepen understandings by offering support as part of evaluation. Dynamic assessment can be utilized as an opportunity to teach, particularly to scaffold next stages, unless there is a statutory obligation to report assisted vs. autonomous performance. Assessments ought to be carried out in the group's social environment. Students socialize into the discourse of the disciplines, get used to explaining their thinking and getting feedback about how competent they are as members of a social group—all of which are closely related to the idea of learning as enculturation.
It is important to recognize the learner's perspective and to open up the traditionally closed relationship between teacher and student. Since teachers have specialized knowledge, this does not imply that they relinquish responsibility; rather, it means that the process becomes more inclusive. Finally, in order to help students become more adept at self-monitoring their learning, the assessment procedure and evaluation standards are explained to them. Students' long-term exposure to flawed formative assessment procedures and indoctrination into needing to accept a wide range of practices and instructor personalities encourage students to develop adaptable survival skills. It has been discovered that certain pupils are more focused on learning than others are on performing. Every class has a few students that are willing to put in extra effort to learn more and cooperate with formative evaluation.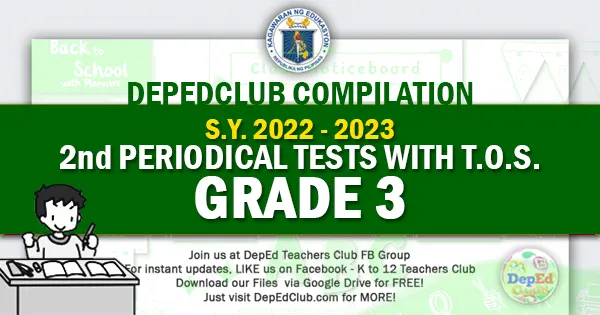 GRADE 3 – 2nd Periodical Tests with TOS
SY 2022 – 2023 Compilation
More Files uploaded Weekly. Bookmark this page for instant access. Just Press CTRL + D in your keyboard to add this page to your bookmarks.
Also Available!
IMPORTANT GUIDE:
MORE DOWNLOADABLE FILES
We are always on the process of uploading new files.
For additional updates and unannounced uploads, please visit this section from time to time.
Like us on Facebook to get INSTANT UPDATES. CLICK HERE
You can also BOOKMARK this page in your web browser by clicking Ctrl+D in your keyboard for faster access in the future. Thank you fellow Teachers.
We at DepEd Teachers Club are always grateful to all our File Authors and File Contributors. Credit goes to all of them. Let us all give them thanks and show our support for all
Grade 3 2nd Quarterly Exams, Grade 3 2nd Periodical Tests, 2nd Periodical Tests Grade 3, Grade 3 Periodical Tests, Grade 3 MELC-Based Periodical Tests,
2nd Quarter Periodical Tests SY 2022 – 2023, 2nd Periodical Tests SY 2022 – 2023, 2nd Periodical Tests Compilation, 2nd Quarterly Exams Compilation, DepEd 2nd Periodical Tests, 2nd Periodical Tests, K-12 2nd Periodical Tests, MELC-Based Periodical Tests, Classroom Assessment, Assessment, Student Assessment,