Our collection of GRADE 5 – 2nd Periodical Tests with TOS SY 2022 – 2023 Compilation + MELC-Based Periodical Tests is available here. We want to finish all of the K-12 Periodical Tests for All Subjects so that we may make them available to teachers and assist them in finishing their materials so that their efforts can be more effectively focused on the actual teaching process.
Upcoming uploads include MORE student assessment files. The files for the GRADE 5 Periodical Tests with TOS + MELC-Based Periodical Tests are located at the end of this article.
Students and Assessment
Traditional teaching methods, particularly assessment methods, as well as broader societal standards have produced learning settings where students may not be driven to take chances, work hard, or show their intellectual competency. For instance, if students are aware that their performance will be graded by their teachers, they are less inclined to persevere in working on challenging activities.
Students who think that fixed aptitudes or knowledge determine academic success are more motivated to strive for the performance objectives, according to researchers. In other words, they are driven to study hard in order to get good grades, satisfy their teachers, and impress their classmates.
The ability to learn seems to be a constant in educational environments where the trade value of student learning is prioritized over the utility of learning. According to research, performance-oriented students prefer simple assignments and are less likely to persevere when things go tough.
Students who believe they are responsible for their academic performance are more likely to accept learning objectives, meaning they are driven by a growing sense of competence and mastery. It should come as no surprise that learners are more involved in their academic work, employ more self-control and metacognitive techniques, and have a deeper knowledge of the material.
The results of studies on achievement motivation have led to a list of evaluation strategies that are more likely to support innate motivation and learning objectives. When faults and mistakes are viewed as a natural component of learning, for instance, motivation is increased. If mastery-based feedback rather than normative assessment is employed, too. While it has been discovered that students with a learning orientation regard their teacher as a provider or guide in the learning process, rather than as an assessor, research on self motivation recommends teachers to de-emphasize external review, especially for tough assignments. Furthermore, this strategy continues to place the responsibility on the teacher to act in a way that will encourage learning in the student.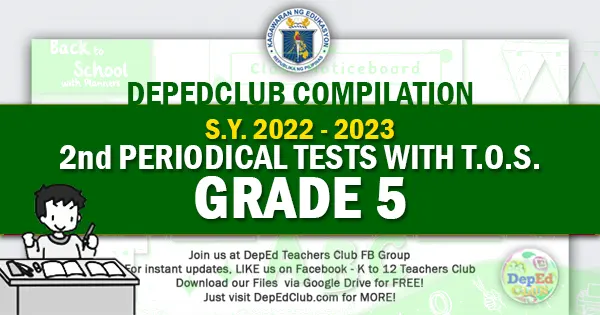 GRADE 5 – 2nd Periodical Tests with TOS
SY 2022 – 2023 Compilation
More Files uploaded Weekly. Bookmark this page for instant access. Just Press CTRL + D in your keyboard to add this page to your bookmarks.
Also Available!
IMPORTANT GUIDE:
MORE DOWNLOADABLE FILES
We are always on the process of uploading new files.
For additional updates and unannounced uploads, please visit this section from time to time.
Like us on Facebook to get INSTANT UPDATES. CLICK HERE
You can also BOOKMARK this page in your web browser by clicking Ctrl+D in your keyboard for faster access in the future. Thank you fellow Teachers.
We at DepEd Teachers Club are always grateful to all our File Authors and File Contributors. Credit goes to all of them. Let us all give them thanks and show our support for all
Grade 5 2nd Quarterly Exams, Grade 5 2nd Periodical Tests, 2nd Periodical Tests Grade 5, Grade 5 Periodical Tests, Grade 5 MELC-Based Periodical Tests,
2nd Quarter Periodical Tests SY 2022 – 2023, 2nd Periodical Tests SY 2022 – 2023, 2nd Periodical Tests Compilation, 2nd Quarterly Exams Compilation, DepEd 2nd Periodical Tests, 2nd Periodical Tests, K-12 2nd Periodical Tests, MELC-Based Periodical Tests, Classroom Assessment, Assessment, Student Assessment,