Our collection of GRADE 6 – 2nd Periodical Tests with TOS SY 2022 – 2023 Compilation + MELC-Based Periodical Tests is available here. We want to finish all of the K-12 Periodical Tests for All Subjects so that we may make them available to teachers and assist them in finishing their materials so that their efforts can be more effectively focused on the actual teaching process.
Upcoming uploads include MORE student assessment files. The files for the GRADE 6 Periodical Tests with TOS + MELC-Based Periodical Tests are located at the end of this article.
Assessment Procedures
The characteristics of good performance ought to be so obvious that students can learn to assess their own work in the same manner that teachers would. The evaluation process should serve as a foundation for creating a mastery understanding of the key elements of effective problem solving, writing, experimenting, historical study, etc. Furthermore, such an evaluation can cover both the goal-achieving process and the final outcome. That is, the mental practices that support effective problem-solving or writing.
In order to immediately improve learning and to acquire conceptual understanding for tracking one's own efforts, it is more important to assist students in developing a grasp of standards in each of the disciplines. These cognitive and metacognitive goals for explicitly imparting criteria to students then speak to a different notion of justice than simply being impartial in judging students, that is, they provide students the chance to excel at what the standards need.
These assessment procedures are illustrations of active learning that support the development of mental capabilities and are consistent with the learning principles in the system of thought. If they grow reliant on others for clarification and correction, students may learn to apply pre-specified criteria and enhance their achievement, but not their learning acumen. It is theoretically impossible to fully explain quality in a certain field. The capacity for self-evaluation, which develops via both action and reflection and is irreducibly intuitive, is the capacity to identify good work for what it is and to make adjustments to one's performance in order to produce better work.
In other words, cognitive talents associated to intelligence and discipline are developed in a manner that is similar to and, in fact, identical to the development of the ability to self-evaluate. If specific criteria are not applied automatically and systematically, learning will not be enabled in all the ways that are required. Self-assessment must be a component of more general societal changes in the classroom for the desired benefits to materialize. Students must have the chance to understand the meaning of the standards, be able to apply them to their own work, and even be allowed to question the rules when they don't agree with them. In its optimum state, self-evaluation enhances cognitive function while also promoting social interaction and motivation.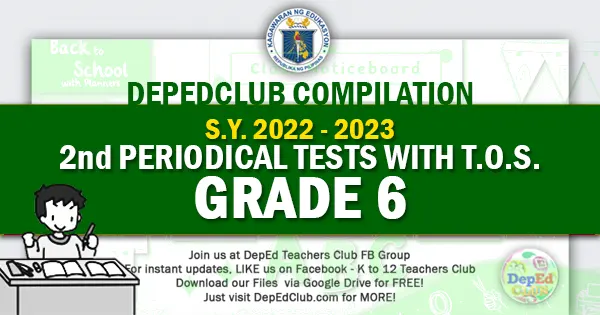 GRADE 6 – 2nd Periodical Tests with TOS
SY 2022 – 2023 Compilation
More Files uploaded Weekly. Bookmark this page for instant access. Just Press CTRL + D in your keyboard to add this page to your bookmarks.
Also Available!
IMPORTANT GUIDE:
MORE DOWNLOADABLE FILES
We are always on the process of uploading new files.
For additional updates and unannounced uploads, please visit this section from time to time.
Like us on Facebook to get INSTANT UPDATES. CLICK HERE
You can also BOOKMARK this page in your web browser by clicking Ctrl+D in your keyboard for faster access in the future. Thank you fellow Teachers.
We at DepEd Teachers Club are always grateful to all our File Authors and File Contributors. Credit goes to all of them. Let us all give them thanks and show our support for all
Grade 6 2nd Quarterly Exams, Grade 6 2nd Periodical Tests, 2nd Periodical Tests Grade 6, Grade 6 Periodical Tests, Grade 6 MELC-Based Periodical Tests,
2nd Quarter Periodical Tests SY 2022 – 2023, 2nd Periodical Tests SY 2022 – 2023, 2nd Periodical Tests Compilation, 2nd Quarterly Exams Compilation, DepEd 2nd Periodical Tests, 2nd Periodical Tests, K-12 2nd Periodical Tests, MELC-Based Periodical Tests, Classroom Assessment, Assessment, Student Assessment,