Our collection of GRADE 4 – 2nd Periodical Tests with TOS SY 2022 – 2023 Compilation + MELC-Based Periodical Tests is available here. We want to finish all of the K-12 Periodical Tests for All Subjects so that we may make them available to teachers and assist them in finishing their materials so that their efforts can be more effectively focused on the actual teaching process.
Upcoming uploads include MORE student assessment files. The files for the GRADE 4 Periodical Tests with TOS + MELC-Based Periodical Tests are located at the end of this article.
Student Approach to Assessments
The goal for some students nowadays is to complete the day or the academic year with no significant academic issues. In order to do this, students dissimulate their lack of knowledge in class and employ dysfunctional techniques, such as guessing or whispering during oral exams so the teacher can respond to his very own question. This can be a result of the students anxieties and desire to appease their teacher.
To combat the behaviors the students have formed, every teacher who wants to use formative assessment must rewrite the teaching relationship. Because it calls for teachers to alter their own behaviors as well, changing cultural practices will be particularly challenging. When a teacher's assessment methods were based on being a fair judge as opposed to being a window into students' brains, things changed. Between teachers and students, there should be a better division of labor. In particular, students had to choose how to communicate what they knew and set up a meeting with the teacher to show what they had learned.
Assessment reform initiatives shouldn't be carried out as if they were independent of curriculum objectives. Instead, specific evaluation methods should be chosen to emulate the modes of discussion and critique, other discourse conventions, problem-solving strategies, and habits of inquiry common to each subject.
Students had to struggle to analyze and settle on opposing solutions when they arose, for instance, as well as listen to and understand the reasons offered by other students. Teachers also had to learn how to convey to students that they were truly interested in their opinions and that mistakes may be learned from. They place a strong focus on interpretations, models, and testing as essential components of scientific reasoning. They also view communication as a necessary ability for success in all science-related tasks.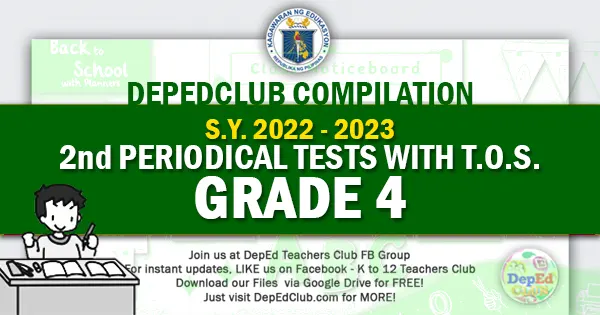 GRADE 4 – 2nd Periodical Tests with TOS
SY 2022 – 2023 Compilation
More Files uploaded Weekly. Bookmark this page for instant access. Just Press CTRL + D in your keyboard to add this page to your bookmarks.
Also Available!
IMPORTANT GUIDE:
MORE DOWNLOADABLE FILES
We are always on the process of uploading new files.
For additional updates and unannounced uploads, please visit this section from time to time.
Like us on Facebook to get INSTANT UPDATES. CLICK HERE
You can also BOOKMARK this page in your web browser by clicking Ctrl+D in your keyboard for faster access in the future. Thank you fellow Teachers.
We at DepEd Teachers Club are always grateful to all our File Authors and File Contributors. Credit goes to all of them. Let us all give them thanks and show our support for all
Grade 4 2nd Quarterly Exams, Grade 4 2nd Periodical Tests, 2nd Periodical Tests Grade 4, Grade 4 Periodical Tests, Grade 4 MELC-Based Periodical Tests,
2nd Quarter Periodical Tests SY 2022 – 2023, 2nd Periodical Tests SY 2022 – 2023, 2nd Periodical Tests Compilation, 2nd Quarterly Exams Compilation, DepEd 2nd Periodical Tests, 2nd Periodical Tests, K-12 2nd Periodical Tests, MELC-Based Periodical Tests, Classroom Assessment, Assessment, Student Assessment,