Was this helpful?
UPDATE: In this article, you will find our compiled 1st Periodical Test with TOS Compilation | SY 2022 – 2023 Update. We aim to complete all the K-12 Periodical Tests All Subjects to make them available to our fellow teachers and help them complete their resources to make their efforts more directed into the actual teaching process.
MORE student assessment Files to be uploaded SOON.
You will find the K-12 Periodical Tests All Subjects download links at the bottom of this article. If you have time, please read the article below for some background about the K-12 curriculum.
What is assessed in the classroom?
Assessment in the classroom is aimed at helping students perform well in relation to the learning standards. Learning standards comprise content standards, performance standards, and learning competencies that are outlined in the curriculum.
A. Content Standards identify and set the essential knowledge and understanding that should be learned. They cover a specified scope of sequential topics within each learning strand, domain, theme, or component. Content standards answer the question, "What should the learners know?".
B. Performance Standards describe the abilities and skills that learners are expected to demonstrate in relation to the content standards and integration of 21st-century skills. The integration of knowledge, understanding, and skills is expressed through creation, innovation, and adding value to products/ performance during independent work or in collaboration with others.
Performance standards answer the following questions:
1. "What can learners do with what they know?"
2. "How well must learners do their work?"
3. "How well do learners use their learning or understanding in different situations?"
4. "How do learners apply their learning or understanding in real-life contexts?"
5. "What tools and measures should learners use to demonstrate what they know?"
C. Learning Competencies refer to the knowledge, understanding, skills, and attitudes that students need to demonstrate in every lesson and/or learning activity.
D. Concept Development
The learning standards in the curriculum reflect progressions of concept development. The Cognitive Process Dimensions adapted from Anderson & Krathwohl (2001) may be a good way to operationalize these progressions. It provides a scheme for classifying educational goals, objectives, and standards. It also defines a broad range of cognitive processes from basic to complex, as follows: Remembering, Understanding, Applying, Analyzing, Evaluating, and Creating. Each dimension is described in Table 1.
Table 1. Adapted Cognitive Process Dimensions*
Cognitive Process Dimensions
Descriptors
Remembering
– The learner can recall information and retrieve relevant knowledge from long-term memory: identify, retrieve, recognize,duplicate, list, memorize, repeat, reproduce
Understanding
– The learner can construct meaning from oral, written, and graphic messages: interpret, exemplify, classify, summarize, infer, compare, explain, paraphrase, discuss
Applying
– The learner can use information to undertake a procedure in familiar situations or in a new way: execute, implement,demonstrate, dramatize, interpret, solve, use, illustrate, convert, discover
Analyzing
– The learner can distinguish between parts and determine how they relate to one another, and to the overall structure and purpose: differentiate, distinguish, compare, contrast, organize, outline, attribute, deconstruct
Evaluating
– The learner can make judgments and justify decisions: coordinate, measure, detect, defend, judge, argue, debate, critique, appraise, evaluate
Creating
– The learner can put elements together to form a functional whole, create a new product or point of view: generate, hypothesize, plan, design, develop, produce, construct,formulate, assemble, design, devise
To align the assessment process with the K to 12 curriculum, the adapted Cognitive Process Dimensions may be used as guide not only in lesson development but also in the formulation of assessment tasks and activities.
To continue reading or to download the POLICY GUIDELINES ON CLASSROOM ASSESSMENT FOR THE K TO 12 BASIC EDUCATION PROGRAM (BEP) just click on this link.
We are always on the process of uploading K-12 Periodical Tests All Subjects. As requested, here are the file links. The remaining files will be uploaded soon. Please check this section from time to time.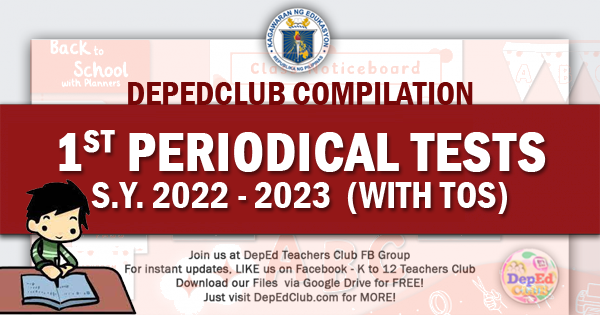 1st Periodical Test with TOS Compilation | SY 2022 – 2023 Update | Download Links FIXED!
GRADE 1 1st Periodical Tests
GRADE 2 1st Periodical Tests
Periodical Test
TOS
GRADE 3 1st Periodical Tests
GRADE 4 1st Periodical Tests
GRADE 5 1st Periodical Tests
GRADE 6 1st Periodical Tests
IMPORTANT: HOW TO DOWLOAD FILES IN GOOGLE DRIVE
FOR MS OFFICE FILES:
1. Click on the file link in our website.

2. You will be redirected to the file location via Google Drive.

3. On the upper left side of your screen, Go to FILE menu. Click DOWNLOAD, then Select Microsoft Word for the editable file format.
FOR OTHER FILES:
1. On the upper right hand corner of your screen, look for the Down Arrow Download Button just as below:

If you encounter an Error while downloading the files, please Log-in to your Gmail account (Here – mail.google.com) , then try again to click the Download Link in Google Drive. Thank you.
Additional files to be uploaded soon.
We are always on the process of uploading new files.
For additional updates and unannounced uploads, please visit this section from time to time.
Like us on Facebook to get INSTANT UPDATES. CLICK HERE
You can also BOOKMARK this page in your web browser by clicking Ctrl+D in your keyboard for faster access in the future. Thank you fellow Teachers.
We at DepEd Teachers Club are always grateful to all our File Authors and File Contributors. Credit goes to all of them. Let us all give them thanks and show our support for all their works.
We are also thankful for all our File Editors, Sharers, Tech Volunteers and fellow Teachers for helping us and making this kind of service possible.
MORE DOWNLOADABLE FILES
Was this helpful?