Our collection of Kindergarten – 2nd Periodical Tests with TOS SY 2022 – 2023 Compilation + MELC-Based Periodical Tests is available here. We want to finish all of the K-12 Periodical Tests for All Subjects so that we may make them available to teachers and assist them in finishing their materials so that their efforts can be more effectively focused on the actual teaching process.
Upcoming uploads include MORE student assessment files. The files for the Kindergarten Periodical Tests with TOS + MELC-Based Periodical Tests are located at the end of this article.
All students are capable of learning.
The idea behind the catchphrase "all kids can learn" is to spread a "new way of thinking." The prevailing notion that natural talent determines life chances is directly refuted by this. Although such affirmations alone won't be enough to create the necessary opportunities to learn, the slogan is significant because it serves to challenge the self-fulfilling beliefs of the previous paradigm, which held that only a select few students were capable of mastering difficult material and that only they should be given access to it.
It is also a rejection of conventional wisdom and thought that the common curriculum should address rigorous standards designed to promote higher order thinking and problem solving. Learning was removed from situations that may give it meaning and practical application by the transmission model of education, which relied on rote memorization of isolated information. Schools have lowered expectations and constrained learning chances by focusing on basic capabilities and watering down curricula. Contrarily, if children are given the tools and support to tackle more difficult and complicated problems, they will get a deeper understanding while also improving their ability to use modes of inquiry and modes of thinking that will help them solve new challenges in the future.
Equal opportunities for all students.
In order to implement standards-based reform, there must be a change in both expectations and available resources. Opportunity inequality permeates every aspect of the educational system. Children from underprivileged and underrepresented groups frequently attend schools that are risky or where it is uncool to take academics seriously in addition to receiving less rigorous curricula and being taught by teachers with less educational training and experience. They also frequently have less access to books and computers. The availability of sufficient resources will be helped by public accountability based on standards and assessment.
However, ensuring everyone has access to high-quality education requires more than just a fair distribution of financial and human resources. It also necessitates a more nuanced and thorough comprehension of the conflict between treating everyone equally and appreciating and accommodating diversity. If prior knowledge facilitates new learning, it is crucial for youngsters from diverse backgrounds to have the chance to demonstrate what they "know" about a subject and to be able to participate in class in ways that are in line with the language and social interaction patterns of their homes and communities (talks about providing multiple entry points into classroom instruction but also insists on compliance on the fundamentals; everyone must be able to read, write, think, and reason, for example).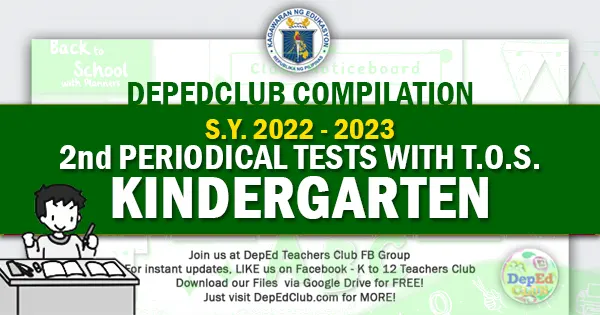 Kindergarten – 2nd Periodical Tests with TOS
SY 2022 – 2023 Compilation
More Files uploaded Weekly. Bookmark this page for instant access. Just Press CTRL + D in your keyboard to add this page to your bookmarks.
Also Available!
IMPORTANT GUIDE:
MORE DOWNLOADABLE FILES
We are always on the process of uploading new files.
For additional updates and unannounced uploads, please visit this section from time to time.
Like us on Facebook to get INSTANT UPDATES. CLICK HERE
You can also BOOKMARK this page in your web browser by clicking Ctrl+D in your keyboard for faster access in the future. Thank you fellow Teachers.
We at DepEd Teachers Club are always grateful to all our File Authors and File Contributors. Credit goes to all of them. Let us all give them thanks and show our support for all
Kindergarten 2nd Quarterly Exams, Kindergarten 2nd  Periodical Tests, 2nd Periodical Tests Kindergarten, Kindergarten Periodical Tests, Kindergarten MELC-Based Periodical Tests,
2nd Quarter Periodical Tests SY 2022 – 2023, 2nd Periodical Tests SY 2022 – 2023, 2nd Periodical Tests Compilation, 2nd Quarterly Exams Compilation, DepEd 2nd Periodical Tests, 2nd Periodical Tests, K-12 2nd Periodical Tests, MELC-Based Periodical Tests, Classroom Assessment, Assessment, Student Assessment,