In our ongoing commitment to support teachers in improving student performance and fostering a favorable learning atmosphere where every student can flourish academically, we are delighted to share our collection of DepEd educational resources including these Week 8 DLL October 16 – 20, 2023 | 1st Quarter Daily Lesson Log. These resources serve as a convenient repository, simplifying the integration of essential knowledge into the teaching journey. Through sharing our files, we aim to empower teachers to create a seamless and enriched learning experience, fostering a stronger connection between instruction and understanding.
Our heartfelt gratitude extends to our dedicated DepEd Club Contributors, File Editors, and Tech Volunteers, whose selfless and unwavering efforts have been instrumental in organizing the content of our website and social media platforms. We extend a warm thank you to all for your steadfast support that continues to drive us forward with this cause.
Instructional Strategies in Lesson Planning
Effective lesson planning is a cornerstone of successful teaching. Teachers must use instructional strategies like organizers, consider timing, accommodate learning differences and create age-appropriate lesson plans to ensure all students can thrive. Regardless of the method they choose for planning, the thought and effort they invest in the process are vital for promoting student achievement. When teachers are organized in their approach and consider the diverse needs of their students, the result is a classroom that fosters academic growth and success.
Using Organizers
One valuable instructional strategy is the use of organizers. Skilled teachers incorporate organizers into their teaching methods. To make the most of this technique, teachers should understand when and how to use organizers and grasp their purpose. Organizers can significantly boost student achievement, benefiting learners of all ages and across subjects. For this strategy to work, teachers must be well-prepared and organized themselves.
Timing and Pacing
The timing and pacing of instructional strategies are crucial elements of lesson planning. These aspects affect the flow of lessons and help teachers maximize the time students spend engaging with the material. Effective teachers focus on teaching and learning, minimizing time spent on transitions.
Learning Differences
To meet the diverse needs of students, teachers must consider learning differences when planning their lessons. Each student is unique and teachers should tailor their plans to make the material meaningful for everyone. Effective teachers can adapt their teaching style to suit the class's needs, whether through small group instruction or individualized approaches.
Age and Content-Appropriate Plans
Creating age and content-appropriate lesson plans is another key aspect of lesson planning. Teachers need to understand their students' age, cognitive and developmental abilities and interests. One effective way to accomplish this while addressing learning differences and using varied instructional strategies is by incorporating authentic activities. Moreover, teachers should aim to challenge students just beyond their comfort zone while providing support through scaffolding. Scaffolding is a teaching method in which a teacher systematically reduces assistance and support as students acquire knowledge and enhance their competence.
Lesson Planning Process
The process of lesson planning is critical to student success. Whether teachers follow conventional linear plans or opt for more organic approaches, what matters is the thought and care put into the process. Effective lesson planning is not just about what happens in the classroom but also how well it is thought out beforehand. It's the roadmap to student achievement.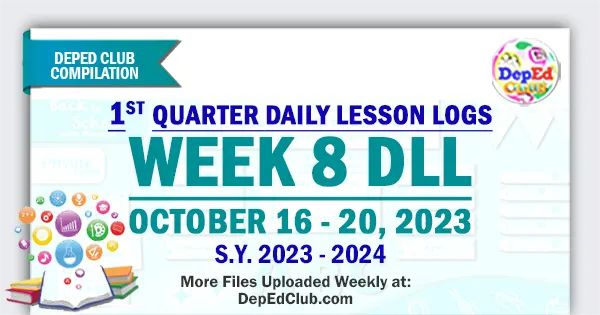 Week 8 DLL October 16 – 20, 2023 |
1st Quarter Daily Lesson Log
Kindergarten Daily Lesson Log – Week 8 – 1st Quarter
Grade 1 Daily Lesson Log – Week 8 – 1st Quarter
Grade 2 Daily Lesson Log – Week 8 – 1st Quarter
Grade 3 Daily Lesson Log – Week 8 – 1st Quarter
Grade 4 Daily Lesson Log – Week 8 – 1st Quarter
Grade 5 Daily Lesson Log – Week 8 – 1st Quarter
Grade 6 Daily Lesson Log – Week 8 – 1st Quarter
MORE FILES NOW AVAILABLE!
ALSO MORE FILES NOW AVAILABLE!
IMPORTANT GUIDE:
MORE DOWNLOADABLE FILES
Activities for Students | Classroom Observation Tools | Daily Lesson Log | Diagnostic Test | Exams | Inspirational Stories | Instructional Materials | Learners Material | Periodical Tests | Powerpoint Presentations | RPMS | Short Stories | Summative Tests | Weekly Daily Lesson Log | Weekly Home Learning Plan | Weekly Learning Plan | Workbooks
We are always on the process of uploading new files.
For additional updates and unannounced uploads, please visit this section from time to time.
Like us on Facebook to get INSTANT UPDATES. CLICK HERE
You can also BOOKMARK this page in your web browser by clicking Ctrl+D in your keyboard for faster access in the future. Thank you fellow Teachers.
We at DepEd Teachers Club are always grateful to all our File Authors and File Contributors. Credit goes to all of them. Let us all give them thanks and show our support for all their works.
We are also thankful for all our File Editors, Sharers, Tech Volunteers and fellow Teachers for helping us and making this kind of service possible.