In our ongoing commitment to support teachers in crafting engaging lessons brimming with meaningful tasks and activities that propel students toward their educational goals, we are delighted to share our collection of DepEd educational resources including these Week 7 DLL October 9 – 13, 2023 | 1st Quarter Daily Lesson Log. These resources serve as a convenient repository, simplifying the integration of essential knowledge into the teaching journey. Through sharing our files, we aim to empower teachers to create a seamless and enriched learning experience, fostering a stronger connection between instruction and understanding.
Our heartfelt gratitude extends to our dedicated DepEd Club Contributors, File Editors, and Tech Volunteers, whose selfless and unwavering efforts have been instrumental in organizing the content of our website and social media platforms. We extend a warm thank you to all for your steadfast support that continues to drive us forward with this cause.
Importance of Lesson Planning in Teaching
Teachers do a lot of thinking and planning before they teach a class. They make decisions about what to teach and how to teach them. These decisions have real effects on what happens in the classroom. Teachers also make decisions during the class to make sure students are learning.
What teachers believe and think influences their plans and actions. Realizing how teachers plan is important for education. Here are three reasons why:
Planning affects the quality, quantity and nature of what happens in the classroom.
We can see how planning affects teaching.
It doesn't cost much to change plans, so planning can help make teaching better.
Even though we know a lot about what makes teachers effective, we still don't have clear evidence about how they plan lessons. Understanding how teachers plan can help both teachers and school administrators. This understanding can come from watching lessons and from planning before teaching. But there isn't much research on how planning connects to effective teaching. So, it's important to learn how planning and teaching are related before we can help teachers plan better.
Some people say that a teacher's job is not just to teach but also to prepare students to learn. Lesson planning is where teachers make decisions to get students ready for learning. It's a careful effort by teachers to create activities that help students develop their thinking.
Good teachers know what to teach and how to teach it. Lesson planning is when teachers think about what will happen during a lesson. This includes thinking about how to get students invested in the material and how students might react.
National teaching standards say that planning is a big part of a teacher's job. Planning helps students have meaningful learning experiences. But planning is not simple. Just going through the motions of planning doesn't guarantee meaningful activities for students.
The goal of planning is to make sure students learn. So, planning helps teachers organize lessons to make learning happen. Effective teachers need to plan with different skills to meet the needs of all students. Carefully planned lessons show that teachers understand many different teaching methods.
Good teachers are also good planners. It's hard to teach well without a solid plan. Teachers need to know their students, the subject, the resources and the teaching methods. Good planning comes from asking why students act a certain way and how to support each student.
Good planning along with the right teaching methods leads to high-quality learning for all students. That's why routines help teachers plan. They help teachers manage activities and make planning easier.
Planning is about making decisions about what routines to use and how to use them. If planning means coordinating many routines, then routines are important for planning. Expert teachers use routines automatically. They use routines to free up their thinking for other complex things. This is different from experienced teachers who don't use routines as effectively.
Using routines helps teachers save time, which they can then use for teaching. So, lesson planning is not just about what happens during the lesson but also about how teachers get ready to teach.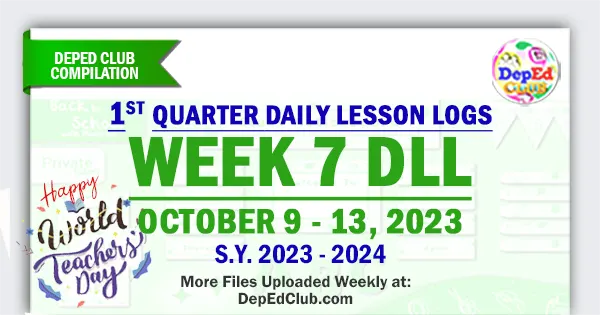 Week 7 DLL October 9 – 13, 2023 |
1st Quarter Daily Lesson Log
Kindergarten Daily Lesson Log – Week 7 – 1st Quarter
Grade 1 Daily Lesson Log – Week 7 – 1st Quarter
Grade 2 Daily Lesson Log – Week 7 – 1st Quarter
Grade 3 Daily Lesson Log – Week 7 – 1st Quarter
Grade 4 Daily Lesson Log – Week 7 – 1st Quarter
Grade 5 Daily Lesson Log – Week 7 – 1st Quarter
Grade 6 Daily Lesson Log – Week 7 – 1st Quarter
MORE FILES NOW AVAILABLE!
ALSO MORE FILES NOW AVAILABLE!
IMPORTANT GUIDE:
MORE DOWNLOADABLE FILES
Activities for Students | Classroom Observation Tools | Daily Lesson Log | Diagnostic Test | Exams | Inspirational Stories | Instructional Materials | Learners Material | Periodical Tests | Powerpoint Presentations | RPMS | Short Stories | Summative Tests | Weekly Daily Lesson Log | Weekly Home Learning Plan | Weekly Learning Plan | Workbooks
We are always on the process of uploading new files.
For additional updates and unannounced uploads, please visit this section from time to time.
Like us on Facebook to get INSTANT UPDATES. CLICK HERE
You can also BOOKMARK this page in your web browser by clicking Ctrl+D in your keyboard for faster access in the future. Thank you fellow Teachers.
We at DepEd Teachers Club are always grateful to all our File Authors and File Contributors. Credit goes to all of them. Let us all give them thanks and show our support for all their works.
We are also thankful for all our File Editors, Sharers, Tech Volunteers and fellow Teachers for helping us and making this kind of service possible.