Driven by our commitment to creating a setting that enables teachers to facilitate stronger links between the curriculum and students' individual learning, resulting in a more captivating and efficient learning, we have committed ourselves to an ongoing effort of uploading our ready-made 1st Quarter Grade 6 Daily Lesson Log | SY 2023 – 2024 DLL Update! Our long-term goal is to consistently update and publish our ready-made weekly K–10 Daily Lesson Logs. Just visit this page regularly for the latest uploads.
We are grateful to all of our Contributors, File Editors, and Tech Volunteers who worked sacrificially and without hesitation to manage the content of our website and social media accounts. Thank you to everyone for your continued support.
And as we embark on a new adventure with fresh kids and unanticipated difficulties, we'll stick together as a strong DepEd Teachers Club.
Lesson Planning Content
In the world of lesson planning, content plays a vital role. Content means the knowledge that students need to grasp in a meaningful way to help them grow as individuals and in society. The link between content and educational goals is strong. It's about achieving real-world and cultural understanding (goals) and translating that into what students experience in school (content).
Traditionally, content was thought of as concepts, data and information. But now, we need to think of content more broadly. It includes procedures, qualities, attitudes and rules. So today, content is a mix of procedures, qualities and attitudes that are all connected.
The word concept refers to theories, principles and information that rely mainly on memory. These are like facts (dates, titles, names of authors, etc.). For example, think about memorizing the formula for calculating the area of a circle. But it's not just about memorizing data; it's also about understanding the concept. Concepts can be related to other concepts (theories) or more general concepts (principles). Think about how you know that when you collide two things, they exert forces to each other. The concept of forces helps us understand the action and reaction between two things. But understanding a concept takes time. It's not something you learn all at once. Concepts are not meant to be memorized. They're meant to be understood. And you need to learn them step by step, not just by repeating them.
While learning facts is about quantity, learning concepts is about quality (a young student might understand phases of the moon, but an astronomer would grasp it on a deeper level). So, in lesson planning, it's not just about throwing information at students; it's about helping them truly understand the bigger ideas behind the facts.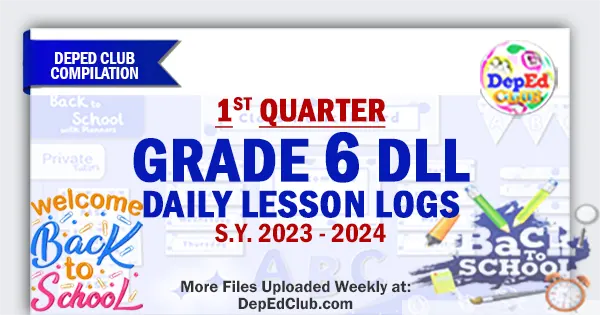 1st Quarter Grade 6 Daily Lesson Log |
SY 2023 – 2024 DLL Update!
(Update!) Week 1 DLL – 1st Quarter Grade 6 Daily Lesson Log
( August 29 – September 1, 2023)
(Update!) Week 2 DLL – 1st Quarter Grade 6 Daily Lesson Log
( September 4 – 8, 2023)
(Update!) Week 3 DLL – 1st Quarter Grade 6 Daily Lesson Log
( September 11 – 15, 2023) (Links FIXED )
(Update!) Week 4 DLL – 1st Quarter Grade 6 Daily Lesson Log
( September 18 – 22, 2023 )
(Update!) Week 5 DLL – 1st Quarter Grade 6  Daily Lesson Log
( September 25 – 29, 2023 )
NOW AVAILABLE!
Also Available !
IMPORTANT GUIDE:
MORE DOWNLOADABLE FILES
Activities for Students | Classroom Observation Tools | Daily Lesson Log | Diagnostic Test | Exams | Inspirational Stories | Instructional Materials | Learners Material | Periodical Tests | Powerpoint Presentations | RPMS | Short Stories | Summative Tests | Weekly Daily Lesson Log | Weekly Home Learning Plan | Weekly Learning Plan | Workbooks
We are always on the process of uploading new files.
For additional updates and unannounced uploads, please visit this section from time to time.
Like us on Facebook to get INSTANT UPDATES. CLICK HERE
You can also BOOKMARK this page in your web browser by clicking Ctrl+D in your keyboard for faster access in the future. Thank you fellow Teachers.
We at DepEd Teachers Club are always grateful to all our File Authors and File Contributors. Credit goes to all of them. Let us all give them thanks and show our support for all their works.
We are also thankful for all our File Editors, Sharers, Tech Volunteers and fellow Teachers for helping us and making this kind of service possible.