To help teachers, we have committed ourselves to an ongoing effort of uploading our ready-made 1st Quarter Grade 3 Daily Lesson Log | SY 2023 – 2024 DLL Update!. These resources encompass a pre-prepared materials designed to empower teachers in tailoring their instructional content to be more meaningful and relevant to the diverse student population they serve. Our long-term goal is to consistently update and publish our ready-made weekly K–10 Daily Lesson Logs. Just visit this page regularly for the latest uploads.
We are grateful to all of our Contributors, File Editors, and Tech Volunteers who worked sacrificially and without hesitation to manage the content of our website and social media accounts. Thank you to everyone for your continued support.
And as we embark on a new adventure with fresh kids and unanticipated difficulties, we'll stick together as a strong DepEd Teachers Club.
Teaching Goals in Lesson Planning
Creating a good lesson plan involves several important parts that work together. An effective lesson plan should include these main components: teaching goals, a warm-up activity, methods and steps to reach the goals and a way to check if the goals were met.
Teaching Goals
A great teacher knows exactly what they want to teach their students. So, it's really important to have clear teaching goals for the lesson. These goals are like targets that guide good teaching and help in making an effective lesson plan. To set these goals, teachers need to read the lesson materials carefully before planning their lessons. This means reading the students' book, the workbook, learners' materials and the teacher's guide for the specific part they'll be teaching. It's a good idea for the teacher to tell the students the goals at the start of the lesson. This way, students know what they'll be learning and can focus better. For instance, a teacher might say, "Today, we're going to learn new words to describe animal habitat." By the end of the lesson, you should be able to:
Remember the new words for describing animal habitats.
Say the new words correctly and recognize them when the teacher says them.
Use the new words to describe animal habitats in sentences, both spoken and written.
Different lessons have different goals and teaching skills like reading, listening, speaking and writing have different objectives. For example, a reading lesson might aim to understand the main idea while another might focus on getting details. Some might be about comprehension, and others could be for enjoyment. Also, some lessons might combine two or more skills, like listening and reading or reading and speaking. So, teachers should set goals that include more than one skill if needed. Language skills are closely connected to language areas like vocabulary, pronunciation and grammar. When creating teaching goals, it's important to consider these areas too. The goals in the lesson plans given by the teacher's book might not match perfectly, but teachers can change them to fit their needs. The idea is to make sure students learn in the best way possible.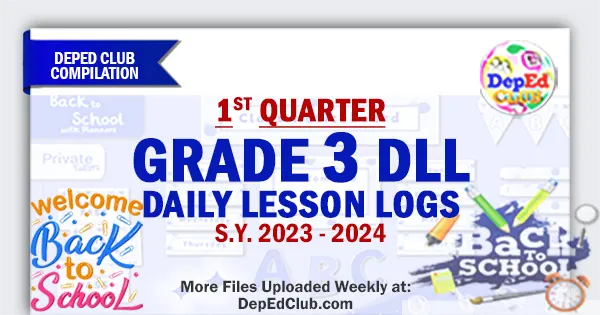 1st Quarter Grade 3 Daily Lesson Log |
SY 2023 – 2024 DLL Update!
(Update!) Week 1 DLL – 1st Quarter Grade 3 Daily Lesson Log
( August 29 – September 1, 2023)
(Update!) Week 2 DLL – 1st Quarter Grade 3 Daily Lesson Log
( September 4 – 8, 2023)
(Update!) Week 3 DLL – 1st Quarter Grade 3 Daily Lesson Log
( September 11 – 15, 2023)
(Update!) Week 4 DLL – 1st Quarter Grade 3 Daily Lesson Log
( September 18 – 22, 2023 )
(Update!) Week 5 DLL – 1st Quarter Grade 3  Daily Lesson Log
( September 25 – 29, 2023 )
NOW AVAILABLE!
Also Available !
IMPORTANT GUIDE:
MORE DOWNLOADABLE FILES
Activities for Students | Classroom Observation Tools | Daily Lesson Log | Diagnostic Test | Exams | Inspirational Stories | Instructional Materials | Learners Material | Periodical Tests | Powerpoint Presentations | RPMS | Short Stories | Summative Tests | Weekly Daily Lesson Log | Weekly Home Learning Plan | Weekly Learning Plan | Workbooks
We are always on the process of uploading new files.
For additional updates and unannounced uploads, please visit this section from time to time.
Like us on Facebook to get INSTANT UPDATES. CLICK HERE
You can also BOOKMARK this page in your web browser by clicking Ctrl+D in your keyboard for faster access in the future. Thank you fellow Teachers.
We at DepEd Teachers Club are always grateful to all our File Authors and File Contributors. Credit goes to all of them. Let us all give them thanks and show our support for all their works.
We are also thankful for all our File Editors, Sharers, Tech Volunteers and fellow Teachers for helping us and making this kind of service possible.