To help teachers in crafting valuable learning opportunities that address the unique requirements of their students and promote academic development and achievement, ensuring a diverse range of needs are met effectively, we are constantly uploading our ready-made 1st Quarter Grade 1 Daily Lesson Log | SY 2023 – 2024 DLL Update!. Our long-term goal is to consistently update and publish our ready-made weekly K–10 Daily Lesson Logs. Just visit this page regularly for the latest uploads.
We are grateful to all of our Contributors, File Editors, and Tech Volunteers who worked sacrificially and without hesitation to manage the content of our website and social media accounts. Thank you to everyone for your continued support.
And as we embark on a new adventure with fresh kids and unanticipated difficulties, we'll stick together as a strong DepEd Teachers Club.
The Different Parts of Lesson Planning
Lesson planning is when teachers and educational teams make detailed plans for what students will learn. These plans are made for certain groups of students like in a specific grade or subject. Each class gets its own plan. In a lesson plan, there are some important things that should always be included:
Goals. Goals are like the things we want students to learn. They are like targets for teaching and learning. Goals help guide what students will learn and how they will learn it. There are different types of goals in lesson planning:
Big Goals. These are goals for all students in a school. They include values and things that the whole school wants to achieve.
Subject Goals. These goals are for specific subjects or areas of learning. They show what students should learn over a school year.
Contents. Contents are the things that students need to learn. They are the subjects and topics that help students grow and learn. Contents are chosen, organized and arranged in a way that makes sense. Lesson plans also include important concepts, skills and things students need to know. The plan also lists the topics students will learn about during the year.
Teaching Methods. Teaching methods are how teachers teach. They can be different ways of teaching, like explaining, working together or using resources. Teaching methods should be flexible and adaptable to different situations. Some methods encourage students to work on their own, some help students learn from each other and some involve teachers talking.
Assessment. Assessment is about figuring out how well students are learning. It's like checking if the teaching is working. Assessment happens at different times:
Start Assessment: This is at the beginning to see what students already know.
Ongoing Assessment: This is done while teaching is happening to see how students are doing.
End Assessment: This is at the end to see what students have learned.
Reflection Assessment: This is to understand how well everything worked.
Assessment should be fair and focused on student learning. Lesson plans also include ways to help students improve if they're having trouble.
Meeting Different Needs. This means taking care of all students, including those who need extra help or who are very smart. Lesson plans should be designed to help everyone learn, including students who are new to the school or from different cultures.
In lesson planning, all these parts work together to make sure teaching and learning are successful. Each part is important for helping students get the best education possible.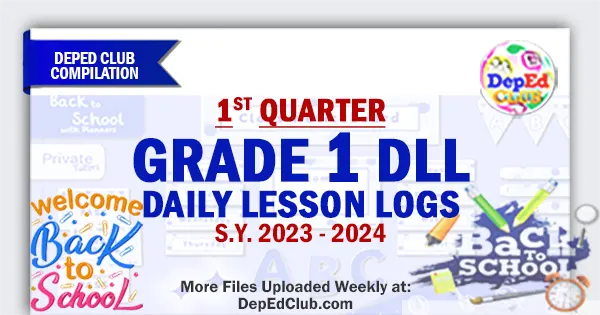 1st Quarter Grade 1 Daily Lesson Log |
SY 2023 – 2024 DLL Update!
(Update!) Week 1 DLL – 1st Quarter Grade 1 Daily Lesson Log
( August 29 – September 1, 2023)
(Update!) Week 2 DLL – 1st Quarter Grade 1 Daily Lesson Log
( September 4 – 8, 2023)
(Update!) Week 3 DLL – 1st Quarter Grade 1 Daily Lesson Log
( September 11 – 15, 2023)
(Update!) Week 4 DLL – 1st Quarter Grade 1 Daily Lesson Log
( September 18 – 22, 2023 )
(Update!) Week 5 DLL – 1st Quarter Grade 1  Daily Lesson Log
( September 25 – 29, 2023 )
NOW AVAILABLE!
Also Available !
IMPORTANT GUIDE:
MORE DOWNLOADABLE FILES
Activities for Students | Classroom Observation Tools | Daily Lesson Log | Diagnostic Test | Exams | Inspirational Stories | Instructional Materials | Learners Material | Periodical Tests | Powerpoint Presentations | RPMS | Short Stories | Summative Tests | Weekly Daily Lesson Log | Weekly Home Learning Plan | Weekly Learning Plan | Workbooks
We are always on the process of uploading new files.
For additional updates and unannounced uploads, please visit this section from time to time.
Like us on Facebook to get INSTANT UPDATES. CLICK HERE
You can also BOOKMARK this page in your web browser by clicking Ctrl+D in your keyboard for faster access in the future. Thank you fellow Teachers.
We at DepEd Teachers Club are always grateful to all our File Authors and File Contributors. Credit goes to all of them. Let us all give them thanks and show our support for all their works.
We are also thankful for all our File Editors, Sharers, Tech Volunteers and fellow Teachers for helping us and making this kind of service possible.