Teachers often begin the academic week by lesson planning and creating a scheme of work that outlines what will be covered each week such as the Week 5 Quarter 4 Daily Lesson Logs, as seen below. This ensures that the curriculum, as prescribed by the Department of Education is adequately addressed. It is crucial for teachers to go with DepEd's requirements and follow specific learning objectives for each session. Without established and clear learning objectives, time can be wasted simply continuing from the previous session without any tangible achievements. Thus, it is important for lesson plans to clearly identify the learning goals for each session and establish how they will be assessed.
In order for learners to comprehend the learning goals, it is essential for teachers to effectively communicate and ensure their understanding of the tasks at hand, as shown on the Week 5 Quarter 4 Daily Lesson Log or the weekly daily lesson logs. Learners need to know what they are expected to do, what they will learn from the tasks, and why they are important in the overall curriculum. Often, learners may lack clarity regarding the purpose of a particular task and its relevance. When learners understand the reasoning behind their activities, they are more likely to engage actively. Therefore, it is crucial for teachers to clearly communicate the learning objectives, including the specific work learners need to produce, and actively involve them in the learning process.
Learning cannot simply be done to students. Learning must be done with and by the students. This highlights the importance of effective two-way communication as a key element in unlocking learners' full potential and facilitating their ultimate success. Teachers should encourage learners to observe how their peers respond to tasks, enabling them to apply the assessment criteria to their own work. To facilitate this, teachers need to explain the learning objectives and their significance, ensuring learners' understanding. Additionally, teachers must clarify the assessment criteria and guide learners on their application. Constructive feedback is vital, with teachers highlighting both areas of improvement and aspects of the learners' work that demonstrate proficiency.
And to help teachers communicate clearly the learning objectives and guarantee that students grasp the tasks at hand in order for them to understand and improve their learning, we are constantly uploading our ready-made Week 5 Quarter 4 Daily Lesson Log | May 29 – June 2, 2023 DLL Update! Our long-term goal is to consistently update and publish our ready-made weekly K–12 Daily Lesson Logs. Just visit this page regularly for the latest uploads.
We are grateful to all of our Contributors, File Editors, and Tech Volunteers who worked sacrificially and without hesitation to manage the content of our website and social media accounts. Thank you to everyone for your continued support.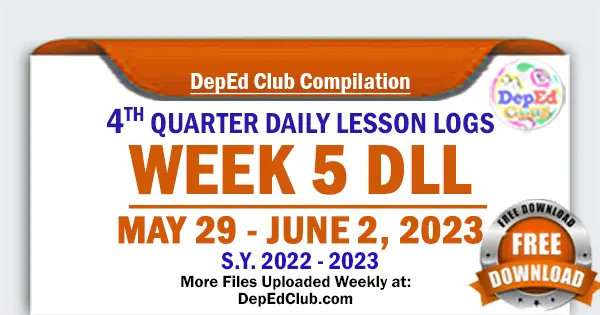 Week 5 Quarter 4 Daily Lesson Log |
May 29 – June 2, 2023 DLL Update!
Kindergarten Daily Lesson Log 4th Quarter
Grade 1 Daily Lesson Log 4th Quarter
Grade 2 Daily Lesson Log 4th Quarter
Grade 3 Daily Lesson Log 4th Quarter
Grade 4 Daily Lesson Log 4th Quarter
Grade 5 Daily Lesson Log 4th Quarter
Grade 6 Daily Lesson Log 4th Quarter
NOW AVAILABLE!
ALSO AVAILABLE!
IMPORTANT GUIDE:
MORE DOWNLOADABLE FILES
We are always on the process of uploading new files.
For additional updates and unannounced uploads, please visit this section from time to time.
Like us on Facebook to get INSTANT UPDATES. CLICK HERE
You can also BOOKMARK this page in your web browser by clicking Ctrl+D in your keyboard for faster access in the future. Thank you fellow Teachers.
We at DepEd Teachers Club are always grateful to all our File Authors and File Contributors. Credit goes to all of them. Let us all give them thanks and show our support for all their works.
We are also thankful for all our File Editors, Sharers, Tech Volunteers and fellow Teachers for helping us and making this kind of service possible.