To offer teachers with significant resources to refer to while planning their lessons and setting up goals and objectives for their lessons, we are constantly uploading our ready-made Week 4 – Quarter 4 Daily Lesson Log | May 22-26, 2023 DLL Update! Our long-term goal is to consistently update and publish our ready-made weekly K–12 Daily Lesson Logs. Just visit this page regularly for the latest uploads.
We are grateful to all of our Contributors, File Editors, and Tech Volunteers who worked sacrificially and without hesitation to manage the content of our website and social media accounts. Thank you to everyone for your continued support.
Bloom's Taxonomy in Lesson Planning
For many years, teachers have found Bloom's Taxonomy to be a useful tool when organizing lesson plans. It offers a framework that aids teachers in efficiently structuring their educational goals. The activities and procedures to be followed during a class time are carefully outlined in a lesson plan. Planning is more than just defining goals; it also takes into account minute particulars like work distribution, timeliness, and the creation of chances for significant student learning.
Educational goals are divided into three categories by Bloom's Taxonomy: cognitive, affective and psychomotor. To set up specific goals and objectives for their lessons, many teachers use Bloom's Taxonomy. It is a useful resource for referencing when creating objectives for lesson plans.
Knowledge acquisition, understanding, application, and analysis are some of the cognitive skills that are the emphasis of the Cognitive Domain. The Affective Domain addresses the psychological states of learners, such as awareness, responsiveness, values, and organization, by encompassing emotions, feelings, and behavioral components. With an emphasis on accuracy, articulation, coordination, and manipulation, the Psychomotor Domain deals with the development of manual and physical abilities. Planning, developing, evaluating, training, and achieving instructional effectiveness are all made easier by Bloom's Taxonomy's sound framework.
Cognitive behaviors are divided into many categories under Bloom's Taxonomy within the Cognitive Domain. These are:
Knowledge: Students show the capacity to recollect facts, for example, recalling the benefits of utilizing a computer for word processing.
Understanding: Students are able to interpret the material and show that they have understood it.
Application: Students use their knowledge to address issues in the real world, for as by using the computer abilities they have acquired in class.
Analysis: Students dissect difficult material into manageable chunks and find connections between various informational elements.
Synthesis: Students use their prior knowledge to produce new knowledge.
Evaluation: Students form opinions on the advantages and disadvantages of a certain topic or idea.
Moreover, the planning process is improved by Bloom's Taxonomy in a number of ways:
It offers a thorough list of goals from which teachers can choose for every subject they choose to teach.
It aids in arranging learning objectives in a progression from basic to sophisticated, assuring a smooth transition.
It provides a cognitive framework that enables students to comprehend the application, analysis, synthesis, and evaluation of facts in light of other concepts.
It offers a paradigm of learning that students may use outside of the classroom.
We may use the analogy of the brain, heart, and hands to symbolize the cognitive, emotional, and psychomotor domains, respectively, to demonstrate these domains. The cognitive domain is associated with the head because it deals with mental functions, whereas the affective domain is associated with the heart because it deals with emotions and attitudes. The hands are represented by the psychomotor domain, which includes manual dexterity and physical manipulation.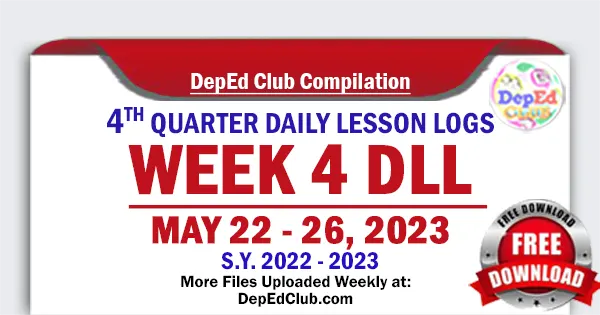 Week 4 – Quarter 4 Daily Lesson Log |
May 22-26, 2023 DLL Update!
Kindergarten Daily Lesson Log – 4th Quarter
Grade 1 Daily Lesson Log – 4th Quarter
Grade 2 Daily Lesson Log – 4th Quarter
Grade 3 Daily Lesson Log – 4th Quarter
Grade 4 Daily Lesson Log – 4th Quarter
Grade 5 Daily Lesson Log – 4th Quarter
Grade 6 Daily Lesson Log – 4th Quarter
NOW AVAILABLE!
ALSO AVAILABLE!
IMPORTANT GUIDE:
MORE DOWNLOADABLE FILES
We are always on the process of uploading new files.
For additional updates and unannounced uploads, please visit this section from time to time.
Like us on Facebook to get INSTANT UPDATES. CLICK HERE
You can also BOOKMARK this page in your web browser by clicking Ctrl+D in your keyboard for faster access in the future. Thank you fellow Teachers.
We at DepEd Teachers Club are always grateful to all our File Authors and File Contributors. Credit goes to all of them. Let us all give them thanks and show our support for all their works.
We are also thankful for all our File Editors, Sharers, Tech Volunteers and fellow Teachers for helping us and making this kind of service possible.