Good day fellow Teachers. More Grade 4 PowerPoint Presentations – 1st Quarter are now available. Thanks to all our File Creators, Contributors and Files Editors for sharing these files. More files to be uploaded soon. Thank you!
>>>How to Engage Students with PowerPoint presentations

The following techniques can be incorporated into PowerPoint presentations to increase interactivity and engagement between students and students and students and the teacher. Each technique can be projected as a separate PowerPoint slide.

Run a Slide Show as Students Arrive in the Classroom

This technique provides visual interest and can also have a series of questions students can answer as they sit waiting for the class to begin. These questions could be future texts or quizzes. Such as projecting an opening question, take a moment to reflect on ______(topic).

This can be projected at different intervals of a presentation to allow students to concentrate on, and discuss what has been presented. For example, – Think of what you know about ______(topic), list as many characteristics of _________ or write down as many words related to __________(this technique helps with recall of pertinent information).

Start with your clearest thoughts and then move on to those what are kind of questions to ask students if they have any questions so far. Do this about every 15 minutes or so. (This technique provides time for students to reflect and is also a good time for a scheduled break and for the teacher to interact with students).

If You Could Ask One Last Question—What Would it be? (This technique allows for students to think more deeply about the topic and to apply what they have learned in a question format). What is the most useful point in today's material and how can you illustrate its use in a practical setting? (This technique can tell the instructor if the lesson is on track).<<<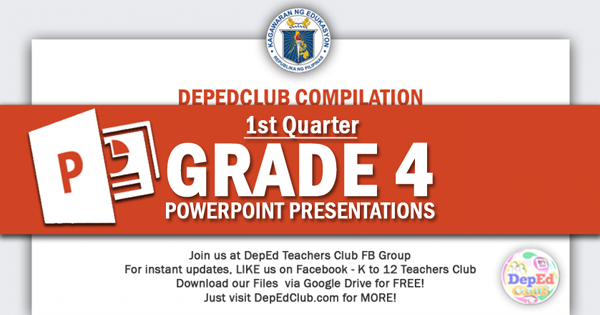 Grade 4 PowerPoint Presentations – 1st Quarter
ARALING PANLIPUNAN 4 PowerPoint Presentations
ENGLISH 4 PowerPoint Presentations
EPP 4 PowerPoint Presentations
EDUKASYON SA PAGPAPAKATAO (ESP) 4 PowerPoint Presentations
FILIPINO 4 PowerPoint Presentations
ART 4 PowerPoint Presentations
MUSIC 4 PowerPoint Presentations
MATHEMATICS 4 PowerPoint Presentations
SCIENCE 4 PowerPoint Presentations
IMPORTANT: HOW TO DOWLOAD FILES IN GOOGLE DRIVE
FOR MS OFFICE FILES:
1. Click on the file link in our website.
2. You will be redirected to the file location via Google Drive.
3. On the upper left side of your screen, Go to FILE menu. Click DOWNLOAD, then Select Microsoft Word for the editable file format.
FOR OTHER FILES:
1. On the upper right hand corner of your screen, look for this button to Download the file —>

If you encounter an Error while downloading the files, please Log-in to your Gmail account (Here – mail.google.com) , then try again to click the Download Link in Google Drive. Thank you.
Additional files to be uploaded soon.
We are always on the process of uploading new files.
For additional updates and unannounced uploads, please visit this section from time to time.
Like us on Facebook to get INSTANT UPDATES. CLICK HERE
You can also BOOKMARK this page in your web browser by clicking Ctrl+D in your keyboard for faster access in the future. Thank you fellow Teachers.
We at DepEd Teachers Club are always grateful to all our File Authors and File Contributors. Credit goes to all of them. Let us all give them thanks and show our support for all their works.
We are also thankful for all our File Editors, Sharers, Tech Volunteers and fellow Teachers for helping us and making this kind of service possible.
Thank you!
MORE DOWNLOADABLE FILES