To help teachers create lesson plans that are content appropriate, accommodating students' learning differences and use a variety of instructional strategies, we are constantly uploading our ready-made Week 3 – Quarter 3 Daily Lesson Log | Feb. 27 – March 3, 2023 DLL Update!. Our long-term goal is to consistently update and publish our ready-made weekly K–12 Daily Lesson Logs. Just visit this page regularly for the latest uploads.
We are grateful to all of our Contributors, File Editors, and Tech Volunteers who worked sacrificially and without hesitation to manage the content of our website and social media accounts. Thank you to everyone for your continued support.
Successful Lesson Planning
Being a successful teacher requires careful planning on the part of the teacher. Clear lesson and learning objectives, excellent assignments, logical lesson structures, instructional tactics, timing, consideration of learning differences, and the development of plans that are appropriate for the students' ages and levels of understanding are all characteristics of effective lesson preparation.
With their students, effective teachers employ organizers. Teachers using organizers with students will benefit from knowing when and how to use them as well as understanding their purpose. Organizers have a good chance of improving academic performance for all students across all grade levels and topics. Teachers must have a structured grasp of the idea in order to employ this method with pupils.
Furthermore, the timing or pace of instructional tactics is crucial. The chronology of the lesson is influenced by this component of lesson preparation, which also enables successful teachers to provide students the most time with the topic. Less time is spent on transitions in classrooms with competent teachers, and more time is spent on instruction and learning.
Effective planning must take into account both the timing of instructional tactics and the amount of time spent with students actively engaged in the topic. Successful teachers must take into account learning differences when organizing lessons in order to accommodate the requirements of all students in the classroom. Every student in the classroom is an individual, and the teacher must take these distinctions into consideration when preparing lessons so that each student can relate to the topic. In order to meet the demands of the class, highly effective teachers are able to do this. Effective teachers must therefore approach lesson planning with the knowledge that they must cater to the needs of a variety of pupils. By scheduling lessons for one-on-one instruction or small groups, teachers can achieve this.
Planning for learning differences is related to creating lesson plans that are age and subject appropriate. A successful teacher is aware of the students' ages, as well as what is acceptable for their cognitive and developmental stages and their interests. Using real activities is one method that successful teachers create lesson plans that are age and content appropriate, accommodating learning differences, and use a variety of instructional strategies. Additionally, teachers must construct their lessons so that they push students slightly outside of their comfort zones while also challenging them. The difficulty of a modern teacher's lesson planning is increased by the need to guarantee that every student is suitably challenged with age-appropriate resources and content.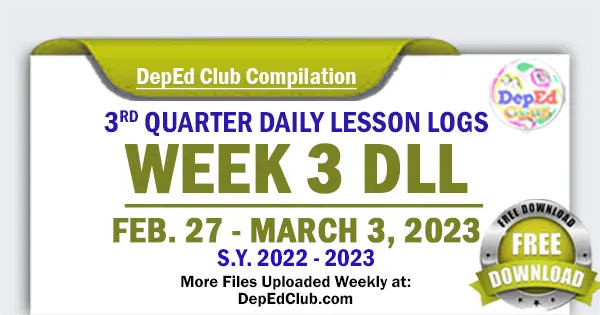 Week 3 – Quarter 3 Daily Lesson Log |
Feb. 27 – March 3, 2023 DLL Update!
Kindergarten Daily Lesson Log – 2nd Quarter
Grade 1 Daily Lesson Log – 3rd Quarter
Grade 2 Daily Lesson Log – 3rd Quarter
Grade 3 Daily Lesson Log – 3rd Quarter
Grade 4 Daily Lesson Log – 3rd Quarter
Grade 5 Daily Lesson Log – 3rd Quarter
Grade 6 Daily Lesson Log – 3rd Quarter
See Also:
More Files uploaded Weekly. Bookmark this page for instant access. Just Press CTRL + D in your keyboard to add this page to your bookmarks.
Also Available!
IMPORTANT GUIDE:
MORE DOWNLOADABLE FILES
Activities for Students | Classroom Observation Tools | Daily Lesson Log | Diagnostic Test | Exams | Inspirational Stories | Instructional Materials | Learners Material | Periodical Tests | Powerpoint Presentations | RPMS | Short Stories | Summative Tests | Weekly Daily Lesson Log | Weekly Home Learning Plan | Weekly Learning Plan | Workbooks
/ Learning Materials / Learners Materials / Instructional Materials
We are always on the process of uploading new files.
For additional updates and unannounced uploads, please visit this section from time to time.
Like us on Facebook to get INSTANT UPDATES. CLICK HERE
You can also BOOKMARK this page in your web browser by clicking Ctrl+D in your keyboard for faster access in the future. Thank you fellow Teachers.
We at DepEd Teachers Club are always grateful to all our File Authors and File Contributors. Credit goes to all of them. Let us all give them thanks and show our support for all their works.
We are also thankful for all our File Editors, Sharers, Tech Volunteers and fellow Teachers for helping us and making this kind of service possible.