To help teachers plan in a wide range of methods that have practical effects in the classroom and so that they can regularly make strategic choices for classroom instruction, our long-term goal is to consistently update and publish our ready-made weekly K–12 Daily Lesson Logs. Because of the cooperative efforts of our Contributors, File Editors and Tech Volunteers, we are now able to share our compiled 3rd Quarter Kindergarten Daily Lesson Log | SY 2022 – 2023 DLL Update! Thank you for your continued support!
Planning lessons with a lean approach
Using reverse design in the perspective of lean lesson preparation is one of the finest strategies to enhance learning. Asking questions such as: what I want my pupils to know by the end of the class is the first question teachers should ask in the process. Teachers should develop the practice of using trustworthy methods to assess student knowledge. This can be accomplished by entry, transition, and exit examinations.
Effective teachers value their students' attention as a limited resource. Such teachers ponder questions like: What is the minimum amount of information my students require before proceeding and what amount of intentional practice do they need to achieve the most progress?
Teachers need to help students develop long-lasting, retrievable memories. Planning in the classroom needs to be based on how memory functions. We do this because we want students to anchor or absorb their thinking. Both the past and the future must be planned for by teachers. Experienced teachers design interconnected lessons. It's imperative that teachers develop the practice of asking these questions when making plans:
What prior knowledge is needed to be reviewed for the lesson?
What prior learning is needed to be evaluate today in order to appropriately plan the next lesson?
According to research, planning and thinking are crucial components of effective classroom instruction. This implies that teachers plan in a wide range of methods that have practical effects in the classroom, that they regularly make strategic choices during classroom instruction, and that teacher ideologies and belief systems impact their judgments, plans, and actions.
A crucial part of a teacher's job is lesson planning, which has a direct impact on what and how students acquire the required knowledge. As a result, how teachers plan is crucial to student performance. Planning actions and decisions that have an impact on the type and quality of education in the classroom, such as lessons, is crucial.
Both teachers and students can benefit from knowing how to intervene in the lesson planning process to enhance instruction. Both the planning phase as well as watching instructions are options for doing this.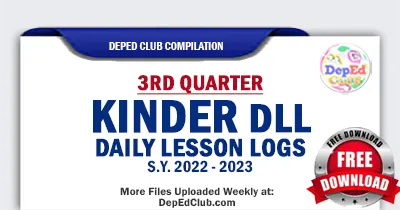 3rd Quarter Kindergarten Daily Lesson Log | SY 2022 – 2023 DLL Update!
See Also:
More Files uploaded Weekly. Bookmark this page for instant access. Just Press CTRL + D in your keyboard to add this page to your bookmarks.
Also Available!
IMPORTANT GUIDE:
MORE DOWNLOADABLE FILES
Activities for Students | Classroom Observation Tools | Daily Lesson Log | Diagnostic Test | Exams | Inspirational Stories | Instructional Materials | Learners Material | Periodical Tests | Powerpoint Presentations | RPMS | Short Stories | Summative Tests | Weekly Daily Lesson Log | Weekly Home Learning Plan | Weekly Learning Plan | Workbooks
/ Learning Materials / Learners Materials / Instructional Materials
We are always on the process of uploading new files.
For additional updates and unannounced uploads, please visit this section from time to time.
Like us on Facebook to get INSTANT UPDATES. CLICK HERE
You can also BOOKMARK this page in your web browser by clicking Ctrl+D in your keyboard for faster access in the future. Thank you fellow Teachers.
We at DepEd Teachers Club are always grateful to all our File Authors and File Contributors. Credit goes to all of them. Let us all give them thanks and show our support for all their works.
We are also thankful for all our File Editors, Sharers, Tech Volunteers and fellow Teachers for helping us and making this kind of service possible.