Our long-term objective is to continually update and post our pre-made weekly K–12 Daily Lesson Logs. This is to assist teachers in carrying out their desired educational objectives through the preparation, presentation, and evaluation of their lessons. We appreciate everyone who contributed to our files compilation, as well as the file editors who edited and organized them. We also hope for everyone's well-being, safety, and success. Don't forget to like our page and share our posts. Here is an update to our Week 2 – Quarter 2 Daily Lesson Log | Nov. 14-18, 2022 DLL Update!
The contributions, editing, and technical help of our volunteers form the foundation of the DepEd Teachers Club. We humbly ask for and appreciate your continued help. You can download all of our content for free using Google Drive. View our updated and revised File Links. May more blessings come upon us all. Thank you!
Lesson Objectives in Lesson Planning
Having a plan for each day's activities in the classroom is a crucial element of effective teaching. Setting realistic goals, figuring out how to include necessary items like school books or other learning materials, and coming up with activities that would encourage learning are all part of creating such a plan. The development of lessons is guided step-by-step by lesson plans and lesson preparation. A supervisor observation enables supervisors to provide detailed feedback on a lesson that has been observed or written about in a lesson plan.
The best way to state a lesson's objectives is in terms of what the students will have completed by the completion of the lesson. When goals are stated in this manner, both the teacher and the students may determine when they have been accomplished. Making lesson objectives
Choose a topic for the class. Although the topic is not a goal, it will aid in the creation of your goals. Your syllabus and textbook may have a significant role in determining the topic, and it might also be a part of a wider theme unit. If you have any leeway in your topic selection, take into account the interests of your students as well as the accessibility of appropriate-level instructional material.
Determine the exact linguistic material that needs to be presented or reviewed, such as vocabulary and grammatical points. These are typically required by the course curriculum or textbook. If they aren't, pick topics that have a meaningful connection to the lesson's subject.
Determine the precise communication tasks that the students must fulfill. The assignments should allow students to use the language, grammar, and techniques covered in the class but not force them to do so in order to be authentic. The challenges should be topical rather than grammatical in nature. This indicates that it would be achievable for some students to finish the assignment without referencing either the grammatical point or the technique discussed in the lesson's opening section.
Determine which particular learning techniques will be covered or introduced in the context of the class.
Make objective statements that describe what you will accomplish and what the students will do during the class for the language content, communication activities, and learning methodologies.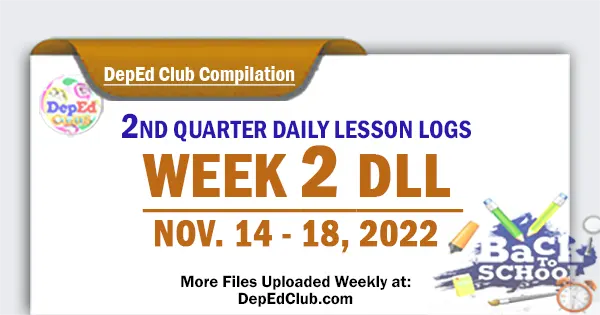 Week 2 – Quarter 2 Daily Lesson Log |
Nov. 14-18, 2022 DLL Update!
Kindergarten Daily Lesson Log – 2nd Quarter
Grade 1 Daily Lesson Log – 2nd Quarter
Grade 2 Daily Lesson Log – 2nd Quarter
Grade 3 Daily Lesson Log – 2nd Quarter
Grade 4 Daily Lesson Log – 2nd Quarter
Grade 5 Daily Lesson Log – 2nd Quarter
Grade 6 Daily Lesson Log – 2nd Quarter
See Also:
More Files uploaded Weekly. Bookmark this page for instant access. Just Press CTRL + D in your keyboard to add this page to your bookmarks.
Also Available!
IMPORTANT GUIDE:
MORE DOWNLOADABLE FILES
We are always on the process of uploading new files.
For additional updates and unannounced uploads, please visit this section from time to time.
Like us on Facebook to get INSTANT UPDATES. CLICK HERE
You can also BOOKMARK this page in your web browser by clicking Ctrl+D in your keyboard for faster access in the future. Thank you fellow Teachers.
We at DepEd Teachers Club are always grateful to all our File Authors and File Contributors. Credit goes to all of them. Let us all give them thanks and show our support for all their works.
We are also thankful for all our File Editors, Sharers, Tech Volunteers and fellow Teachers for helping us and making this kind of service possible.