We aim to complete all the GRADE 1 Learners Materials – 2nd Quarter | Learning Materials to make them available to teachers to help them gain access to the important and up to date learners materials.
Textbooks as Learning Materials
Learning materials can be divided into categories according to the interactions a learner has, ranging from concrete to abstract. Another established and well-liked method of classifying educational materials is according to the sensations they arouse in students, which in turn influences how effective the teaching and learning process is.
Text is the primary form of communication in books. For the purpose of assisting readers in learning new information, authors create books. The term "textbook" refers to a book that has been primarily designed by authors for readers of a certain curriculum. Textbooks are crucial foundational teaching and learning tools. It is particularly written to meet the demands of the curriculum. A textbook typically acts as the foundation for arranging classroom instruction. Some textbooks offer teacher and student activities in the form of questions, recommendations, experiments, discussion topics, etc. They are frequently referred to as "curricular material" since the schools frequently prescribe them and base them on predefined syllabuses that follow a curriculum.
Textbooks primarily consist of text with a few illustrations. Chapters, units, and lessons are typically used to organize the material in textbooks. The majority of textbooks are written in a factual or informational style with little to no built-in interactivity. Therefore, the majority of them do not serve as resources for learners to use on their own to learn. Textbooks that are written in a conversational way and include activities can also be used for independent study. As a result, they help students improve their reading ability and language skills. Textbooks can serve as engaging, personalized learning tools for students if they are well presented and written. As a result, the author has an impact on the textbook's quality and usefulness. The following things should be kept in mind by the author as they write a text book for elementary school students:
Textbooks should impart accurate subject knowledge;
The text book's contents ought to be logical, coherent, and sequential;
The textbook's language ought to be straightforward and understandable to primary school children.
Contents should be presented in a conversational style and according to strong pedagogical principles;
Examples and illustrations must be used to clarify concepts and propositions;
The textbook must include numerous activities and situations;
The way the material is presented needs to inspire students to keep learning.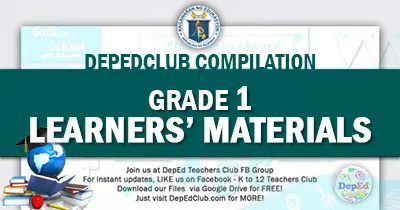 GRADE 1 LEARNERS MATERIALS – 2nd QUARTER
ARALING PANLIPUNAN 1 Learners Materials / Learning Materials
Ang Aking Pamilya
ART 1 Learners Materials / Learning Materials
Painting
EDUKASYON SA PAGPAPAKATAO 1 Learners Materials / Learning Materials
Mahal Ko, Kapwa Ko
HEALTH 1 Learners Materials / Learning Materials
Personal Health
MUSIC 1 Learners Materials / Learning Materials
Rhythm
PHYSICAL EDUCATION Learners Materials / Learning Materials
Movement Relationships
These instructional materials were collaboratively developed and reviewed by educators from public and private schools, colleges, and/or universities. Please Share.
/ Learning Materials / Learners Materials / Instructional Materials
IMPORTANT GUIDE:
MORE DOWNLOADABLE FILES
We are always on the process of uploading new files.
For additional updates and unannounced uploads, please visit this section from time to time.
Like us on Facebook to get INSTANT UPDATES. CLICK HERE
You can also BOOKMARK this page in your web browser by clicking Ctrl+D in your keyboard for faster access in the future. Thank you fellow Teachers.
We at DepEd Teachers Club are always grateful to all our File Authors and File Contributors. Credit goes to all of them. Let us all give them thanks and show our support for all their works.
We are also thankful for all our File Editors, Sharers, Tech Volunteers and fellow Teachers for helping us and making this kind of service possible.