To help teachers in supporting students in becoming independent and autonomous learners, as well as assisting students in progressing from one level to the next, we are constantly uploading our ready-made Week 1 – Quarter 4 Daily Lesson Log | May 2-5, 2023 DLL Update! Our long-term goal is to consistently update and publish our ready-made weekly K–12 Daily Lesson Logs. Just visit this page regularly for the latest uploads.
We are grateful to all of our Contributors, File Editors, and Tech Volunteers who worked sacrificially and without hesitation to manage the content of our website and social media accounts. Thank you to everyone for your continued support.
Lesson Planning Techniques
There are planning strategies that are meant to be used before a teacher enters the classroom. The following are helpful lesson planning techniques.
Begin with the end technique. Indeed, excellent learning start with organizing a list of goals. Thus, before even beginning to teach, it is crucial for the teacher to inquire about the result he hopes to achieve during his lesson plans. He might also inquire about a number of important issues, such as:
Why I teach the subjects I do?
What result do I hope to achieve?
What does this result have to do with the lesson I'll be teaching tomorrow?
How the lesson plan for one day builds on the lesson plans for the prior days in this way?
The 4Ms Technique. Manageable: The teacher's goals should be in line with the length and breadth of his or her lessons so that the teacher is aware of the time allotted for each activity. This is because knowing how quickly students pick up knowledge involves determining whether the teacher needs a few weeks to master the fundamental skills. Measurable: The teacher should record the goals he or she hopes to accomplish throughout the session so that they may be evaluated later to determine the amount of their accomplishment in achieving their intended aims. Made first: An effective objective should be created to guide the activity, so the teacher must first consider the objectives he wants to realize throughout the tasks. If he feels that the activities dedicated for each lesson do not fulfill his objectives, he may delay them, so that the objectives come first as a tactical trial to achieve the mastery of certain skills. Most important: Lessons should be clear and to the point, focusing on what is most crucial; the remainder of the information should be left up to the learners to ascertain on their own.
Post-it method. After establishing goals, a teacher can use an efficient approach by posting his own objectives from the lesson in the classroom where everyone can see them (students, peers, and administrators), as they should be aware of what he is doing to help him in some way. For the students, this method will make them informed of what their teacher wants to accomplish.
Shortest route approach. It doesn't matter how the teacher accomplishes his objective; what matters is that he does. Since knowledge of the objectives is the criterion, teachers should choose the quickest route.
Doubling-down strategy. The teacher should create a dual plan that has the student and the teacher as its two channels. Due to the fact that most lesson plans concentrate on what the teacher will do, specifically what he will say, explain, and approach, as well as what he will distribute, collect, and assign.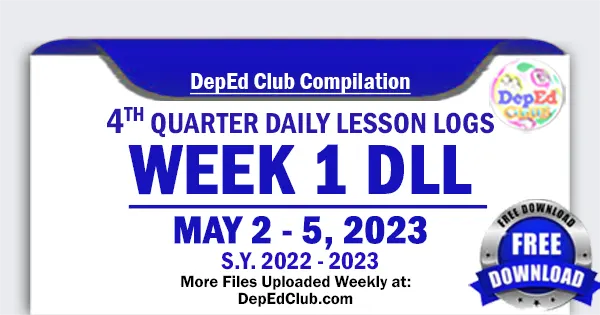 Week 1 – Quarter 4 Daily Lesson Log |
May 2-5, 2023 DLL Update!
Kindergarten Daily Lesson Log – 4th Quarter
Grade 1 Daily Lesson Log – 4th Quarter
Grade 2 Daily Lesson Log – 4th Quarter
Grade 3 Daily Lesson Log – 4th Quarter
Grade 4 Daily Lesson Log – 4th Quarter
Grade 5 Daily Lesson Log – 4th Quarter
Grade 6 Daily Lesson Log – 4th Quarter
NOW AVAILABLE!
ALSO AVAILABLE!
IMPORTANT GUIDE:
MORE DOWNLOADABLE FILES
We are always on the process of uploading new files.
For additional updates and unannounced uploads, please visit this section from time to time.
Like us on Facebook to get INSTANT UPDATES. CLICK HERE
You can also BOOKMARK this page in your web browser by clicking Ctrl+D in your keyboard for faster access in the future. Thank you fellow Teachers.
We at DepEd Teachers Club are always grateful to all our File Authors and File Contributors. Credit goes to all of them. Let us all give them thanks and show our support for all their works.
We are also thankful for all our File Editors, Sharers, Tech Volunteers and fellow Teachers for helping us and making this kind of service possible.