To help teachers in creating lessons that are simple to comprehend, have a high success rate, intriguing, and very engaging, we are constantly uploading our ready-made Week 10 – Quarter 3 Daily Lesson Log | April 17-21, 2023 DLL Update! Our long-term goal is to consistently update and publish our ready-made weekly K–12 Daily Lesson Logs. Just visit this page regularly for the latest uploads.
We are grateful to all of our Contributors, File Editors, and Tech Volunteers who worked sacrificially and without hesitation to manage the content of our website and social media accounts. Thank you to everyone for your continued support.
Lesson Plan Format
Teachers are in agreement about the key components that every lesson plan ought to have. All lesson plans have the same components, even if the structure may vary based on the teacher and the course. The information on the following components should be included in the ideal lesson plan:
Every class should include some medium- or short-term objectives, however it is not recommended to have several objectives for each lesson. For instance, a science teacher could want to know the key characteristics of various materials and how modifications primarily affect them. Only one brief line, such as asking himself, "What am I trying to do here?" may be used by the teacher to describe the lesson's purpose.
The teacher must choose the lesson's objective because it specifies what students should be able to do or accomplish during the lesson. Moving from the general to the more specific, objectives are narrower and more specific than aims. The objectives ought to be SMART (Specific, Measurable ,Achievable, Relevant ,Time –bound).
Data from assessments: Each lesson, the teacher is required to evaluate the knowledge and performance of his students. Three different types of assessment must be distinguished by the teacher; Making a determination regarding a student's cumulative performance for the purposes of selection and classification constitutes the assessment of learning. Providing information about a student's performance through assessment for learning enables teaching and learning activities to be modified in response to the needs of the students. Students' participation in assessments, use of feedback, involvement in peer assessments, and self-monitoring of progress are all seen as learning opportunities in and of themselves when assessment is viewed as learning.
Scope and Content: It is crucial that the teacher establish the lesson's focus from the outset. Using the curriculum in use at the time, this can be done by answering the following three questions:
What is the lesson's major point?
How much of the lesson will be covered?
What information and concepts will be examined?
Pedagogical Approach: The lesson plan should detail the teacher's activities and his planned delivery of the material-based lesson.
Learning activities: It is best if the teacher explains to his students what they need to accomplish throughout the class so that they are more at ease and less disruptive.
Homework: The teacher shouldn't give his students homework at random; it should be relevant to the curriculum and have a clear goal. It should also be demanding (requiring extensive research and labor) yet doable (not difficult to attain by the learners) The teacher may also assign homework to help students prepare for the upcoming lesson.
Time and space: The teacher must take into account the amount of time in each lesson, which is measured in hours for short-term planning and weeks for long-term planning. Time is crucial because it is the main variable in teaching. Space, which is also a crucial component of planning, refers to the use of space in lessons for short-term planning.
In general, lesson plans consist of five parts: "aims, content, techniques, resources, and assessment. Regardless of the lesson planning format, the lessons and activities should share the following traits: easy-to-understand instructions for the students Good success rate; student participation is required. It need to be intriguing and highly engaging.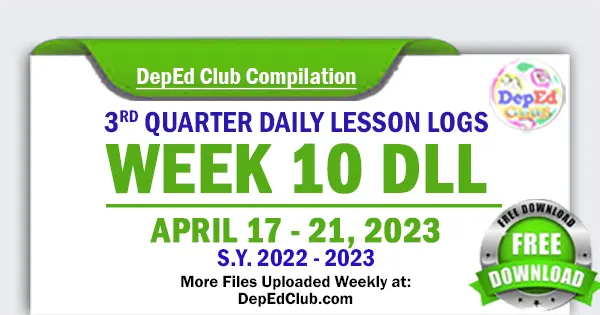 Week 10 – Quarter 3 Daily Lesson Log |
April 17-21, 2023 DLL Update!
Kindergarten Daily Lesson Log – 3rd Quarter
Grade 1 Daily Lesson Log – 3rd Quarter
Grade 2 Daily Lesson Log – 3rd Quarter
Grade 3 Daily Lesson Log – 3rd Quarter
Grade 4 Daily Lesson Log – 3rd Quarter
Grade 5 Daily Lesson Log – 3rd Quarter
Grade 6 Daily Lesson Log – 3rd Quarter
More Files uploaded Weekly. Bookmark this page for instant access. Just Press CTRL + D in your keyboard to add this page to your bookmarks.
NOW AVAILABLE:
Also Available!
IMPORTANT GUIDE:
MORE DOWNLOADABLE FILES
We are always on the process of uploading new files.
For additional updates and unannounced uploads, please visit this section from time to time.
Like us on Facebook to get INSTANT UPDATES. CLICK HERE
You can also BOOKMARK this page in your web browser by clicking Ctrl+D in your keyboard for faster access in the future. Thank you fellow Teachers.
We at DepEd Teachers Club are always grateful to all our File Authors and File Contributors. Credit goes to all of them. Let us all give them thanks and show our support for all their works.
We are also thankful for all our File Editors, Sharers, Tech Volunteers and fellow Teachers for helping us and making this kind of service possible.