The government has committed to explore ways to raise the salaries not only of public school teachers but other government personnel as well by 2020.
The proposed salary increase for the government workforce was tackled during the Cabinet meeting convened by President Duterte in Malacañang last Monday (February 5, 2018).
"The entire Cabinet reaffirmed the President's directive that we will continue to look for ways and means to effect an increase in the teacher's salary but beginning 2020 not 2019. The rationale for this is the last tranche of the Salary Standardization Law (SSL), the increase in the last tranche under the SSL, will be implemented in 2019," Presidential Spokesman Harry Roque said in a Palace press briefing.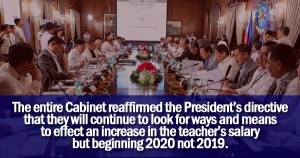 "Now the effort is not just to look for ways and means to increase the salary of all public school teachers, it is also to increase the salaries of all workers in the public sector," he added.
The Department of Budget and Management (DBM) earlier it was not opposed to a salary hike for teachers and other public servants, but sought a study on the proposal to ensure the budget deficit would remain manageable.
Budget Secretary Benajmin Diokno noted that the government personnel are still expected to receive salary adjustment next year as part of the SSL.
At present, an entry-level public school teacher earns a monthly salary of P26,375, including bonuses and allowances. With the fourth tranche of the SSL next year, that would be increased to P27,046.
President Duterte earlier ordered the DBM to find ways to increase teachers' salaries through the government's tax reform package.
Source / Credits:
By Genalyn D. Kabiling
Was this helpful? Like and Share for others too.