In this section, we have a collection of short stories download links which are used as reference materials for reading and storytelling in school. These short stories are filled with lessons that students can use in life, help them build values as well as improve their reading and comprehension skills.
Benefits of Storytelling | Short Stories for Students
Short stories typically feature a small cast of characters and concentrate on isolated moments that are meant to evoke a certain feeling or emotion. Short stories offer engaging lessons about morality and proper behavior for students. They need to be taught with excellent morals because they are in their formative years as learners and need to be prepared for societal structure and their families.
In the early stages of life, reading abilities in children are crucial. It is common knowledge that interacting with kids can help them develop their literacy and language skills. Learning new words, communicating, responding to questions, and responding to parents and teachers are all tough for children who are suffering language delays.
A variety of storylines, including fairy tales, legends, myths, and fables, are used in storytelling, which has been practiced for millennia. Originally, the purpose of these tales was to provide solace by allowing individuals to share their personal experiences. Children gain a deeper understanding of their family when parents relate authentic stories about their own. Children benefit from this connection and emotional bonding with the storyteller. Additionally, reading to youngsters might inspire them to discover new worlds and experiences. Reading aloud to youngsters helps them expand their vocabulary and make development in reading, listening, speaking, and writing. Children are encouraged to read later on in life.
Ongoing learning in schools depends heavily on language and literacy, which also fosters social interaction. Long-term academic achievements were improved and increased by reading to preschoolers. Children who fared much better and had the chance to advance academically were those with greater literacy abilities. Early story-telling can establish the groundwork for future literacy, and reading aloud to kids can help them improve their listening skills, which are a crucial component of literacy.
It's not necessitated to read from a book when telling a story. Children's memory and sequencing abilities can be improved by making up stories or retelling old ones. For the development of their language and sense of reality, children need a strong sense of reality. Because they can relate to the feelings and motivations of the characters, kids are more attentive and engaged. Children can find safety and a way to cope with daily life through storytelling. Additionally, it can help kids form lasting relationships and feel appreciated.
You can download these short stories for Free via our Google drive links
To search for the stories you need faster, you can press together Ctrl and F in your keyboard and type the title of the story you need then press Enter.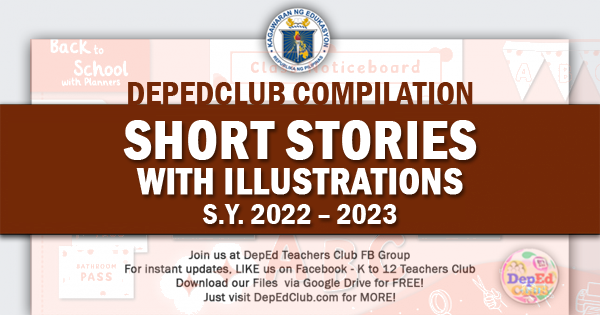 Short Stories Download Links FIXED!
FILIPINO Short Stories With Illustrations- Reference Materials | Download Links FIXED!
ENGLISH Short Stories With Illustrations- Reference Materials | Download Links FIXED!
ILOCANO Short Stories | Download Links FIXED!
ALSO AVAILABLE:
IMPORTANT GUIDE:
MORE DOWNLOADABLE FILES
Activities for Students | Classroom Observation Tools | Daily Lesson Log | Diagnostic Test | Exams | Inspirational Stories | Instructional Materials | Learners Material | Periodical Tests | Powerpoint Presentations | RPMS | Short Stories | Summative Tests | Weekly Daily Lesson Log | Weekly Home Learning Plan | Weekly Learning Plan | Workbooks
/ Learning Materials / Learners Materials / Instructional Materials
We are always on the process of uploading new files.
For additional updates and unannounced uploads, please visit this section from time to time.
Like us on Facebook to get INSTANT UPDATES. CLICK HERE
You can also BOOKMARK this page in your web browser by clicking Ctrl+D in your keyboard for faster access in the future. Thank you fellow Teachers.
We at DepEd Teachers Club are always grateful to all our File Authors and File Contributors. Credit goes to all of them. Let us all give them thanks and show our support for all their works.
We are also thankful for all our File Editors, Sharers, Tech Volunteers and fellow Teachers for helping us and making this kind of service possible.