Environmental watch group wants schools to be free of harmful leaded paints
An environmental watch group has reminded school officials to keep a "vigilant-eye on lead containing decorative paints" that are harmful to human health.
The EcoWaste Coalition issued the reminder in time for the 'Brigada Eskwela,' an annual project of the Department of Education (DepEd) to prepare school facilities for the resumption of classes that will start on June 4.
"We call upon all school heads and teachers to exercise the utmost vigilance to ensure that banned leaded paints are not used to decorate classroom walls, windows, doors, desks, and tables, and other school amenities during the Brigada Eskwela," said Thony Dizon, Chemical Safety Campaigner of the group.
Lead-containing decorative paints that are typically used for homes, schools, daycare centers, and playgrounds, as well as for toys and other children's products, have been phased out effective Dec. 31, 2016 in line with the Environmental department's Chemical Control Order for Lead and Lead Compounds, the group said.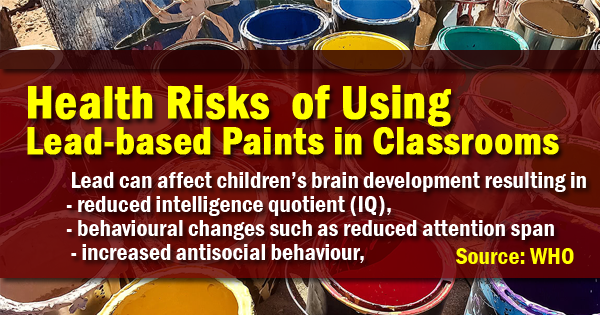 "It is likely that old stocks of lead-containing paints are still available in hardware stores and unknowingly sold to uninformed buyers. Paint consumers have the right to be protected against hazards to health and should insist on lead-safe paints at all times," said Dizon.
According to the World Health Organization (WHO), lead is a toxic metal "whose widespread use has caused extensive environmental contamination and health problems in many parts of the world."
The organization stated that children are "particularly vulnerable to the neurotoxic effects of lead."
Even if children are exposed in low-levels of the said chemical, it might cause "serious and in some cases irreversible neurological damage."
"It is our shared responsibility to keep leaded paints out of the school environment to thwart a globally recognized source of childhood lead exposure," Dizon said.
Source:
By Analou De Vera
Health effects of lead poisoning on children
Lead can have serious consequences for the health of children. At high levels of exposure, lead attacks the brain and central nervous system to cause coma, convulsions and even death. Children who survive severe lead poisoning may be left with mental retardation and behavioural disorders. At lower levels of exposure that cause no obvious symptoms, and that previously were considered safe, lead is now known to produce a spectrum of injury across multiple body systems. In particular lead can affect children's brain development resulting in reduced intelligence quotient (IQ), behavioural changes such as reduced attention span and increased antisocial behaviour, and reduced educational attainment. Lead exposure also causes anaemia, hypertension, renal impairment, immunotoxicity and toxicity to the reproductive organs. The neurological and behavioural effects of lead are believed to be irreversible.

There is no known safe blood lead concentration. But it is known that, as lead exposure increases, the range and severity of symptoms and effects also increases. Even blood lead concentrations as low as 5 µg/dL, once thought to be a "safe level", may be associated with decreased intelligence in children, behavioural difficulties, and learning problems.
Source: WHO – World Health Organization
Was this helpful? Like and Share for others too.