It's back to school for 28 M students
We've seen these poignant images year after year: children holding their classes under the cover of a tree, the lack of classrooms and school buildings forcing students to camp out elsewhere, children walking barefoot or barely-there slippers to school, and teachers for practically all school ages in just one classroom in faraway villages.
These are just some of the perennial problems that the Department of Education (DepEd) faces every year as public and private schools open in the month of June.
"We are confident that this coming school year, the matter of school buildings and others will likely be resolved. We are very confident that we will not face the same problems that we faced last year," said Education Secretary Leonor Briones on the preparations being undertaken by DepEd for the opening of School Year (SY) 2018-2019 on June 4 for all public schools.
DepEd Undersecretary for Planning and Field Operations Jesus Mateo said that there will be around 28 million students both from public and private learning institutions who will be trooping back to school this year. "The very objective of the Department is to ensure that all children are in school," he added.
As of May 11, 2018, the projected enrollment from K to 12 is 27,757,546 public and private schools as well as in State Universities and Colleges (SUCs)/ Local Universities and Colleges (LUCs) nationwide based on data from DepEd Planning Service Director Roger Masapol. Of this number, 23,463,675 (84.5%) students will go to public schools; 4,140,884 (14.9 %) to private schools, and 152,987 (0.6%) to SUCs/LUCs.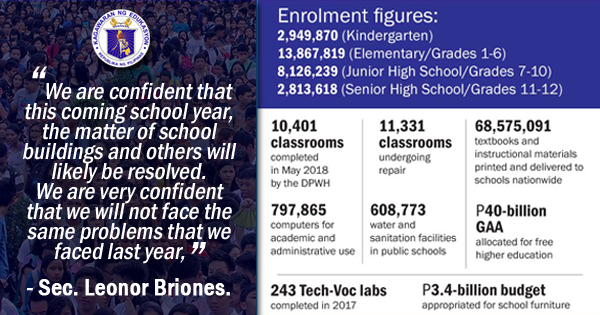 Last SY 2017-2018, there were 26.9 million learners under DepEd which included those in the Alternative Learning System (ALS).
Mateo said that "most of our schools are really ready" in terms of classrooms and those who need support are located in highly populated areas where the perennial problem is the lack of buildable space.
"Overall, there are about 15 million who did not finish or did not start basic education and what we consider as out-of-school children, youth, and adults," said  (ALS) Assistant Secretary G.H. Ambat when asked how many Filipinos can be considered "uneducated," citing  Philippine Statistics Authority (PSA) 2016 annual poverty indicator survey (APIS) released in June 2017.
For children and youth with ages 6 to 24, those who are out-of-school are about 3.8 million or 10 percent. A Labor Force Survey in 2016 also showed that 28 percent or 12 million of the country's workforce did not finish basic education. "We assumed that those 6 to 11 years old are uneducated – meaning they couldn't read or write," Ambat said.  In November to December last year, DepEd also conducted mapping for ALS wherein "the data that we got is about 1.6 million from 6 [years old] to adults."
DepEd continues to strengthen the ALS to "give the same equivalent to formal school." However, certain adjustments are being made depending on the capacity of learners. The cumulative target for three years (2016, 2017, and 2018) is two million ALS enrollees.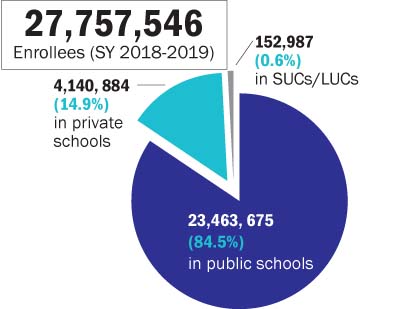 Ambat said the DepEd is tracking down thousands of out-of-school children and youths OSCYs in Sabah, Malaysia, Italy, United Arab Emirates (UAE) and Hong Kong after receiving reports that many of them were not able to finish basic education. Some went to UAE and Hong Kong for employment using fake diplomas.
Speeding up on SPED
The DepEd admits that Special Education (SPED) is "falling a little behind."
"Comparing from the previous years, we are improving but there is a lot that needs to be done," said DepEd Bureau of Learning Delivery-Student Inclusion Division (BLD-SID) Supervising Education Program Specialist Nancy Pascual.
"The challenge is identification because of the fact that there are so many parents who are in denial," Pascual said.
There are only 678 schools in 258 divisions that offer the SPED program. Pascual said that ideally, all public schools should be offering SPED program "but there are some schools that are not offering the program; that is why the children are forced to go to a faraway school."
The lack of SPED teachers is also a challenge since there are "2,601 SPED teachers in elementary and only 284 in secondary." In one inclusive class, Pascual said that "there should only be 33 regular pupils and two children with the same exceptionalities."
Source / Credits:
By Merlina Hernando-Malipot
Published 
1.3% of schools still 'needing support' for coming school year – DepEd
At the launch of Department of Education's Oplan Balik Eskwela 2018, Undersecretary Jesus Mateo says among the problems schools face include the availability of classrooms – especially in highly populated areas of Metro Manila
About 1.3% of schools are still in need of support before the opening of classes on June 4, announced Department of Education (DepEd) Undersecretary Jesus Mateo on Monday, May 21.
Mateo explained the readiness of schools were evaluated based on 6 variables: (availability of) teachers, classrooms, toilets, seats, water supply, and electrical supply.
According to Mateo, among the problems schools still needing support faced was the availability of classrooms, especially in highly populated areas of Metro Manila.
"Ang problems natin dito sa mga matataong lugar ng Metro Manila, yung availability ng school site natin kaya bagama't gusto natin magtayo ng paaralan o ng silid aralan, hindi na kakayanin basta horizontal constructions kung hindi multi-story (na paaralan)," Mateo said at the Oplan Balik Eskwela press conference.
(Our problem in densely populated areas of Metro Manila is the availability of school sites; even if we want to build schools or classrooms, it cannot just be horizontal constructions if not multi-story [schools])
Asked if issues will be resolved and schools would be ready for opening in June, Mateo said, "merong ma-resolve, merong hindi." (Some [issues] will be resolved, some won't.)
He added multi-story classrooms will not be able to be built within 45 days, as one challenge here is the need for soil testing in proposed sites.
Education Secretary Leonor Briones added the testing of prospective school sites has been a ongoing challenge over the last few years.
"Yun ang challenge last year, kaya na-delay yung ating school building program because of the necessity of soil testing. Yung mga lugar we na presumed na dry, pala ay underwater… Yung mag presumed na supply ng material, yun pala wala," Briones said.
(That was the challenge last year, because of the necessity of soil testing, our school building program was delayed. Places we presumed were dry were actually underwater and presumed supplies of masterials were not available.)
Mateo, however, said that evaluations and testing for sites are ongoing and conducted yearly to address the issue.
Meanwhile, Mateo also said for the coming school year, the remaining 86% and 12.6% of schools were considered "ready" and "nearly ready," respectively.
Schools are considered "ready" if they satisfy almost all 6 variables evaluated, while schools that are considered "nearly ready" satisfy at least 4 of the 6 conditions.
Mateo added DepEd will have a clearer and more final picture of readiness once the government's annual school repairs volunteer program Brigada Eskwela is finished.
Source / Credits:
Was this helpful? Like and Share for others too.