Lesson planning is an integral part of the educational process where teachers design instructional strategies and activities for their students. A crucial aspect of effective lesson planning as well as for this week's Week 9 Quarter 4 Daily Lesson Logs, is context analysis which involves considering various factors to ensure the lessons are relevant, engaging and are tailored to meet the students' needs. In lesson planning, there are context analysis key elements that should be considered.
The first element to be addressed in lesson planning is the school's educational project. This project encompasses the values, objectives and priorities of the institution. It serves as a pedagogical response developed by a group of teachers to achieve the didactic goals set forth in the overall educational project. The curricular project is a crucial component of lesson planning providing a framework for designing instructional strategies and activities that align with the school's educational vision.
A thorough analysis of the starting point is essential for effective lesson planning. This involves examining the organizational features related to the people involved such as students, teachers and parents. Consideration should be given to the available resources, social and cultural infrastructure and the learning environment. Factors like classroom layout, teacher-student ratios and school materials play a significant role in shaping the learning experience. To create an inclusive environment, curricular adjustments may be necessary such as desk arrangements to facilitate collaborative work and the adaptation of materials to accommodate students with specific needs.
Understanding students' characteristics is paramount in tailoring the teaching and learning process. Each proposed didactic unit should be adjusted to meet the psychoevolutionary needs of the students. Recognizing the unique learning conditions and adapting instructional approaches for students with difficulties is vital. The regulation of education emphasizes the importance of providing necessary resources to support students who require special educational attention ensuring their personal and academic development. Teachers should consider students' interests and expectations to establish a connection between the official curriculum and the relevance of the content to their lives particularly in secondary education.
Subject and area analysis is another crucial aspect of context analysis in lesson planning. It involves examining the epistemological foundations of the subject and organizing the content within the lesson plan. Various theories and proposals exist, each presenting specific terminologies and classifications. The multidisciplinary approach organizes content into independent subjects while interdisciplinary collaboration involves interactions between two or more disciplines fostering knowledge enrichment. Globalization or transdisciplinarity represents the highest level of integration where subjects are interconnected within a unified system. Lastly, metadisciplinarity approaches subjects from a global perspective using disciplines as a means to comprehend reality.
And to help teachers create meaningful learning experiences that cater to the diverse needs of their students, ultimately fostering their academic growth and success, we are constantly uploading our ready-made Week 9 Quarter 4 Daily Lesson Log | June 26 – 30, 2023 DLL Update! Our long-term goal is to consistently update and publish our ready-made weekly K–12 Daily Lesson Logs. Just visit this page regularly for the latest uploads.
We are grateful to all of our Contributors, File Editors and Tech Volunteers who worked sacrificially and without hesitation to manage the content of our website and social media accounts. Thank you to everyone for your continued support.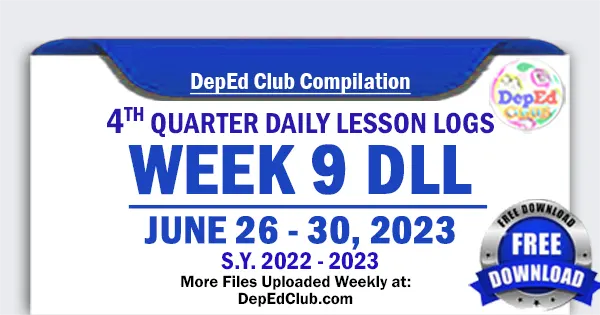 Week 9 Quarter 4 Daily Lesson Log |
June 26 – 30, 2023 DLL Update!
Kindergarten Daily Lesson Log 4th Quarter
Grade 1 Daily Lesson Log 4th Quarter
Grade 2 Daily Lesson Log 4th Quarter
Grade 3 Daily Lesson Log 4th Quarter
Grade 4 Daily Lesson Log 4th Quarter
Grade 5 Daily Lesson Log 4th Quarter
Grade 6 Daily Lesson Log 4th Quarter
NOW AVAILABLE!
ALSO AVAILABLE!
IMPORTANT GUIDE:
MORE DOWNLOADABLE FILES
We are always on the process of uploading new files.
For additional updates and unannounced uploads, please visit this section from time to time.
Like us on Facebook to get INSTANT UPDATES. CLICK HERE
You can also BOOKMARK this page in your web browser by clicking Ctrl+D in your keyboard for faster access in the future. Thank you fellow Teachers.
We at DepEd Teachers Club are always grateful to all our File Authors and File Contributors. Credit goes to all of them. Let us all give them thanks and show our support for all their works.
We are also thankful for all our File Editors, Sharers, Tech Volunteers and fellow Teachers for helping us and making this kind of service possible.