Our long-term goal is to consistently update and publish our ready-made weekly K–12 Daily Lesson Logs. This is to help teachers ensure that their lesson objectives are met. We thank everyone who provided files for our compilation as well as the editors and organizers of those files. Remember to share our posts and like our page. Here is an update to our Week 7 – Quarter 2 Daily Lesson Log | January 4 – 6, 2023 DLL Update!
The contributions, editing, and technical help of our volunteers form the foundation of the DepEd Teachers Club. We humbly ask for and appreciate your continued help. You can download all of our content for free using Google Drive. May more blessings come upon us all. Thank you!
Planning a lesson: Objectives
What are the lesson's objectives? It is the crucial query for any lesson preparation. You may be clear about what you want students to be able to accomplish at the end of the lesson if you can answer this question succinctly. Knowing your destination enables you to make moment-by-moment choices inside the lesson about various routes or options while keeping the primary goal in mind.
Lesson objectives in a student-centered lesson should correspond to what the students will be able to do in reality after the lesson. To ensure that your objectives are met, it is a good idea to begin lesson preparation with the final section and move backwards from there. Lessons with an unclear or overly ambitious goal frequently fail. You could want to have students practice a grammatical structure in a class while simultaneously encouraging them to practice speaking. While instructing, you can also want to apply or enhance particular strategies. Thus, it is simpler to divide goals into three distinct categories.
A class's primary goal is its major objective. Subgoals are other skills or languages you want pupils to practice. Personal goals are teaching methods or other characteristics you wish to use or develop during the lesson. You could want a prospective observer to concentrate on this region.
As a general rule, the sub goal should be skill-based in a lesson when the primary goal is to introduce, practice, or review language systems. A language systems sub goal should also be included in a skills-based course. For instance, in a class where your primary goal is to practice a certain grammatical construction (language system), your secondary goal can be to provide students with more controlled and independent speaking experience (skill). The goals should be detailed, measurable, and include information about the context of language systems classes and what the students will be doing by the end of the lesson. Consider the following inquiries to make sure your goals are clear and defined, for instance, if your major goal is "to teach present perfect."
Goals could be recast as follows by taking into account the aforementioned queries:
The primary goal of this exercise is to review and provide controlled and unrestricted oral practice using the first person affirmative, negative, and question forms of the Present Perfect tense, which is used to describe past experiences in the context of holidays, for example, I've been to Palawan. By the end of the course, students should be able to use the present perfect form to orally explain past events in the context of holidays.
The following are effective ways to describe goals:
To increase understanding of…
To introduce students to…
When the lectures are finished, students will be able to…
To recap…
To give more practice for…
Planning your classes should also take your personal goals into account. You could want to improve your teaching skills further or test out brand-new methods. Your principal may have provided you with improvement suggestions in their post-lesson observation feedback during formal lesson observations. Future observations might provide helpful feedback on how well you have progressed in several areas by establishing personal goals. Personal objectives might differ from instructor to teacher, but some examples include:
To decrease teacher talking time (TTT)
To better organize the board
To promote self-correction
To successfully teach vocabulary using …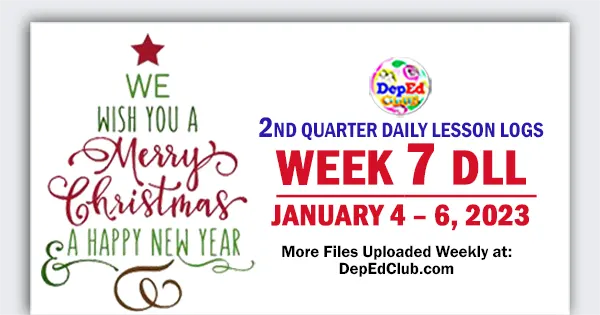 Week 7 – Quarter 2 Daily Lesson Log |
January 4 – 6, 2023 DLL Update!
Kindergarten Daily Lesson Log – 2nd Quarter
Grade 1 Daily Lesson Log – 2nd Quarter
Grade 2 Daily Lesson Log – 2nd Quarter
Grade 3 Daily Lesson Log – 2nd Quarter
Grade 4 Daily Lesson Log – 2nd Quarter
Grade 5 Daily Lesson Log – 2nd Quarter
Grade 6 Daily Lesson Log – 2nd Quarter
See Also:
More Files uploaded Weekly. Bookmark this page for instant access. Just Press CTRL + D in your keyboard to add this page to your bookmarks.
Also Available!
IMPORTANT GUIDE:
MORE DOWNLOADABLE FILES
We are always on the process of uploading new files.
For additional updates and unannounced uploads, please visit this section from time to time.
Like us on Facebook to get INSTANT UPDATES. CLICK HERE
You can also BOOKMARK this page in your web browser by clicking Ctrl+D in your keyboard for faster access in the future. Thank you fellow Teachers.
We at DepEd Teachers Club are always grateful to all our File Authors and File Contributors. Credit goes to all of them. Let us all give them thanks and show our support for all their works.
We are also thankful for all our File Editors, Sharers, Tech Volunteers and fellow Teachers for helping us and making this kind of service possible.