In our ongoing commitment to support teachers in crafting lessons that truly encapsulates their grasp of educational objectives, their profound familiarity with the subject matter to be conveyed and their innate talent for employing engaging teaching techniques, we are delighted to share our collection of DepEd educational resources such as these Week 6 DLL October 2 – 6, 2023 | 1st Quarter Daily Lesson Log. These resources serve as a convenient repository, simplifying the integration of essential knowledge into the teaching journey. Through sharing our files, we aim to empower teachers to create a seamless and enriched learning experience, fostering a stronger connection between instruction and understanding.
Our heartfelt gratitude extends to our dedicated DepEd Club Contributors, File Editors, and Tech Volunteers, whose selfless and unwavering efforts have been instrumental in organizing the content of our website and social media platforms. We extend a warm thank you to all for your steadfast support that continues to drive us forward with this cause.
Creating a Student-Centered Lesson Plan
Many education experts would agree that the focus of lessons should be on the child and on making learning a personalized and meaningful experience. Research in the fields of constructivism and cognitive science has shed light on the importance of tailoring education to individual students. But how do we go about developing a lesson plan that aligns with these principles? Let's explore a recommended process for crafting a lesson plan that fosters higher-order thinking and real-world problem-solving skills.
The teacher plays a crucial role in establishing a vision for a quality lesson plan and defining the lesson objectives. These goals should align with learning standards which outline what students should know and be able to do. The teacher may face an essential decision early on: whether to revise their existing lesson plan or create an entirely new one.
Once this decision is made, the teacher begins the process of revising or creating a program of studies. A program of studies encompasses all the offerings provided to students at a specific grade level. To guide this development, the teacher can choose from various lesson planning models or opt for a fresh approach. The next critical step is determining the content and structure for achieving the lesson goals.
Traditionally, lesson plan has been organized around specific topics to be learned. However, a more contemporary approach suggests grounding lesson planning in broader concepts and key themes. Concepts provide a timeless and universal framework for organizing ideas, making it easier to integrate diverse content. Instead of focusing solely on facts, this approach encourages students to explore overarching ideas.
Structures within the lesson plan can take the form of activities, lessons, or other creative methods for encapsulating key concepts and themes. This flexibility allows for a more dynamic and engaging learning experience.
As the lesson plan takes shape, the teacher must also consider instructional and assessment strategies. These assessment strategies should align with the lesson's goals and be designed to help students thrive. A suggested timetable for implementing the lesson plan should also be developed to ensure a smooth transition.
One critical aspect of this process is the recognition of the unique needs, backgrounds and interests of students. A lesson planning approach ensures that these considerations are incorporated into content selection, instructional methods and assessment strategies.
Lastly, it's essential for teachers to be mindful of their own values, experiences, biases and belief systems. These factors can positively or negatively influence the entire process, so staying vigilant and open-minded is crucial.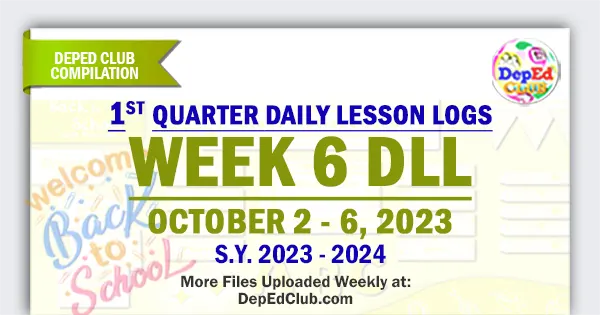 Week 6 DLL October 2 – 6, 2023 |
1st Quarter Daily Lesson Log
Kindergarten Daily Lesson Log – Week 6 – 1st Quarter
Grade 1 Daily Lesson Log – Week 6 – 1st Quarter
Grade 2 Daily Lesson Log – Week 6 – 1st Quarter
Grade 3 Daily Lesson Log – Week 6 – 1st Quarter
Grade 4 Daily Lesson Log – Week 6 – 1st Quarter
Grade 5 Daily Lesson Log – Week 6 – 1st Quarter
Grade 6 Daily Lesson Log – Week 6 – 1st Quarter
MORE FILES NOW AVAILABLE!
Also Available !
IMPORTANT GUIDE:
MORE DOWNLOADABLE FILES
Activities for Students | Classroom Observation Tools | Daily Lesson Log | Diagnostic Test | Exams | Inspirational Stories | Instructional Materials | Learners Material | Periodical Tests | Powerpoint Presentations | RPMS | Short Stories | Summative Tests | Weekly Daily Lesson Log | Weekly Home Learning Plan | Weekly Learning Plan | Workbooks
We are always on the process of uploading new files.
For additional updates and unannounced uploads, please visit this section from time to time.
Like us on Facebook to get INSTANT UPDATES. CLICK HERE
You can also BOOKMARK this page in your web browser by clicking Ctrl+D in your keyboard for faster access in the future. Thank you fellow Teachers.
We at DepEd Teachers Club are always grateful to all our File Authors and File Contributors. Credit goes to all of them. Let us all give them thanks and show our support for all their works.
We are also thankful for all our File Editors, Sharers, Tech Volunteers and fellow Teachers for helping us and making this kind of service possible.