In our ongoing commitment to assist teachers in crafting lessons that ignite students' enthusiasm and foster a shared sense of assurance about their journey through the lesson including its objectives and overall structure, we've taken a significant step by sharing our collection of DepEd educational resources such as these Week 5 DLL September 25 – 29, 2023 | 1st Quarter Daily Lesson Log. These resources serve as a convenient repository, simplifying the integration of essential knowledge into the teaching journey. Through sharing our files, we aim to empower teachers to create a seamless and enriched learning experience fostering a stronger connection between instruction and understanding.
Our heartfelt gratitude extends to our dedicated DepEd Club Contributors, File Editors, and Tech Volunteers, whose selfless and unwavering efforts have been instrumental in organizing the content of our website and social media platforms. We extend a warm thank you to all for your steadfast support that continues to drive us forward with this cause.
The Role of Teachers in Shaping Curriculum and Educational Standards
Teachers play a significant role in shaping what students learn. It's essential to understand that while teachers are deeply involved in curriculum development, the primary responsibility for curriculum lies with the Department of Education. What's crucial in this process is the development of standards which are educational benchmarks for what students should know and be able to do during their school journey. These standards are typically created by the Department of Education.
It's important to note that standards are not the same as the curriculum itself. Instead, they serve as guiding principles for developing the curriculum at the local level, within school districts and in each individual schools. The state ensure that districts and schools follow these standards by requiring public schools to participate in high-stakes assessments that reflect these state standards.
The implementation of standards in schools has led to significant changes in teaching and learning. For instance, English language arts standards aim to help students develop their critical thinking skills, logical reasoning and their ability to gather evidence to support their ideas. These standards can greatly influence how teachers approach teaching and support students with diverse learning needs.
The impact of a teacher's beliefs and orientation towards the purpose of the curriculum is also crucial especially for teachers who aim to be culturally responsive and responsible.
If a teacher follows a transmission-oriented approach where they focus on behavioral objectives, they stick to a discipline-based curriculum organization and expect students to memorize what they deliver. In simpler terms, this method tends to uphold privilege for a select group of students.
On the other hand, if a teacher adopts a transformation-oriented approach, they will create a student-centered, problem-based learning environment. In this approach, students are encouraged to use their own experiences and backgrounds as the foundation for learning. This transformation-oriented approach empowers students to address critical social challenges in meaningful ways.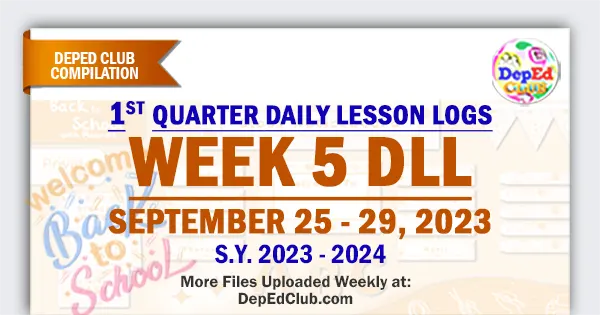 Week 5 DLL September 25 – 29, 2023 |
1st Quarter Daily Lesson Log
Kindergarten Daily Lesson Log – Week 5 – 1st Quarter
Grade 1 Daily Lesson Log – Week 5 – 1st Quarter
Grade 2 Daily Lesson Log – Week 5 – 1st Quarter
Grade 3 Daily Lesson Log – Week 5 – 1st Quarter
Grade 4 Daily Lesson Log – Week 5 – 1st Quarter
Grade 5 Daily Lesson Log – Week 5 – 1st Quarter
Grade 6 Daily Lesson Log – Week 5 – 1st Quarter
NOW AVAILABLE!
Also Available !
IMPORTANT GUIDE:
MORE DOWNLOADABLE FILES
Activities for Students | Classroom Observation Tools | Daily Lesson Log | Diagnostic Test | Exams | Inspirational Stories | Instructional Materials | Learners Material | Periodical Tests | Powerpoint Presentations | RPMS | Short Stories | Summative Tests | Weekly Daily Lesson Log | Weekly Home Learning Plan | Weekly Learning Plan | Workbooks
We are always on the process of uploading new files.
For additional updates and unannounced uploads, please visit this section from time to time.
Like us on Facebook to get INSTANT UPDATES. CLICK HERE
You can also BOOKMARK this page in your web browser by clicking Ctrl+D in your keyboard for faster access in the future. Thank you fellow Teachers.
We at DepEd Teachers Club are always grateful to all our File Authors and File Contributors. Credit goes to all of them. Let us all give them thanks and show our support for all their works.
We are also thankful for all our File Editors, Sharers, Tech Volunteers and fellow Teachers for helping us and making this kind of service possible.