In an effort to connect teaching and learning more effectively, we've taken a significant step by sharing our collection of DepEd educational resources such as these Week 2 DLL September 4 – 8, 2023 | 1st Quarter Daily Lesson Log. These resources serve as a convenient repository, simplifying the integration of essential knowledge into the teaching journey. Through sharing our files, we aim to empower teachers to create a seamless and enriched learning experience fostering a stronger connection between instruction and understanding.
Our heartfelt gratitude extends to our dedicated DepEd Club Contributors, File Editors, and Tech Volunteers, whose selfless and unwavering efforts have been instrumental in organizing the content of our website and social media platforms. We extend a warm thank you to all for your steadfast support that continues to drive us forward with this cause.
Teaching and Self-Evaluation
Becoming better in teaching doesn't solely rely on classroom strategies and lesson plans. Self-evaluation is a potent tool that can significantly enhance teaching skills. By taking a moment to reflect on and assess teaching methods after a lesson, teachers can gain invaluable insights that might save them from future challenges. Even a quick writing down of evaluative notes in their lesson plan can prove immensely beneficial when they revisit that lesson.
It's tempting for teachers to forgo self-evaluation due to the constant demands on teachers' time. However, skipping this crucial step only hinders growth as an educator. Without assessing their selves, teachers risk forgetting essential ideas and repeatedly making the same errors. The surprising truth is that dedicating a mere few minutes to reflective writing can unveil aspects teachers might have otherwise overlooked.
Although self-evaluation typically occurs post-lesson, it holds immense significance in the teaching process. Taking time to look back on the lesson and address key questions is pivotal:
Highlight the Positives: What aspects of the lesson went well and why?
Addressing Challenges: What issues did you encounter and what were their causes?
Student-Centric Approach: Did the lesson prioritize student engagement and if not, should it have?
Seeking Alternatives: In hindsight, what different approaches could have been employed?
Learning for the Future: What lessons can be extracted from this experience to enhance future teaching?
Breaking down the lesson plan into distinct components further aids in assessment:
Preparation and Research: Evaluate readiness and identify areas for improvement.
Written Plan: Analyze the organization and format of written plan and consider potential refinements.
Presentation: Reflect on student involvement, clarity of presentation and the pacing employed.
Assessment: Scrutinize whether assessment methods align with learning goals, gauge student performance and determine necessary modifications. Devote time to earnestly reflect on each lesson while the opportunity is available.
Training yourself to be self-reflective and critical is vital to processing teaching experiences. This introspective approach is a primary avenue for learning from your past endeavors. Over time, self-evaluation will become second nature, enhancing teaching prowess and fostering continuous improvement in the educational journey.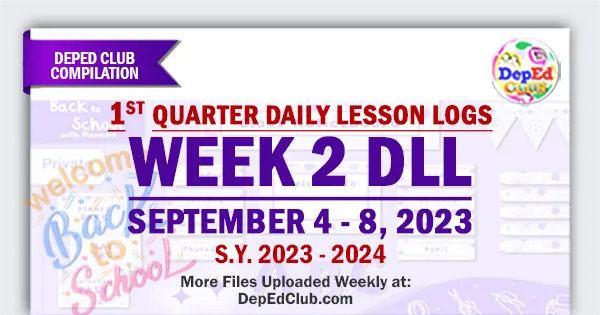 Week 2 DLL September 4 – 8, 2023 |
1st Quarter Daily Lesson Log
Kindergarten Daily Lesson Log – Week 2 – 1st Quarter
Grade 1 Daily Lesson Log – Week 2 – 1st Quarter
Grade 2 Daily Lesson Log – Week 2 – 1st Quarter
Grade 3 Daily Lesson Log – Week 2 – 1st Quarter
Grade 4 Daily Lesson Log – Week 2 – 1st Quarter
Grade 5 Daily Lesson Log – Week 2 – 1st Quarter
Grade 6 Daily Lesson Log – Week 2 – 1st Quarter
NOW AVAILABLE!
Also Available !
IMPORTANT GUIDE:
MORE DOWNLOADABLE FILES
Activities for Students | Classroom Observation Tools | Daily Lesson Log | Diagnostic Test | Exams | Inspirational Stories | Instructional Materials | Learners Material | Periodical Tests | Powerpoint Presentations | RPMS | Short Stories | Summative Tests | Weekly Daily Lesson Log | Weekly Home Learning Plan | Weekly Learning Plan | Workbooks
We are always on the process of uploading new files.
For additional updates and unannounced uploads, please visit this section from time to time.
Like us on Facebook to get INSTANT UPDATES. CLICK HERE
You can also BOOKMARK this page in your web browser by clicking Ctrl+D in your keyboard for faster access in the future. Thank you fellow Teachers.
We at DepEd Teachers Club are always grateful to all our File Authors and File Contributors. Credit goes to all of them. Let us all give them thanks and show our support for all their works.
We are also thankful for all our File Editors, Sharers, Tech Volunteers and fellow Teachers for helping us and making this kind of service possible.