Our long-term goal is to consistently update and publish our ready-made weekly K–12 Daily Lesson Logs. This is to help teachers by guiding them on what will be taught and ensuring that both the teacher and the students achieve the lesson goals, clear lesson and learning objectives. We thank everyone who provided files for our compilation as well as the editors and organizers of those files. Remember to share our posts and like our page. Here is an update to our Week 10 – Quarter 2 Daily Lesson Log | January 23 – 27, 2023 DLL Update!
The contributions, editing, and technical help of our volunteers form the foundation of the DepEd Teachers Club. We humbly ask for and appreciate your continued help. You can download all of our content for free using Google Drive. May more blessings come upon us all. Thank you!
Effective Lesson Planning
When a teacher lacks a clear set of class objectives, students suffer. Teachers that are effective when they concentrate on teaching fundamental concepts and abilities. This gives them lots of time for customize teaching. Lesser time spent on instruction and fewer students receiving personalized instruction Is a result of lack of concentration on the lesson and learning objective. Clear lesson and learning objectives assist the teacher in developing a powerful lesson by directing what will be taught and guaranteeing that both the teacher and the students reach the lesson goals.
Without clearly defining lesson objectives, it is challenging to come up with responses to the justification and goal of the lesson. Without a reason or goal, a teacher gets lost in a sea of material, which frustrates and perplexes both the teacher and the students. Because teacher clarity depends on student understanding, it can be challenging to assess clarity in the context of teacher performance. Teachers must therefore develop specific lesson and learning objectives during the planning process. This will aid in producing student understanding and assist them to concentrate the rest of their planning.
Effective teaching is the outcome of having clear lessons and learning objectives. Effective teachers start lessons with a brief statement of goals and deliver instruction that is focused and clear. Having unclear learning objective is one of the most common lesson planning mistakes made by inexperienced teachers.
Effective teachers have a clear focus on the material to be taught and how it is presented. Understanding the connection between efficient instruction and the planning process is crucial. Principals cannot successfully evaluate teacher instruction and teacher effectiveness using simply the lesson plan, which is another source of concern in the field because it is not well known how to discriminate between excellent and terrible plans, or how these plans play out in the classroom.
A significant portion of the teacher's planning involves routines. Teachers utilize routines to control classroom activity and streamline planning. The establishment and application of routines by instructors must be significant to the planning phase, which is in turn a quality of good teachers, since planning can be defined as simply coordinating multiple routines.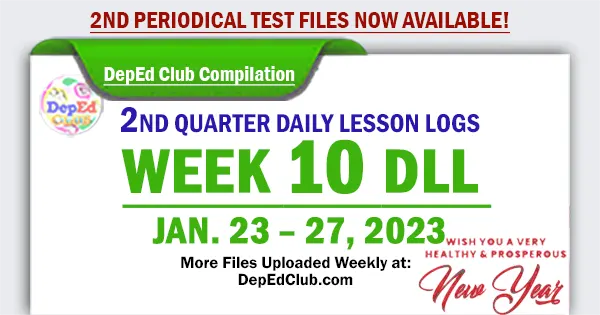 Week 10 – Quarter 2 Daily Lesson Log |
January 23 – 27, 2023 DLL Update!
Kindergarten Daily Lesson Log – 2nd Quarter
Grade 1 Daily Lesson Log – 2nd Quarter
Grade 2 Daily Lesson Log – 2nd Quarter
Grade 3 Daily Lesson Log – 2nd Quarter
Grade 4 Daily Lesson Log – 2nd Quarter
Grade 5 Daily Lesson Log – 2nd Quarter
Grade 6 Daily Lesson Log – 2nd Quarter
See Also:
More Files uploaded Weekly. Bookmark this page for instant access. Just Press CTRL + D in your keyboard to add this page to your bookmarks.
Also Available!
IMPORTANT GUIDE:
MORE DOWNLOADABLE FILES
We are always on the process of uploading new files.
For additional updates and unannounced uploads, please visit this section from time to time.
Like us on Facebook to get INSTANT UPDATES. CLICK HERE
You can also BOOKMARK this page in your web browser by clicking Ctrl+D in your keyboard for faster access in the future. Thank you fellow Teachers.
We at DepEd Teachers Club are always grateful to all our File Authors and File Contributors. Credit goes to all of them. Let us all give them thanks and show our support for all their works.
We are also thankful for all our File Editors, Sharers, Tech Volunteers and fellow Teachers for helping us and making this kind of service possible.