Good day fellow Teachers. We had a lot of struggles in our beloved profession but we made it to this new school year together – supporting and sharing our knowledge for the welfare of each other. We were always there for each other as we dreamed of a smooth and productive school year. Together we withstood the challenges. And now, we have uploaded our Week 1 DLL August 22 – 26, 2022 | 1st Quarter Daily Lesson Log
Thanks to all our Contributors, File Editors and Tech Volunteers who managed our website contents as well as our social media accounts selflessly without reservations. Thanks to all of you for your continued support and your collective notions.
And now as we start on another journey with new students and new challenges that are yet to come, we shall stick together as one – a solid DepEd Teachers Club.
No Teacher is left behind.
THE DEPED VISION
We dream of Filipinos who passionately love their country and whose values and competencies enable them to realize their full potential and contribute meaningfully to building the nation. As a learner-centered public institution, the Department of Education continuously improves itself to better serve its stakeholders.
THE DEPED MISSION
To protect and promote the right of every Filipino to quality, equitable, culture-based, and complete basic education where:
Students learn in a child-friendly, gender-sensitive, safe, and motivating environment.
Teachers facilitate learning and constantly nurture every learner.
Administrators and staff, as stewards of the institution, ensure an enabling and supportive environment for effective learning to happen.
Family, community, and other stakeholders are actively engaged and share responsibility for developing life-long learners.
OUR CORE VALUES
Maka-Diyos
Maka-tao
Makakalikasan
Makabansa
THE DEPED MANDATE
The Department of Education was established through the Education Decree of 1863 as the Superior Commission of Primary Instruction under a Chairman. The Education agency underwent many reorganization efforts in the 20th century in order to better define its purpose vis a vis the changing administrations and charters. The present day Department of Education was eventually mandated through Republic Act 9155, otherwise known as the Governance of Basic Education act of 2001 which establishes the mandate of this agency.
The Department of Education (DepEd) formulates, implements, and coordinates policies, plans, programs and projects in the areas of formal and non-formal basic education. It supervises all elementary and secondary education institutions, including alternative learning systems, both public and private; and provides for the establishment and maintenance of a complete, adequate, and integrated system of basic education relevant to the goals of national development.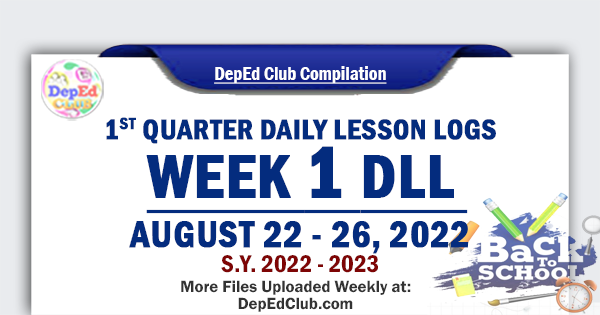 Week 1 DLL August 22 – 26, 2022 | 1st Quarter Daily Lesson Log
IMPORTANT: HOW TO DOWLOAD FILES IN GOOGLE DRIVE
FOR MS OFFICE FILES:
1. Click on the file link in our website.

2. You will be redirected to the file location via Google Drive.

3. On the upper left side of your screen, Go to FILE menu. Click DOWNLOAD, then Select Microsoft Word for the editable file format.
FOR OTHER FILES:
1. On the upper right hand corner of your screen, look for the Down Arrow Download Button just as below:

If you encounter an Error while downloading the files, please Log-in to your Gmail account (Here – mail.google.com) , then try again to click the Download Link in Google Drive. Thank you.
Additional files to be uploaded soon.
We are always on the process of uploading new files.
For additional updates and unannounced uploads, please visit this section from time to time.
Like us on Facebook to get INSTANT UPDATES. CLICK HERE
You can also BOOKMARK this page in your web browser by clicking Ctrl+D in your keyboard for faster access in the future. Thank you fellow Teachers.
We at DepEd Teachers Club are always grateful to all our File Authors and File Contributors. Credit goes to all of them. Let us all give them thanks and show our support for all their works.
We are also thankful for all our File Editors, Sharers, Tech Volunteers and fellow Teachers for helping us and making this kind of service possible.