To help teachers in keeping students interested and expanding learning by providing a more dynamic atmosphere that influences students' motivation for learning., we have uploaded our our GRADE 5 Bulletin Board Display – 4th Quarter | DepEd Club Compilation. Credit goes to all our contributors and file senders. To support them / us, please Share and Like our Facebook page. Thank you.
Bulletin Board Displays
It is possible to organize current local and national topics of interest into a conversational bulletin board display and examine them from a variety of angles. Through a range of activities, the bulletin board display makes sure students actively explore the theme of the display. These displays guarantee to grab students' attention and serve as a discussion starter. Additionally, bulletin board displays could include:
Word banks, topic terminology, and word walls.
Illustrations of student work, such as essays, artwork, short stories or poetry, student booklets, and written presentations.
Diagrams, charts, timelines, summaries, posters, mind maps, and celebrations are some examples of visual aids.
Equipment, classroom, and extension box flashcards.
Message board featuring things to do for students or parents.
Symbols, important vocabulary, and signs.
Displaying items connected to a topic or theme using a topic table.
Table display for instruments, math tools, scientific instruments, etc.
One of the most effective and underutilized tools for teaching is classroom displays. Making your own exhibit calls for strength of character, forethought, time, and effort, and some teachers worry that they lack artistic ability. Images can, however, be reproduced onto overhead paper and traced using a document camera or an overhead projector. Additionally, banners and headlines can be created using Microsoft Publisher, and some websites let the free download of images. Making a display involves the following steps:
Choose a theme or focus.
Make a layout draft.
Use the color wheel to choose vibrant, contrasting colors for the borders and background material.
Making an effect visually with mounting
Engage all kids, regardless of ability level, and utilize the exhibit as inspiration for their work samples.
Work should be labeled, with subheadings.
Think about and debate the subject matter.
To keep students engaged and expand learning, incorporate a component of ongoing engagement, such as a competition, a close reading/writing exercise, a question box, or updating/adding information to a display. Change on a regular basis (if necessary, using a theme approach that aligns with educational issues).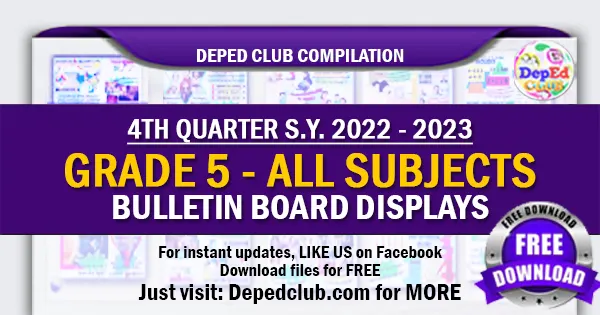 GRADE 5 Bulletin Board Display – 4th Quarter | DepEd Club Compilation
NOW AVAILABLE!
Coming SOON!:
4th Quarter – Periodical Tests
IMPORTANT GUIDE:
MORE DOWNLOADABLE FILES
We are always on the process of uploading new files.
For additional updates and unannounced uploads, please visit this section from time to time.
Like us on Facebook to get INSTANT UPDATES. CLICK HERE
You can also BOOKMARK this page in your web browser by clicking Ctrl+D in your keyboard for faster access in the future. Thank you fellow Teachers.
We at DepEd Teachers Club are always grateful to all our File Authors and File Contributors. Credit goes to all of them. Let us all give them thanks and show our support for all their works.
We are also thankful for all our File Editors, Sharers, Tech Volunteers and fellow Teachers for helping us and making this kind of service possible.