In addition to being a vibrant adornment, a bulletin board display serves as an instructional tool. It may provide fresh ideas and pique students' interests. Students may be challenged to come up with whatever issues they can think of using the solution provided for example, on a math bulletin board display.
Students can use bulletin board displays as self-teaching resources. Students can move between the bulletin board display during free time or quiet period to complete the learning activities that teachers develop utilizing the movable pieces attached to the boards. On blank bulletin boards, students can post their own literary works or reply to teacher-provided prompts. Additionally, students can express themselves on bulletin boards by voting on their favorite books and suggesting novels to other students.
Word walls created from bulletin board displays can be effective resources for expanding vocabulary. The wall gradually adds important vocabulary terms as kids are introduced to new words. In order to hone the new words, teachers promote review exercises. Students comprehend and retain new vocabulary better when they participate in activities that use the word list, such as shifting words to distinct types or positions on the wall.
More effectively than stationary display bulletin boards, interactive bulletin board display can involve students in the learning process. After a few weeks, static bulletin boards may just become part of the classroom's aesthetic, but dynamic ones that alter in accordance with current lesson plans can keep students interested and aid various learning styles in assimilating the new material at their own rate.
We are always on the process of uploading Bulletin board display. Here are the URLs to the files as asked. Soon, the rest of the files will be uploaded. Please occasionally check this section.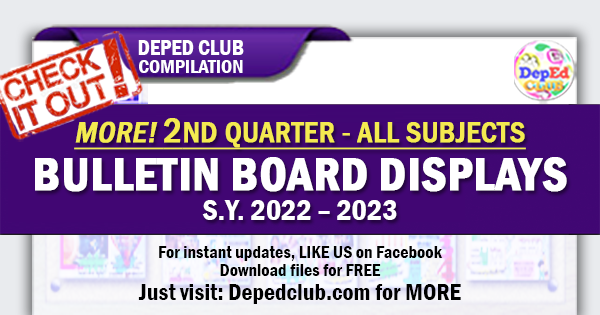 More! 2nd Quarter Bulletin Board Display
S.Y. 2022-2023
IMPORTANT GUIDE:
MORE DOWNLOADABLE FILES
We are always on the process of uploading new files.
For additional updates and unannounced uploads, please visit this section from time to time.
Like us on Facebook to get INSTANT UPDATES. CLICK HERE
You can also BOOKMARK this page in your web browser by clicking Ctrl+D in your keyboard for faster access in the future. Thank you fellow Teachers.
We at DepEd Teachers Club are always grateful to all our File Authors and File Contributors. Credit goes to all of them. Let us all give them thanks and show our support for all their works.
We are also thankful for all our File Editors, Sharers, Tech Volunteers and fellow Teachers for helping us and making this kind of service possible.