To help teachers in keeping students actively engaged in a lesson that integrates curricular objectives as well as foster creativity, autonomy, and enthusiasm for learning, we have uploaded our our GRADE 6 Bulletin Board Display – 4th Quarter | DepEd Club Compilation. Credit goes to all our contributors and file senders. To support them / us, please Share and Like our Facebook page. Thank you.
Bulletin Board Displays and Other Learning Areas and Suggested Materials
Technology Area. Students may get the chance to use technology in a specific part of the classroom, depending on the tools that is available. The student should be actively involved in a lesson that incorporates curriculum objectives. During time on the computer, applications and websites must be selected that are suitable for children's development, and the task at hand should promote creativity and autonomy. When the space and activities are adequately structured for an elementary school kid, technology offers several opportunity for literacy and mathematical experiences.
Dramatic Play Area. Children are encouraged to interact, explore, and recreate actual or imagined scenarios in this area. Students learn the social skills necessary to interact in these capacities through pretend play, which helps them attain outcomes related to adult positions in their homes and community at large. Children's role-playing experiences in real life enrich their literacy and numeracy learning. A dramatic play area can be changed into a variety of community settings. Students' interest is maintained by frequently switching out the props. At different times, the space might change to reflect particular homes or communal spaces.
Block Zone. Students can explore mathematical ideas like size, form, number, and amount by building with blocks. By working together to construct structures, they engage in social learning and the development of a knowledge of scientific ideas. The classroom's designated corner will see less movement and have room on the wall for storage to hold blocks. Avoid storing items in bins because it might be challenging for students to locate blocks of a particular size or shape when they are hidden. In this region, shelves are easier to utilize. When students are requested to put the blocks back on the shelves after their play is over, sorting them by form and size is an excellent practice activity.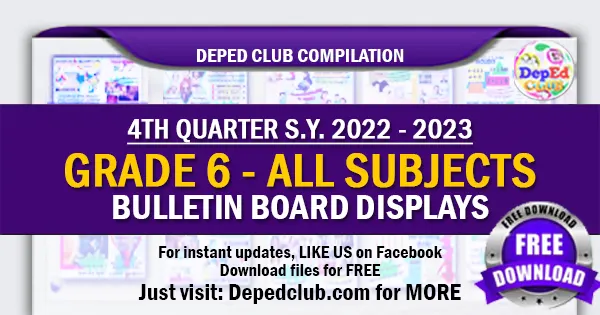 GRADE 6 Bulletin Board Display – 4th Quarter | DepEd Club Compilation
NOW AVAILABLE!
Coming SOON!:
4th Quarter – Periodical Tests
IMPORTANT GUIDE:
MORE DOWNLOADABLE FILES
We are always on the process of uploading new files.
For additional updates and unannounced uploads, please visit this section from time to time.
Like us on Facebook to get INSTANT UPDATES. CLICK HERE
You can also BOOKMARK this page in your web browser by clicking Ctrl+D in your keyboard for faster access in the future. Thank you fellow Teachers.
We at DepEd Teachers Club are always grateful to all our File Authors and File Contributors. Credit goes to all of them. Let us all give them thanks and show our support for all their works.
We are also thankful for all our File Editors, Sharers, Tech Volunteers and fellow Teachers for helping us and making this kind of service possible.