To help teachers in inspiring students to experience fulfillment and trust in their work and successes, to foster appreciation of the school environment, and to make an effort to make it a rich setting for learning and working, we have uploaded our our GRADE 3 Bulletin Board Display – 4th Quarter | DepEd Club Compilation. Credit goes to all our contributors and file senders. To support them / us, please Share and Like our Facebook page. Thank you.
Goals of Bulletin Board Display and Classroom Organization
By showing students that what they do and what they learn are valued, bulletin board displays and classroom organization hope to:
Inspire students to feel fulfillment and trust in their work and accomplishments.
To challenge children's knowledge and comprehension of the world, create a learning atmosphere that sparks curiosity and conversation.
Promote appreciation of the school environment and make an effort to make it a rich atmosphere for learning and working.
Encourage students to show themselves well, to be organized, and to be generally tidy.
Celebrate success and boost everyone's confidence
Utilize displays and resources to reinforce existing knowledge, serve as a reminder of prior learning, and introduce fresh knowledge.
Include all children in your displays of learning outcomes and achievements.
Expectations for Display in the Classroom & Common Areas
The requirements and perspectives of students in schools are directly impacted by the quality of the learning environment. Prior to the start of the new school year, the first stimulus displays ought to be set up. These consist of:
Key issues and phrases pertaining to subjects or particular subject areas
Questions to go along with the posters to pique the kids' attention
Tabletop exhibits of curriculum-related artifacts, books, and materials. Book corners set up and tastefully exhibited should be utilized to substitute the majority of adult-generated displays and resources because it is created by children.
Displays ought to include:
The majority of the work on display in the classroom should be student work.
Other display materials should be greatly outweighed by students' work, even if they can be highly helpful in expanding and consolidating learning.
When teaching, make use of displays to draw connections between prior knowledge and new information. Display is not meant to be decorative; rather, it celebrates success, makes learning more accessible to a larger audience, reminds students of what they have learned and accomplished, and can even enhance learning.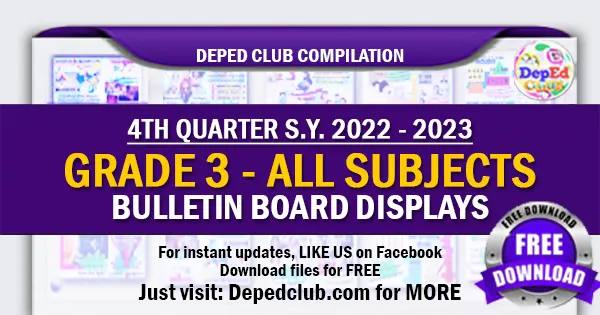 GRADE 3 Bulletin Board Display – 4th Quarter | DepEd Club Compilation
NOW AVAILABLE!
Coming SOON!:
4th Quarter – Periodical Tests
IMPORTANT GUIDE:
MORE DOWNLOADABLE FILES
We are always on the process of uploading new files.
For additional updates and unannounced uploads, please visit this section from time to time.
Like us on Facebook to get INSTANT UPDATES. CLICK HERE
You can also BOOKMARK this page in your web browser by clicking Ctrl+D in your keyboard for faster access in the future. Thank you fellow Teachers.
We at DepEd Teachers Club are always grateful to all our File Authors and File Contributors. Credit goes to all of them. Let us all give them thanks and show our support for all their works.
We are also thankful for all our File Editors, Sharers, Tech Volunteers and fellow Teachers for helping us and making this kind of service possible.